Are the Hosts of 'The Breakfast Club' Friends in Real Life?
Power 105.1's The Breakfast Club is one of the most beloved radio shows out there. Hosted by DJ Envy, Angela Yee, and Charlamagne Tha God, the program sees the hosts talk about the latest in pop culture, politics, and more.
On air, the hosts seem to vibe and have a genuine camaraderie. But what about when the cameras are off and no one is watching. Like, are they friends in real life? Or do they only share a professional relationship?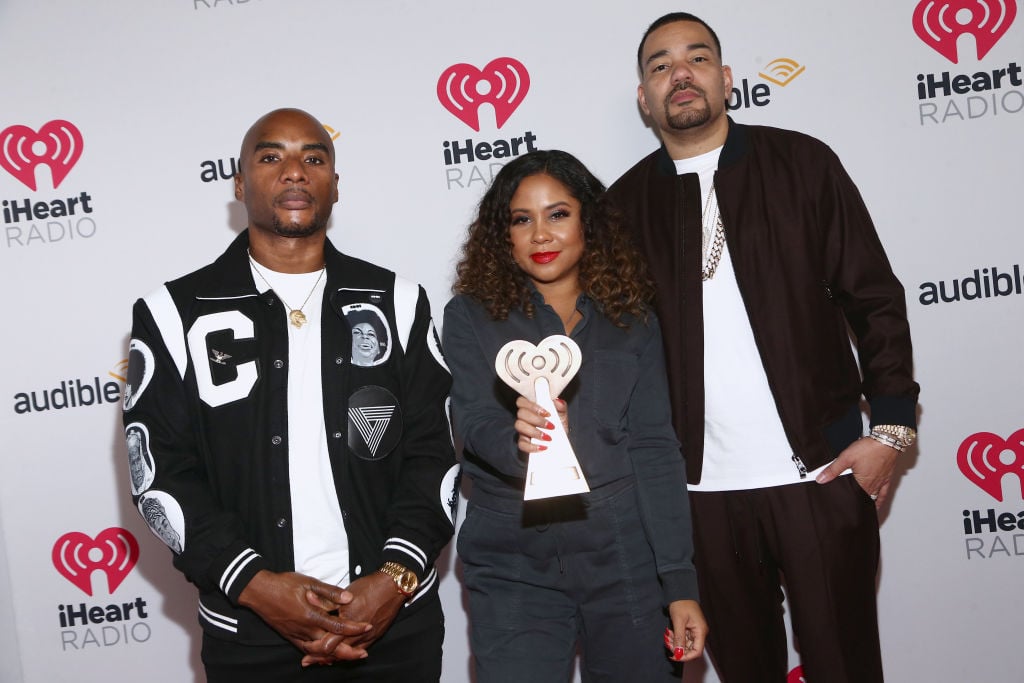 DJ Envy and Angela Yee's relationship
DJ Envy once told the newspaper The Atlanta Journal-Constitution that he "balked" when he first learned he was being paired with Yee for The Breakfast Club, citing her apparent potty mouth on other radio programs.
"On Sirius, she curses like a sailor! I don't want to work with that," he explained. "Sounds like a disaster. We'd get fired after a week!"
But when the show debuted in 2010 and he got to know Yee, they connected. They have since affectionately referred to each other as brother and sister and often support each other at events. With that in mind, it seems fair to say that these two would consider themselves friends.
DJ Envy and Charlamagne Tha God's relationship
DJ Envy also said in the aforementioned interview that he was hesitant to work with Charlamagne because of his track record in radio.
"Charlamagne has been fired four times. [Didn't] want to work with him," the radio host explained.
But over the years, they became close. And while things have gotten tense between them at times, they always seem to bounce back stronger. They are "brothers" — who tend to go to some pretty wild lengths to honor their friendship. For Christmas 2020, for example, Charlamagne gave his co-host an NSFW gift that left even Will Smith and Martin Lawrence speechless.
Angela Yee and Charlamagne Tha God's relationship
Back in January, Yee did an interview with Variety and addressed her relationship with Charlamagne. She said she does not hang out with him outside of the workplace and also seemed to imply that she's truly not a fan of his.
"We work together, it is what it is … A lot of people have jobs where they don't necessarily love the people they work with, it's just a part of life. That's not the person you'd hang out with in real life…" she told the outlet.
Yee also said that they've had many problems in the past over the way they handle interviews. She stated that she talks in a calm manner and usually comes prepared with notes whereas Charlamagne sometimes goes off the cuff and lets loose. But despite their differences and clashes, she noted that she always stays strong and conducts herself in a professional manner.
"Also, if we got along all the time, it probably wouldn't be as interesting," she added.
For his part, it appears that Charlamagne has not said much about their relationship. But HipHopDx claims that he once allegedly liked a comment where someone stated that he and Yee were just co-workers — not friends. So there's that.
Source: Read Full Article