Aubrey ODay Insists Macy Grays Comments About Transgender Women Belong in the Trash
Taking to social media to slam the 'I Try' hitmaker's controversial remarks, the 'Hurts So Good' songstress says that a 'p***y and tits' have 'never defined' any womanhood.
AceShowbiz –Aubrey O'Day has shown support for transgender women after Macy Gray's controversial remarks. Taking to social media, the "Hurts So Good" songstress slammed the "I Try" singer over her anti-trans comments.
On Wednesday, July 6, the 38-year-old singer tweeted, "Macy Gray's 'facts' belong in the trash. So trans women aren't women if they come from a different beginning?" She continued fuming, "A p***y and tits has [sic] never defined my womanhood..my experiences and self expression is what make me resonate w myself, label me whatever..it says more about YOU than me!"
"What is this fear of transwomen being labeled 'women'? Do u think we r going extinct? Are we an honored gender," Aubrey continued in a following post. "Last time I checked the government owned my p***y & it's worth more on onlyfans than it is sitting in an executive seat, so wouldn't we benefit w a larger tribe ladies?"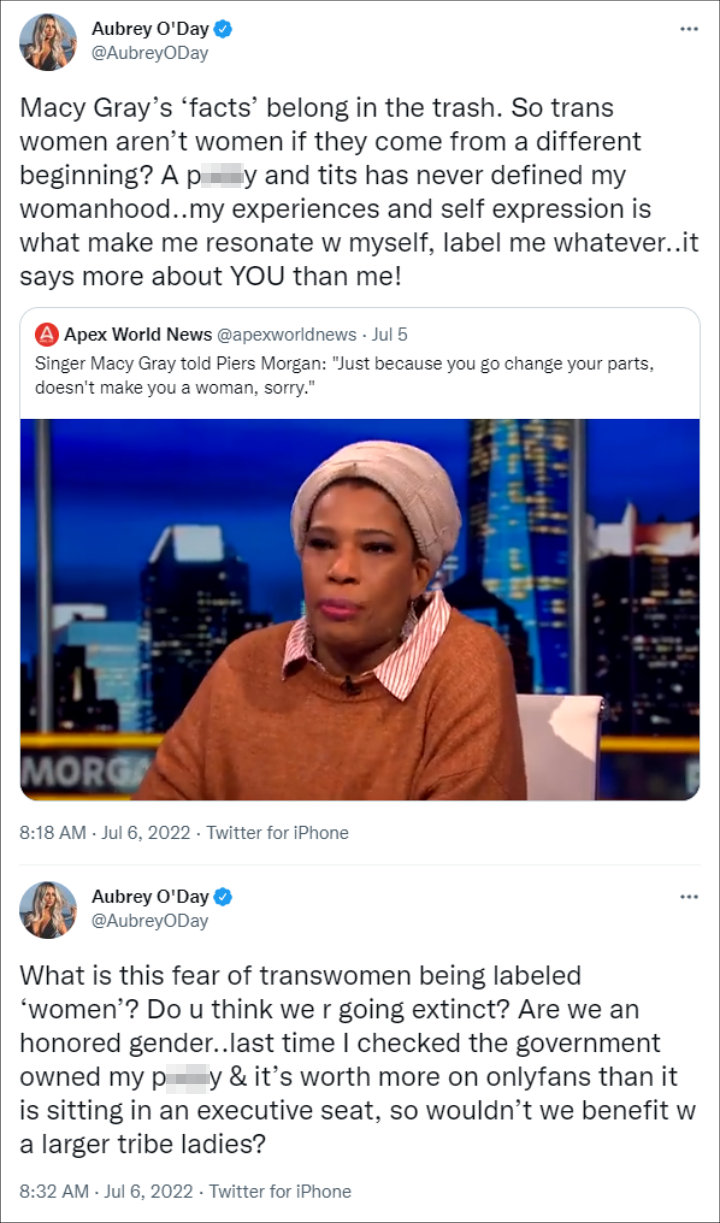 Aubrey O'Day slammed Macy Gray's anti-trans comments.
After one Twitter user replied to her tweet, insisting that people should stop "dragging everybody for their personal opinions," Aubrey pointed out, "[Macy] called her opinion the 'truth'. Definition of Truth: the body of real things, facts; actuality. She chose 2 say hurtful/harmful 'truths' Publicly.. thus prompting response. I've also had to learn this the hard way, but Not every opinion needs to b advertised in public as truth."
"I think trans woman [sic] just want the freedom to express themselves w whatever titles society has created (unfortunately) that define ppl," Aubrey elaborated further, before noting, "Freedom to just b what they feel inside."
Aubrey later responded to a social media user who called Macy's remarks "a neutral statement" and that it's "not a bad thing." The "Between Two Evils" artist replied, "I don't think trans women can't accept that all women have separate experiences/existences. It's intriguing to get to know all women's journeys, as none of us have the same story regardless of what parts we were born with. existence is in ur soul, not ur physical parts."
Also slamming Macy's anti-trans rhetoric was Lynda Carter. "I cannot think of anything that helps women's rights less than pinning the blame on trans women," the 70-year-old actress tweeted on Tuesday, July 5. "They face so much violence and scrutiny as is. Leave them alone and focus on the real war on women. It's happening in the courts and legislatures around this country."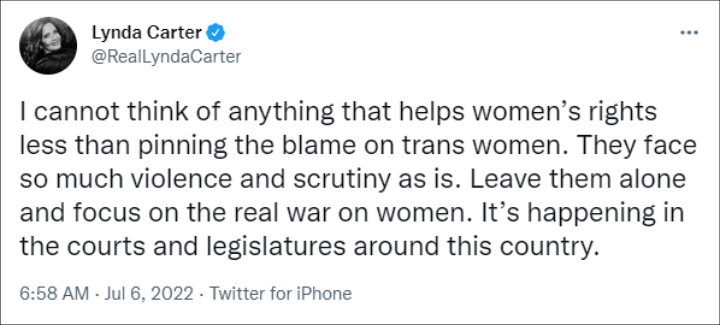 Lynda Carter blasted anti-trans rhetoric on Twitter.
Macy caused a stir online after she said that undergoing surgery doesn't necessarily make someone a woman. "I will say this and everybody's gonna hate me but – as a woman – just because you go change your parts, it doesn't make you a woman, sorry," she said during an appearance on "Piers Morgan Uncensored" on Monday, July 4. "I know that for a fact. A woman is a human being with boobs. How about you start there? And have a vagina!"
After facing heavy backlash, Macy claimed her comments were "grossly misunderstood." She tweeted on July 5, "I got nothing but love for lgbt+ and transgender communities. i've been a supporter since day one and never a fake one. My statement on piers morgan was GROSSLY misunderstood. i respect everyone's right to be whoever they wana b."
As her clarification didn't stop the critics to blast her, Macy took to Instagram on July 6 to vent out her frustration as writing, "All of you coming on my page, threatening me and calling me names – just because I said something you don't agree with." She went on telling the haters to "be whatever you wana be, and fk off."
Source: Read Full Article