Aww: Jennifer Lopez Shares That She Was "Sad" and "Letdown" When She Wasn't Nominated for an Oscar
Obviously, the 2020 Oscars already happened, but Jennifer Lopez is just opening up about being snubbed by the academy. As anyone who watched Hustlers will know, J.Lo did an amazing job as Ramona and absolutely deserved a nomination.
While speaking to Oprah yesterday during her 2020 Vision: Your Life In Focus Tour, Jennifer talked about what it was like not to get the nom. She said (via Daily Mail):
But even more heartbreaking is that Jennifer felt as though she disappointed the people who work with her, saying, "Also I felt like my whole team—most of my team has been with me for years, 20, 25 years—and I think they had a lot of hopes on that and they wanted it too, so I felt like I let everyone down a little bit." And really, J.Lo shouldn't feel that way at all—if anything, the academy should feel as though they let people (ie, me and other J.Lo fans) down, cause really, they did!
Also, Jennifer was nominated for a National Society of Film Critics award just did the freakin' Super Bowl Halftime show, so she'll be just fine with or without an Oscar!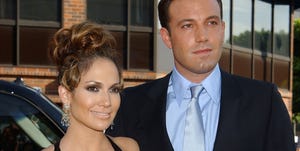 Source: Read Full Article