Britney Spears and Sam Asghari Spark Pregnancy Speculation With Sultry Instagram Photos
Britney Spears is once again causing a frenzy on social media. But this time, it's more than just concerns about her mental health.
After going on a posting spree sharing sensual photos of herself posing with beau Sam Asghari, many fans were convinced that there was a more profound message behind these photos than just love.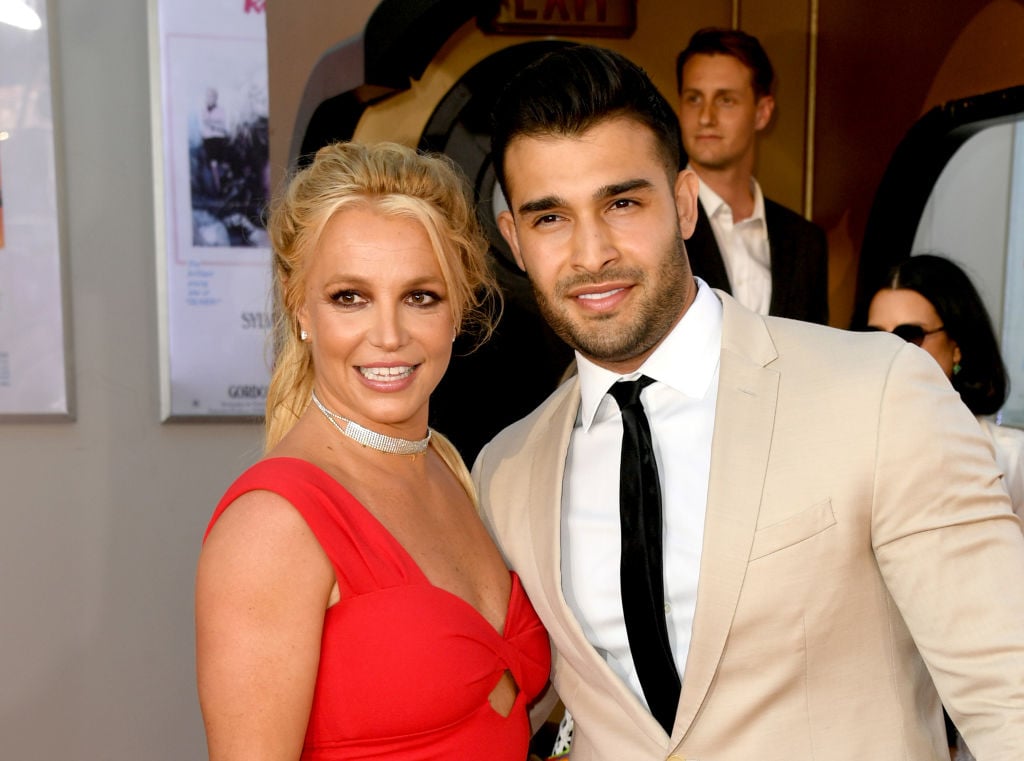 Fans speculate that the couple's expecting their first child
Will Spears soon be a mother of three?
That is what many fans are now trying to figure out after seeing the singer's latest social media posts.
On Mar. 2, the "Womanizer" crooner sparked pregnancy speculation when she shared a series of photos, with one wishing her boyfriend of four years, Asghari, a happy early birthday.
"Happy early B-day to this man !!!!! I adore and love him so much ….!!!! Happy Birthday @samasghari."
The photos showed Spears and Asghari in a sensual embrace as they posed for the camera. The singer donned a white bodysuit as her fitness trainer beau rocked a shirtless look.
After seeing the snapshots, fans couldn't ignore that Spears appeared to be glowing and quickly began to speculate that these photos were the couple's way of subtly hinting that they were expecting their first child together.
"Looking for a third," one fan wrote.
"Is she pregnant?? I'm confused," someone else commented.
"She's pregnant!," another user penned.
Though many are confident that Spear is currently with child, others took to the comments to express their concerns for her mental health.
Aside from those who think she's glowing, some people thought the singer didn't look mentally well.
"What is going on with our girl?," one person commented.
"I just want you to look better & healthier britney," another fan wrote.
Spears' son just hinted that she could be quitting music
Although many would love for Spears to announce that she's expecting her third child with Asghari, it appears that now just isn't the right time for her to welcome a baby.
For the past few months, the singer has been going through a lot, and according to her son, Jayden, she could be making some significant changes to her life and career pretty soon.
The Grammy winner's second child with ex-husband Kevin Federline took to Instagram Live on Mar. 3 to give an update on his mom and shared that she might be putting her music career to rest.
When a fan asked whether Spears would be releasing any new music soon, the 13-year-old said, "Actually I haven't seen her doing a lot of music at all. I don't think that … I don't know, dude. I don't even know. I remember one time I asked her, I said, 'Mom, what happened to your music?' and she was like, 'I don't know, honey. I think I might just quit it.' I'm like, 'What? What are you saying? Like, do you know how much bank you make off of that stuff?'"
Spears' son went on the share a lot more about his family dynamic and even had a few choice words to say about his grandfather James Spears, who's currently the singer's conservator.
From what we can tell, a lot is going on in the Spears family, and hopefully, the singer isn't looking to welcome another child with all of this drama currently taking place.
While she or Asghari has yet to comment on the pregnancy rumors, it remains unclear if they've even discussed having children together.
As of right now, it appears that the couple is just enjoying their time together and will start adding children to their brood when they feel the time is right.
Source: Read Full Article