Demi Lovato & Justin Bieber Talk Public Struggles And What Inspires Them To Keep Entertaining!
On Friday, Demi Lovato took a stab at hosting The Ellen Degeneres Show and interviewed her very good friend, Justin Bieber!
Although they tried to keep the convo light on multiple occasions, both singers got very honest about their struggles and how they deal with fame.
Related: Demi Lovato's New Single I Love Me Is Masters Class In Confidence!
When Demi asked Justin if there's anything he would rather do than being a singer, the Changes crooner replied:
"I think for a while I tried to run away from some stuff. I tried to run away from the industry, tried to run away from what I felt like God wanted me to do. But I feel like this is what you and I are meant to do. You're meant to entertain and sing, and I think same as me. So when we run away from that, we become less happy. We feel like there's all these responsibilities and all these sort of things that become heavy for us. I think sometimes we've gotta run towards the pain rather than run away from it."
We do think both Lovato and Bieber were put on this earth to entertain! And after years of massive success, the fans would agree.
When Demi pressed Justin on his honesty with the recent Seasons documentary, he shared being raw was really helpful:
"I think the more mature you become, the more you understand that there's power in your weakness. When you're able to show that, it gives other people the confidence to say, you know what I'm going through similar things myself. It might not be the exact same thing, but I'm going through something too and I've been hiding it. So just having the confidence and being able to instill that confidence in young people that it's OK to have problems, you don't have to hide that."
And the I Love Me songbird even shared that Biebs served as a massive inspiration for her during recovery:
"When I struggled last year, I know I looked at you as an inspiration because you've been through this and you've come out of the other side and I really just admire the man that you are today."
Watch the full clip (below)!
Biebs also joked that he and wife Hailey Bieber are in an arranged marriage! Check out that cuteness (below)!
This all comes after Demi opened up to Ellen Degeneres on Thursday's show about her super controlling team. The Sorry Not Sorry singer shared the people who used to be around her would hide any sugars in order to try and curb her eating disorder:
"I didn't know that until today too, but I lived a life for the past six years that I felt wasn't my own because I struggled really hard with an eating disorder, yes, and that was my primary problem and then it turned into other things. My life, I just felt it was so… and I hate to use this word, but I felt it was controlled, by so many people around me."
She also opened up about how for years she deprived herself of a simple pleasure:
"For many years, I didn't even have a birthday cake. I had a watermelon cake, where you cut your watermelon into the shape of a cake and you put fat free whipped cream on top and that was your cake. I just really wanted birthday cake, so this year when I turned 27, you know, I have a new team, and Scooter Braun, my manager, gave me the best birthday cake. I spent it with Ariana Grande, who is one of my good friends, and we just had the best birthday and I just remember crying because I was finally eating cake with a manager that didn't need anything from me and that loved me for who I am and supported my journey. I think at some point it becomes dangerous to try to control someone's food when they're in recovery from an eating disorder."
Demi seems to be doing better these days, and she also navigated her hosting on Ellen nicely! It's a good thing too, because she just got her own show on streaming network Quibi! Pillow Talk will premiere in a few months, and we can't wait to see what else is to come from the former Disney starlet!
Thoughts on her interview with JB, Perezcious readers?! SOUND OFF in the comments (below)!
Related Posts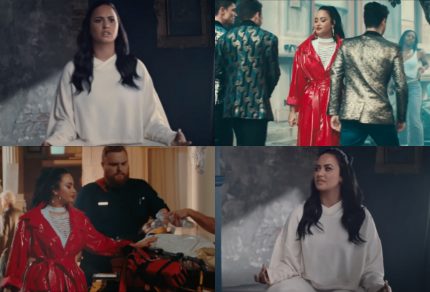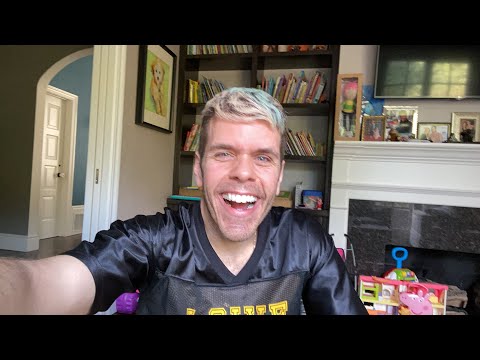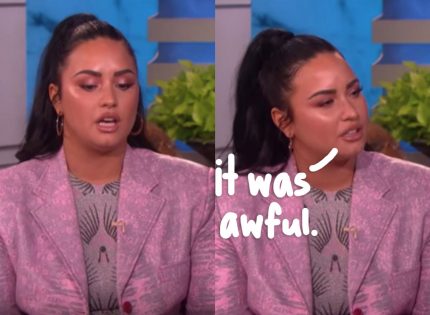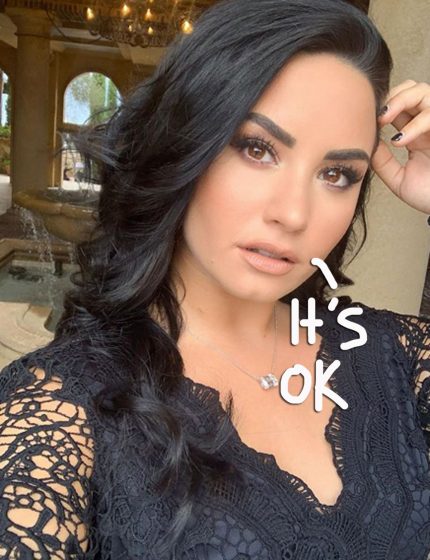 Source: Read Full Article