Here's What Post Malone's Tattoos Really Mean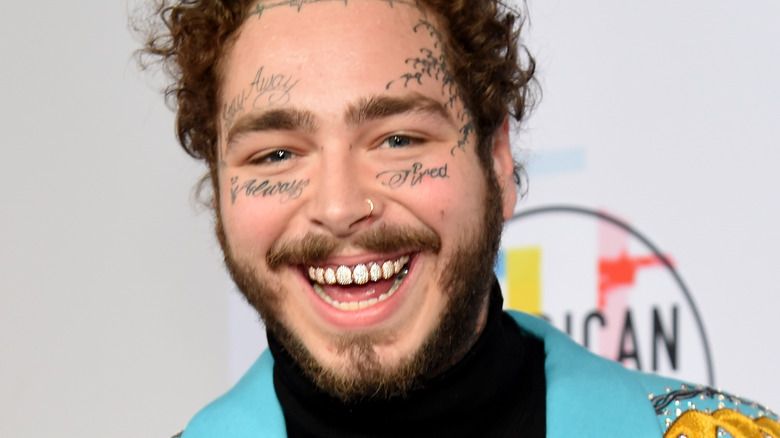 When it comes to tattooed celebs, few come to mind faster than Post Malone. The "Circles" singer is inked quite literally from head to toe, sparking constant conversations about the iconic art for fans and followers. Having only begun his tattoo collection in 2016, Malone has amassed a quantity of tattoos that would make your grandmother nervous.
While recording his debut album "Stoney," a tattoo artist made an appearance in the studio, marking the beginning of a whole new aesthetic for the songwriter. Malone recalls thinking, "You know what? Justin Bieber's got some tats, and I love you, but I know I'm way tougher than you." He opted for a classic Playboy bunny symbol on his arm. While the tattoo was healing, Malone and Bieber played a seemingly competitive game of basketball and Bieber reportedly hit Malone's arm, causing breakage in the ink and leaving him with a cracked and damaged piece. Post Malone told GQ, "He just messed up the whole thing, but it still looks kinda tight. It looks like magma. Justin did apologize but he's gonna have to buy me a new one" (via Insider).
Since the less-than-smooth first tattoo, Post Malone has added many more to his collection, most famously on his head, face, and neck, and he claims that each has its own meaning. 
Post Malone's face tattoos were an attempt to upset his mother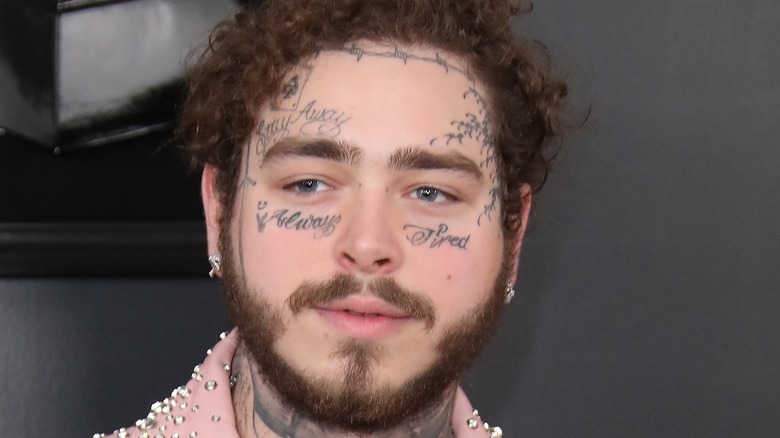 Perhaps most iconic of all his tattoos are the script letters reading "always" and "tired," under Post Malone's right and left eye respectively. Malone reportedly stated at a festival in 2018, "I tried to do something that's relatively the same length of letters (under each eye) But I guess always is more letters than tired…but I was tired, so I didn't realize." Given the circumstances, this is a fitting tattoo for the tired musician (via Body Art Guru).
Above his right eyebrow in a similar font are song lyrics "stay away," which were scrawled across Post Malone's forehead in an attempt to upset his mother, though he claims he loves her and is sorry. Above the script is a row of barbed wire just beneath Post Malone's hairline, a tattoo he has never publicly addressed but has been speculated by fans to be a nod to his mental health issues.
Also present on the right side of the rapper's face are a smiley face, a small playboy bunny, an ace of spades, a tiny heart, and a dagger. Though he claims the majority of his face tattoos were meant to upset his mother, he admits that the dagger is a tribute to his lifelong love of swords and daggers.
On the left side of his face is a tattoo featuring a softer aesthetic — abstract etchings that he acquired while on a trip to Tokyo.
Post Malone pays tributes with portraits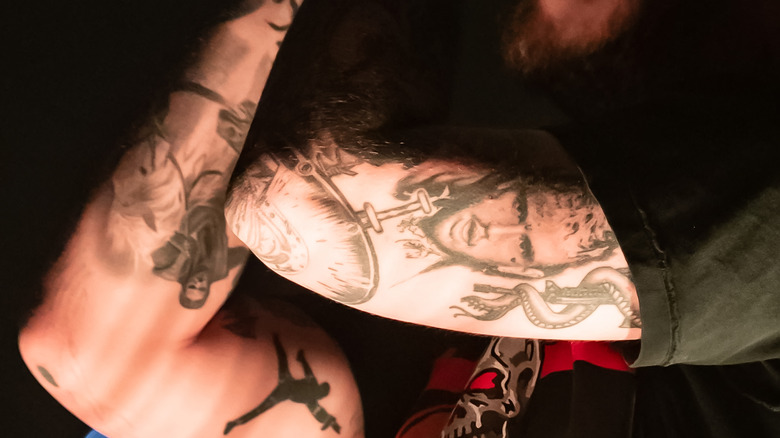 Among Post Malone's tattoos are several intricate portraits of people he considers to be important and influential. On his left hand is a portrait of John F. Kennedy, about which Malone has said, "JFK was a guy that everyone should model their Americanism" (via Body Art Guru).
Malone established a short but very sweet friendship with Lil' Peep prior to the rapper's death, who has been immortalized by a portrait on Malone's left arm. In an Instagram caption following the tattoo and Lil' Peep's death, Malone wrote, "In the short time that I knew you, you were a great friend to me and a great person. Your music changed the world and it'll never be the same. I love you bud. Forever" (via Insider).
Malone also dons a large tattoo of Jesus, as well as several small portraits on his fingers of iconic artists such as Elvis Presley, Kurt Cobain, and Stevie Ray Vaughan. Telling GQ, "It's all, like, my favorite artists, you know, that have passed. Without these guys, I wouldn't be making music right now." On his left arm is an intricate inking of Bob Dylan playing a harmonica and smoking a cigarette (via Insider).
Words are written all over Post Malone's body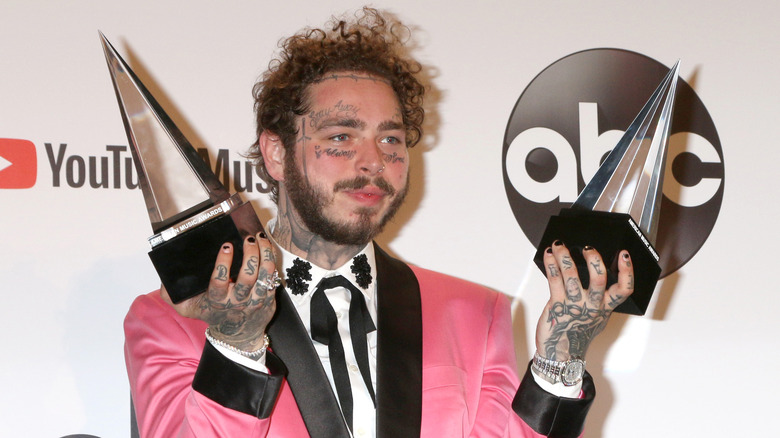 Lettering and phrases always make for a popular tattoo choice, and Post Malone has added several wordy pieces to his collection over the years. On his stomach is one of his larger pieces, the phrase 'molon labe' is a bold and eye-catching font. Molon labe is translated from Greek to mean 'come and take them" (via Body Art Guru).
On the small knuckles of Malone's fingers, just above the dainty portraits, are the words "rest easy." Though this sounds like a tribute to someone departed, Malone's actual meaning for this tattoo is to "sleep without worries.
On his left forearm, you'll find the words "so far, so good, so what?" Malone has not publicly stated the meaning behind this tattoo, but it can be speculated to represent an appreciation of where life has taken him thus far.
On the palm of his hand are bold letters reading "NEVERMIND." Likely a nod to one of his favorite bands, Nirvana, Malone also boasts a portrait of frontman Kurt Cobain on his arm. He told Newonce, "I think he's — I don't know — he's just a genius. So ahead of his time." 
Malone may not always be an open book, but his skin boasts plenty of literature for fans to read!
He has a penchant for strong images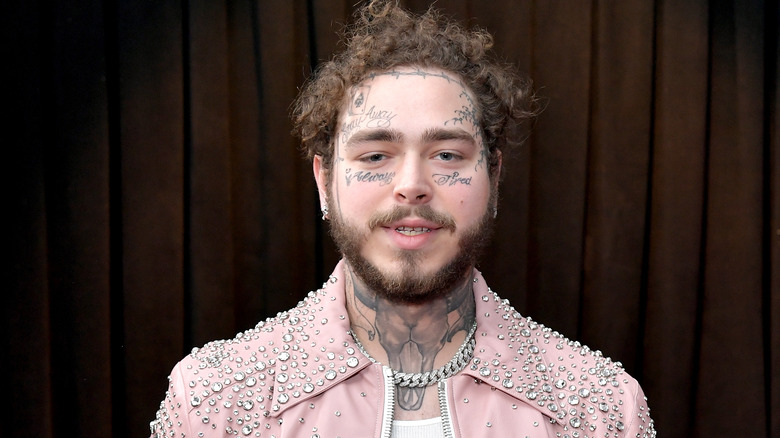 It's no secret that Post Malone loves strong imagery when it comes to his tattoos. Giving further attention to Malone's love of swords is a tattoo of a sword designed to appear as if it is stabbing through his lower neck. Above the sword tattoo is the skull of a bison, said to represent the ability to endure difficult moments in life. To the right of the bison skull is an eagle.
On Malone's right arm is a tattoo of praying hands holding a gun, while his left arm boats a gun with a snake wrapped around it. These tattoos reportedly represent Malone's support of the Second Amendment, known as the right to bear arms. When Malone bears his arms, you're bound to notice this bold ink (via Body Art Guru).
With 77 tattoos and counting, Malone might just run out of skin. He truly appreciates the art of tattooing, and fans appreciate the art.
Source: Read Full Article