Kim Kardashian Revels in Getting Stranded While on Vacation With Pete Davidson
Through a series of fabulous pictures, the 'Keeping Up with the Kardashians' alum offers fans a peek at her romantic tropical beach getaway with her comedian boyfriend.
AceShowbiz –Kim Kardashian has apparently enjoyed some quality time together with Pete Davidson. On Friday, June 17, through a series of amazing photo shots taken by her comedian boyfriend, the 41-year-old makeup mogul shared with her fans a peek at their romantic tropical beach getaway in Tahiti.
Making use of her Instagram album, the "Keeping Up with the Kardashians" alum let out a series of fun photos. One of the pictures gave a close-up look at her funnyman beau sticking his tongue out while she posed on a paddleboat not too far away in the background. In the caption, she lightheartedly joked, "Stranded."
Two other snaps displayed Kim posing in the water with Pete. "The Kardashians" star showed off her ample cleavage and taut midriff in a silver-and-black bikini, whereas the former "Saturday Night Live" star put his tattoo collection on display as he waded around shirtless, wearing only a pair of swim trunks.
Kim also included one short clip that saw her struggling to row her paddleboat. The sound of Pete laughing could be heard in the background. "Oh he's making fun of me," the KKW Beauty founder noted with a laugh, before adding, "I think he's purposely letting me drift off far far away."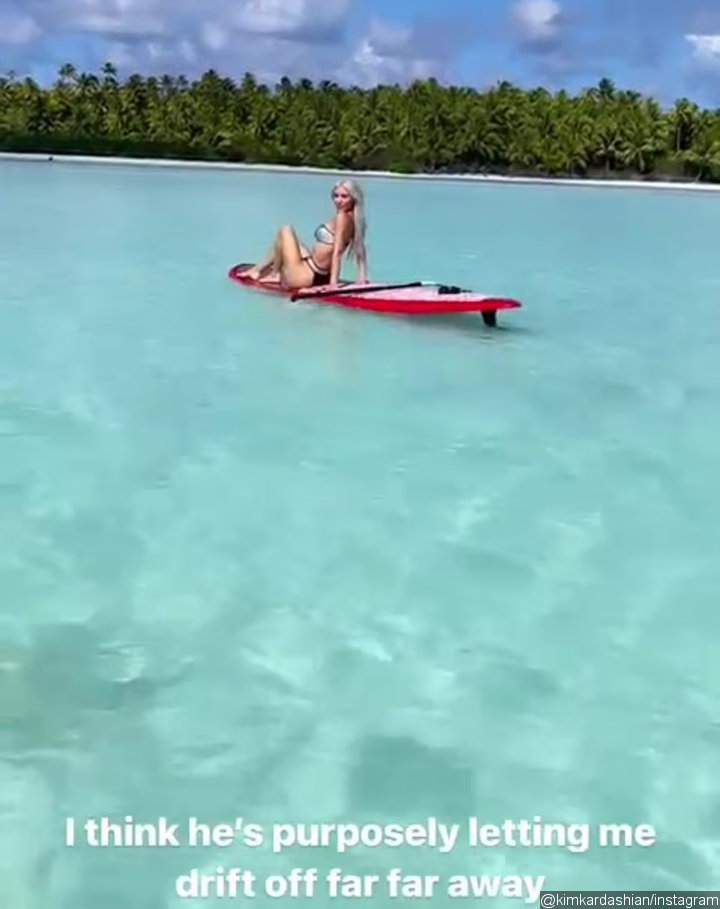 Kim Kardashian could be seen enjoying her vacation on a paddleboat.
Days before sharing the beach post, the second oldest daughter of Kris Jenner also uploaded photos that saw her donning a black bikini. "beach for 2," she simply wrote in the caption. This post displayed a series of pictures that also included Pete posing in his swimwear as the two enjoyed themselves playing in the shallow water.
Although their trip in Tahiti only took five days, Kim and Pete were reported to be so happy to finally be able to unwind and enjoy themselves. "They stayed in their own private home and it was literally heaven," a source spilled to HollywoodLife.com.
"This vacation was a place they had never been together, and it was so romantic and special," the source went on to add, "Along with the paddle boarding, they also went snorkeling, and cooked food and really were able to relax."
Prior to her relationship with Pete, the mother of four has been married to ex Kanye West. She, however, filed for divorce from the rapper in February 2021 after six years of marriage.
Source: Read Full Article