Kim Zolciak Breaks Social Media Silence After Kroy Biermann Divorce News
The former 'The Real Housewives of Atlanta' star returns to Instagram with a new Story for the first time since it was reported that she and her husband of 11 years are getting a divorce.
AceShowbiz –Kim Zolciak has returned to Instagram, several days after news broke of her split from husband Kroy Biermann. The reality TV star broke her social media silence on Wednesday, May 10 by sharing her first Story since the divorce reports surfaced.
The 44-year-old reposted a Story by her friend Elizabeth Arthur. In the clip, the mother of six ditched her wedding ring as she learned to play "Fortnight". Her bare hand was visible as she put on the headphones while her friend was filming the Bravo personality, who was struggling to understand how the game works.
Kim flashed her taut tummy in a white cropped tank top paired with black jogging pants. Her long blonde hair was pulled up in a messy bun as she appeared to sport minimum to no makeup. She jokingly called herself an "idiot" as she put the headphones backwards while Elizabeth laughed at Kim.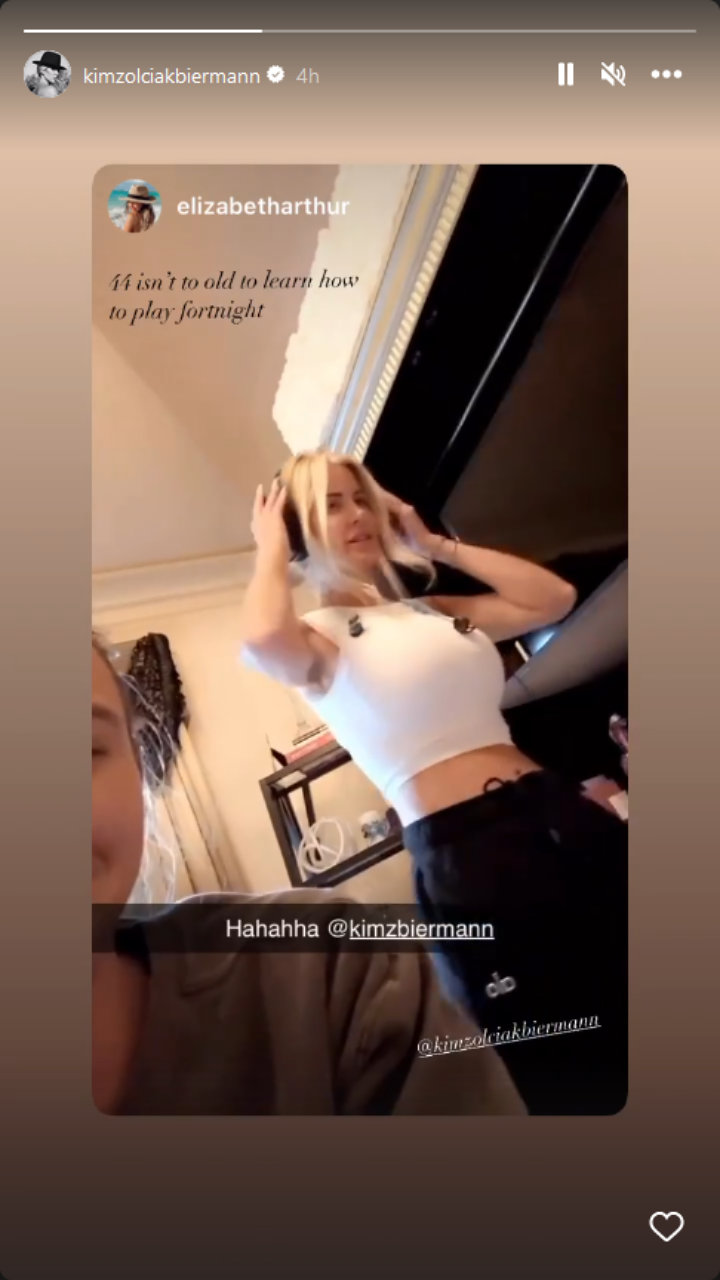 Kim Zolciak posted her first Instagram Story since Kroy Biermann divorce news.
While Kim has posted her first Story since the divorce news, her daughter Brielle Biermann has also made use of Instagram to show her alliance to her mother. The 26-year-old has unfollowed her estranged stepfather Kroy on the photo-sharing platform.
Kroy is still following Brielle, but he appears to throw shade at his estranged wife with his recently-updated Instagram bio. According to Us Weekly, the former NFL star's bio previously read, "Husband. Father to six perfect munchkins. Athlete. You can Google Me & see I wasn't Tardy for that Party."
The 37-year-old has now changed it to, "Husband. Father to six perfect munchkins. Athlete. My ring Meant a Thing, you can Google Me & see I wasn't Tardy for that Party."
As reported before, Kim and Kroy each filed for divorce from one another on May 5 after 11 years of marriage. In the docs, they both state that they are in a "bona fide state of separation." She lists April 30 as the date of separation and says their marriage is "irretrievably broken with no hope of reconciliation."
Around the same time, reports emerged that the reality TV star and the former football player owe $1.1 million to the IRS in unpaid taxes, interest and penalties from 2013, 2017 and 2018. They also owe the state of Georgia $15k for unpaid taxes for 2018.
You can share this post!
Source: Read Full Article