Meghan McCain Takes A Side In The Erika Girardi Legal Drama
We all get by with a little help from our friends, and in "Real Housewife" Erika Jayne Girardi's case, she is very grateful for Meghan McCain. In fact, it seems that the "RHOBH" star is appreciative of Meghan's support as her legal woes with ex-husband Tom Girardi play out on Season 11 of "The Real Housewives of Beverly Hills." (Erika and Tom are being sued for allegedly embezzling money from plane crash victims that his law firm represented, per Us Weekly. Erika has maintained that she didn't know anything was going on.)
The former "View" host took to Instagram on September 1 and wrote, "Team Erika @theprettymess. We love you," adding, "If you don't have something nice to say, don't bother commenting. No one is interested." Erika responded with, "Love you back," followed by multiple red heart emojis. McCain also shared a similar message on Twitter, and Erika added, "Team @MeghanMcCain always" along with a red heart emoji. 
But critics flooded the comments on Meghan's post and did not seem to agree with her throwing support behind the reality star. One wrote, "You can ride with her, as you should for your friends but also ride harder for the victims too." Another added, "Meghan I hope you don't have to eat your words!" One critic did not hold back as they wrote, "You certain she's innocent?"
Regardless of the drama, these women always seem to have each other's back. Keep reading for more details on their friendship.
Erika Jayne and Meghan McCain are thick as thieves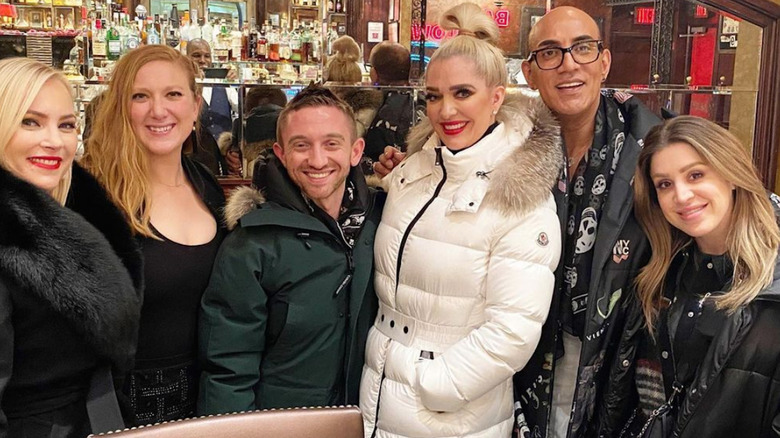 Even though they don't get coffee every week in real life like your typical, everyday girlfriends — considering they live on opposite sides of the country — Erika Jayne and Meghan McCain are pretty close.
In an August 2020 episode of "Watch What Happens Live," McCain gushed over "The Real Housewives of Beverly Hills" star. "I chose Erika because she really changed the game for 'Housewives.' After she was on the show, all of a sudden everybody has a glam squad all the time. I know you guys like Dorit [Kemsley], but she wouldn't have that if Erika didn't start it," she told Andy Cohen. She also referred to the cabaret artist as a "legitimate performer" and as someone who "changed the way we look at 'Housewives.'" If that's not a compliment, we don't know what is!
In turn, Erika supported her friend when she was under attack on Twitter in October 2020, this time from an Internet troll. "I will fight you," Erika tweeted to a hater and calling McCain her "sister." Now that Meghan McCain is no longer speaking her mind on "The View," it seems like she and Erika Jayne will have plenty of time to talk!
Source: Read Full Article