Michelle Williams Had the Best Response to Trolls Asking Her Why She Wasn't in Beyoncé's 'Black Is King'
While fans were hoping to see a mini Destiny's Child reunion in Beyoncé's new visual album, Black Is King, they were only met with the appearance of Kelly Rowland as Michelle Williams was visibly absent.
Since Williams was nowhere to be found in the film, fans questioned why she wasn't included in the project. But after one troll rudely asked about her whereabouts, the singer clapped back with a perfect answer.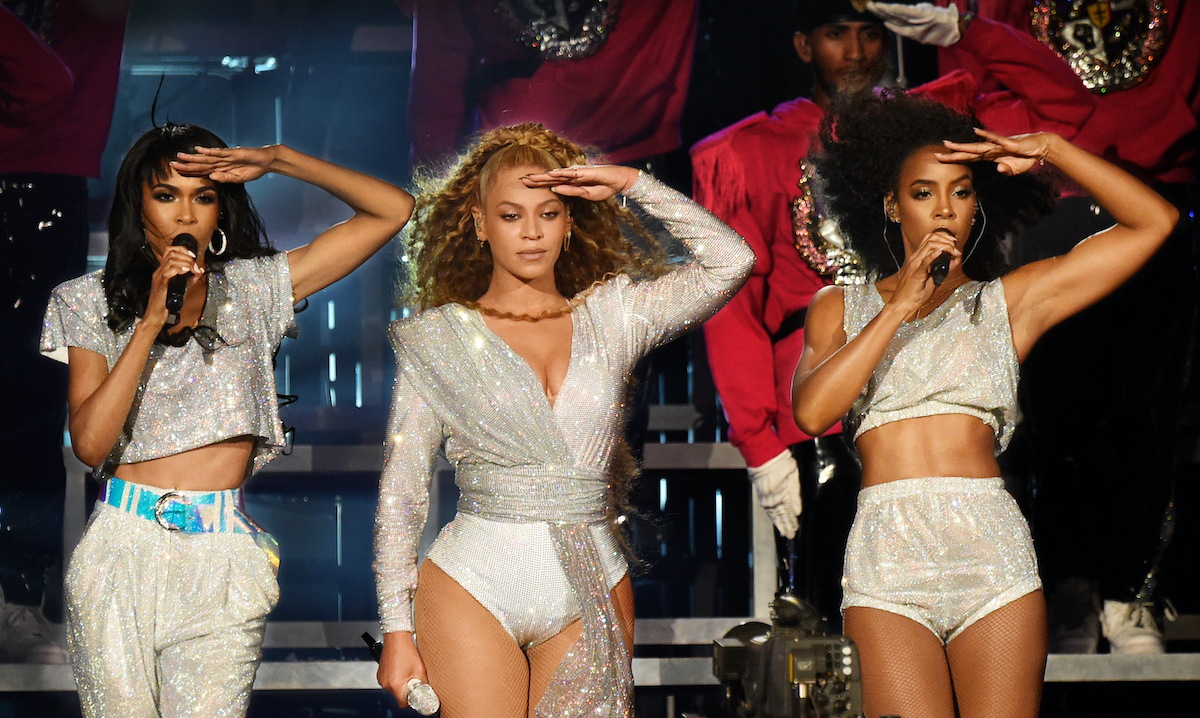 'Black is King' included several celebrity cameos
Beyoncé is known for taking things to the next level, and her new visual album, Black Is King, is proof that she doesn't do anything less than spectacular.
The film, which is streaming exclusively on Disney+, is arguable the biggest and most ambitious project Bey's ever done. While the incredible visuals and jaw-dropping costumes played a large part in people praising the project, the plethora of celebrity cameos had a lot to do with fans calling this film some of the singer's best work yet.
From Lupita Nyong'o and Naomi Campbell to Jay-Z and Pharrell Williams, the number of celebrities who helped Beyoncé celebrate Black identity was refreshing.
But the celebrity cameo that the internet can't stop talking about is Kelly Rowland's appearance during the Brown Skin Girl video. Though Rowland showed up a couple of times in the film, she shares some solo time with Beyoncé as they laugh and embrace one another while the award-winning track plays.
Although fans loved seeing the two friends reunite in the film, some were disappointed that third DC member Michelle Williams never appeared in the project.
Fans were hoping to see Michelle Williams during the visuals for "Brown Skin Girl"
After realizing that Williams wasn't included in Black Is King, many fans took to Twitter to share their thoughts on her absence.
"There's Kelly Rowland in #BlackIsKing … where's my Michelle Williams ???," one Twitter user wrote.
"Just saw BLACK IS KING. Powerful and must watch!!! Kelly Rowland did cameo but Michelle Williams was MIA," another person tweeted.
Though many were disappointed that the singer didn't reunite with her Destiny's Child BFFs on-screen, it seems like scheduling conflicts could have played a part in Williams missing out on the opportunity to appear Black Is King.
Whether that could have been the reason Williams didn't appear in the film or not, she still praised Beyoncé's brilliance and the overall work she put into the project in a sweet post shared to her Instagram.
Michelle Williams set the record straight on her absence
On Aug. 2, Williams posted a series of stills from the Disney+ musical film along with the caption, "When you're trying to figure out what your favs are from #BlackIsKing! Ehhhhhhh just post 'em all!!"
After sharing the post, one follower commented, "Where you at in the film tho?" to which the former Destiny's Child member fired back with, "I'm in the upper right corner minding my business!"
Fans immediately began applauding Williams for her response, commenting how much they loved seeing her put trolls in their place.
Though she didn't appear in Black Is King, Williams has maintained a close friendship with Beyoncé and Rowland since Destiny's Child's disbandment in 2006.
In 2013, Beyoncé brought the Destiny's Child sisterhood back together on stage during that year's Super Bowl Halftime Show. Five years, the singers reunited again during Bey's headlining performance at Coachella.
So, even though Williams didn't appear in the Disney+ film, it's likely there will be many more opportunities for her to reunite Beyoncé and Rowland in the future.
Source: Read Full Article