The Untold Truth Of Clea And Joanna From The Home Edit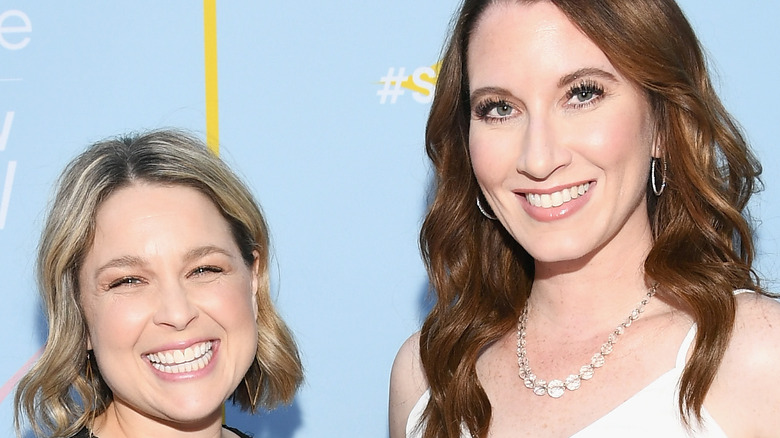 Organization may not seem exciting to many, but people everywhere began binging a TV show all about it in 2020. The Netflix series "Get Organized with The Home Edit" stars Clea Shearer and Joanna Teplin, who own their own organizing business based in Nashville, Tennessee. All sorts of celebrities allow these two into their homes — and that's when it gets interesting. It's one thing to invite someone inside, but it's an entirely different thing to let them look through your stuff. "It's the most personal job, aside from being a gynecologist, that you can have," Teplin has even told the Nashville Business Journal.
Almost overnight, their series became an instant hit on Netflix. From the celebrity appearances to watching this duo's dynamic as they sort through drawers, everyone has become interested in seeing the best way to sort their own pantries. And the show premiered at the perfect time — amidst a worldwide pandemic when people had nothing else to do but to stare at their unorganized closets.
Even off-screen, these two keep busy. Between their own business called The Home Edit, brand partnerships, and even their own product lines, they've come a long way since opening their doors in 2015. "It's wild. We'll never get over it. We'll never get over any of this, honestly," Teplin told People.
So, who exactly are these successful ladies? This is the untold truth of Clea Shearer and Joanna Teplin from "The Home Edit."
Clea and Joanna had failed at multiple businesses before The Home Edit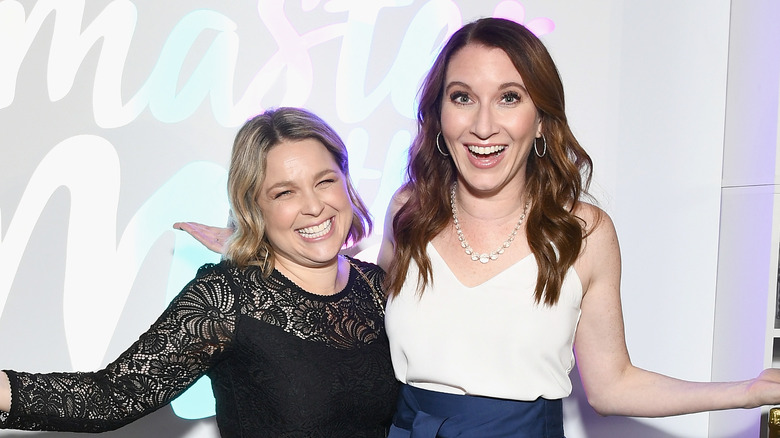 Today, Joanna Teplin and Clea Shearer are two successful businesswomen, but it wasn't always that way. "I've had a number of, you know, trials and errors as far as different businesses that I have tried and failed at," Teplin admitted on the Tamron Hall Show. From a greeting card company to helping brides decide on their wedding invitations, nothing seemed to be working for Teplin. When her husband got a new job and moved their family to Nashville, Tennessee, she was determined to begin a new business altogether.
Luckily, Shearer's husband had moved their family to Nashville around the same time, too. She was all about organization, but no business could see the potential in her — yet. "I actually applied to work for an organizing company in Nashville, and they turned me down!" Shearer admitted on the Tamron Hall Show. At that point, she decided she needed to start something herself.
As soon as the two met, seemingly serendipitously, they instantly decided to start The Home Edit together. After all, they felt that they really had nothing to lose. "Good thing Joanna and I are not afraid of failure or utter embarrassment," Shearer laughed to host Tamron Hall. However, this is one idea that obviously didn't fail.
Clea and Joanna started The Home Edit the day they met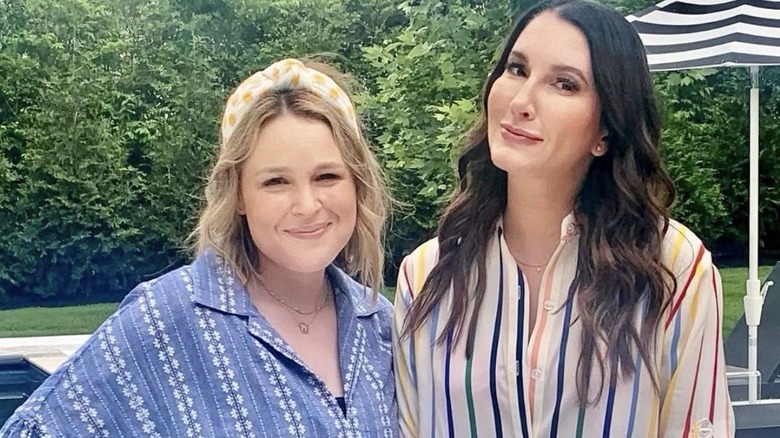 Clea Shearer and Joanna Teplin have quickly become an overnight success story — and, ironically, that's literally how it started. The two built their organizing business the very same day they met in 2015. "That night, we set up our website, our domain, our social handles, we came up with the name, we designed our logo, started filling out paperwork," Shearer explained to 92nd Street Y. "This was all before 8 p.m."
It all began when a mutual friend suggested that Shearer should meet Teplin. Teplin had just moved to Nashville, Tennessee, and was hoping to bring her own organizing business along with her. Their mutual friend thought they would be the perfect business partners. However, "Joanna is not a person who likes to make friends," Shearer said, yet Teplin eventually agreed to have lunch with her.
After meeting up for a meal, the two realized they had an instant connection. Creating a business together seemed like the natural next step. "We never once asked each other if we wanted to work together," Shearer explained. "But after four hours, we got up as business partners."
One of Joanna's kids helped The Home Edit take off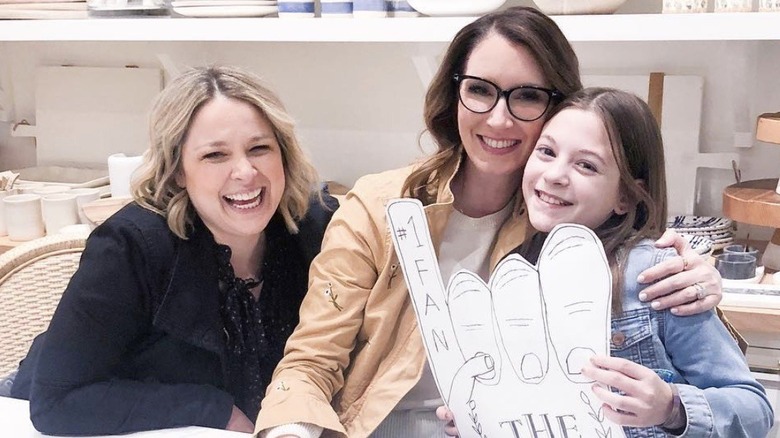 Though having kids can keep you busy — especially if you have a full-time job on top of it — one of Joanna Teplin's children was the one who helped The Home Edit completely take off. "Christina [Applegate]'s daughter and my daughter had gone to preschool together and we became good friends," Teplin explained to People. She and Clea Shearer knew that a celebrity could help their small business get major exposure, so they reached out to the actress. The duo offered to help organize Applegate's home in exchange for an Instagram post about them on her account.
From there, their business began to truly take off. They found themselves constantly flying back and forth from Nashville, Tennessee, to Los Angeles to help organize other celebrities' homes. Eventually, they found themselves with a three-month wait list of clients, according to The Tennessean. "It really helped propel us so much because we were so brand new and organizing has always been a thing but it wasn't something on social media channels at that point," Shearer told Page Six. "That really did help launches with celebrity and non-celebrity clients."
Get Organized with The Home Edit isn't Clea and Joanna's first TV show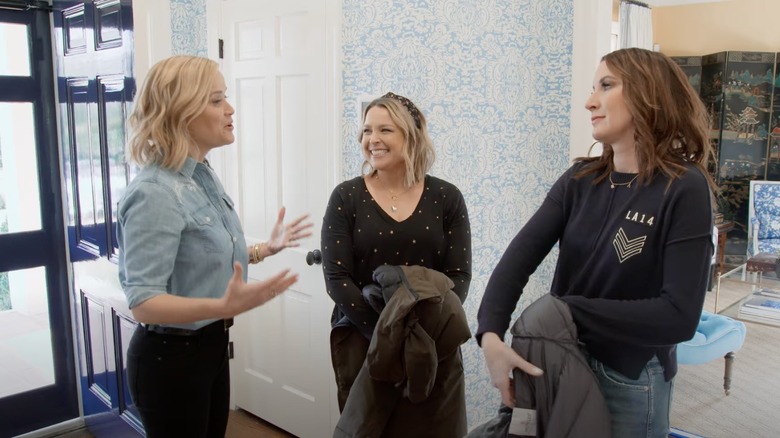 Many fans know Joanna Teplin and Clea Shearer from Netflix's "Get Organized with The Home Edit." However, it's actually not their first TV show. In 2018, the two made their debut on a single season of a series called "Master the Mess." Funny enough, it was, honestly, by complete accident that they ever ended up on TV.
Two years beforehand, both women were tasked with organizing supermodel Molly Sims' home. "Molly and her husband, Scott, were looking at us tearing things out of the pantry, being our crazy selves, and they were like, 'Is this a show? I think this is a show,'" Shearer explained to Entertainment Weekly. A sizzle reel quickly ensued, and almost immediately following that, Reese Witherspoon appeared in their Instagram messages asking them if they were interested in being on television. "We are professional organizers and really have no business being on camera," Shearer later said while promoting their Netflix series. "But when Reese Witherspoon's company says they want to do a show, what are you going to say? 'No?'"
Neither Clea nor Joanna started out as a professional organizer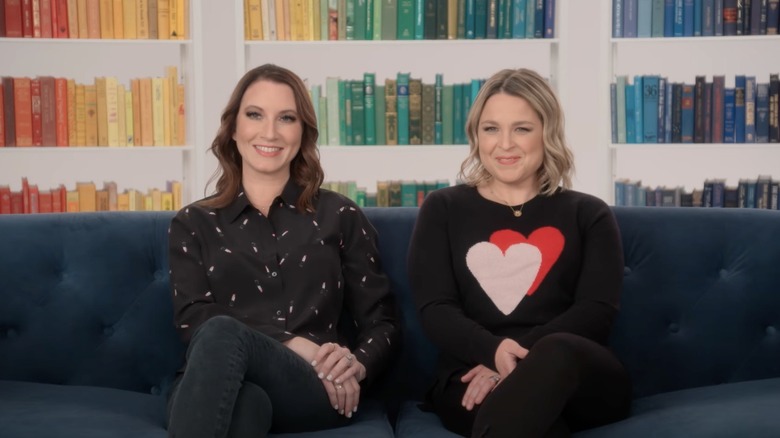 They may be amazing at organizing, but keeping clients' houses in order wasn't something they both had always aspired to do. "Before organizing, I worked in the fashion industry," Clea Shearer told House of Harper, and she was serious about staying there, too. She even graduated from the iconic Parsons School of Design. Yet, she was always on top of being organized, so a new career eventually seemed like the natural step.
Coming from the world of fashion heavily influenced Shearer's way of organizing, too. "Like fashion, it's a way for people to express themselves and to surround themselves with what makes them feel good — color, pattern, space," she explained to With Heart. After all, true fans of their TV show know that she's all about color coordinating people's homes.
Joanna Teplin, on the other hand, has a much different background. After graduating with her degree in film, she began working with something completely different — greeting cards and invitations. That led Teplin into the world of wedding planning before she slowly found herself beginning to organize other parts of people's lives. "When I met Clea, I'd already owned an organizing business but on a much smaller scale," she explained to House of Harper. "Clea brings the form, and I bring the function. It's a perfect balance."
Clea took the photos that appear in the duo's bestselling book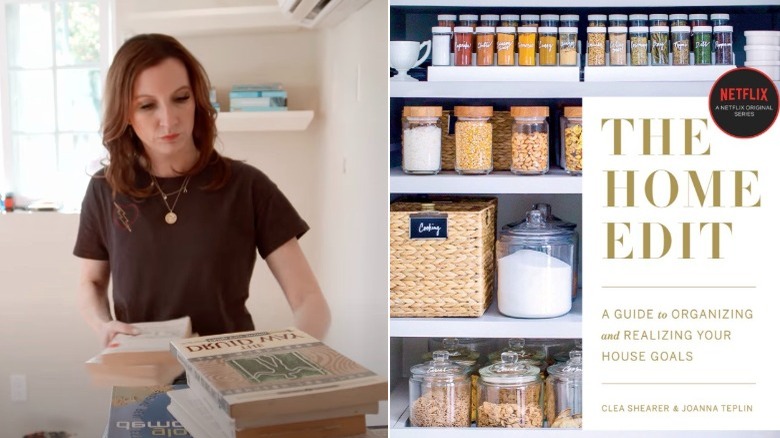 Clea Shearer and Joanna Teplin aren't only professional organizers – the two are also authors. In 2019, they released their first book called "The Home Edit: A Guide to Organizing and Realizing Your House Goals." Filled with tons of tips and even a bit of humor, it quickly became a New York Times Bestseller. However, it wasn't an easy accomplishment. "I think I worked harder on this than I ever worked on anything in my life," Shearer later admitted on Instagram. Many fans may not know that she was also the one who took the photos in the book.
While working on putting together the images, Shearer had the perfect person to learn from. Her husband, John Shearer, actually happens to be a professional photographer who's snapped photos of some of Nashville, Tennessee's biggest stars, such as Kelsea Ballerini, Maren Morris, Thomas Rhett, and Morgan Wallen. In fact, when it came to writing their sequel, "The Home Edit Life," Shearer's husband took the photograph for the cover.
The Home Edit's Clea and Joanna hate having to fly on airplanes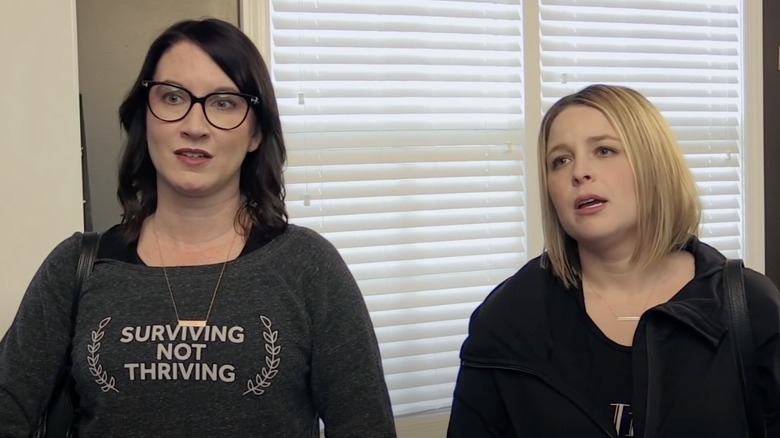 If there's one thing that Clea Shearer and Joanna Teplin hate more than an unorganized home, it's flying on airplanes. Teplin even admitted on their website that just "thinking about flying" stresses her out. Now, these two are required to fly all over the country for their booming business. "We quickly realized that we had to get over our fear of flying," Shearer told Entertainment Weekly.
While being at the airport is enough to cause them both a major amount of stress, preparing to get on the plane may be even worse. For being professional organizers, Teplin hates having to pack her suitcase. "Part of it is because I like to set up systems that are sustainable, so it bothers me that it's so temporary," she explained to Afar. "Organizing a house and setting up a system that is going to be permanent seems so worth it to me."
This is how much The Home Edit's Clea and Joanna charge to organize your home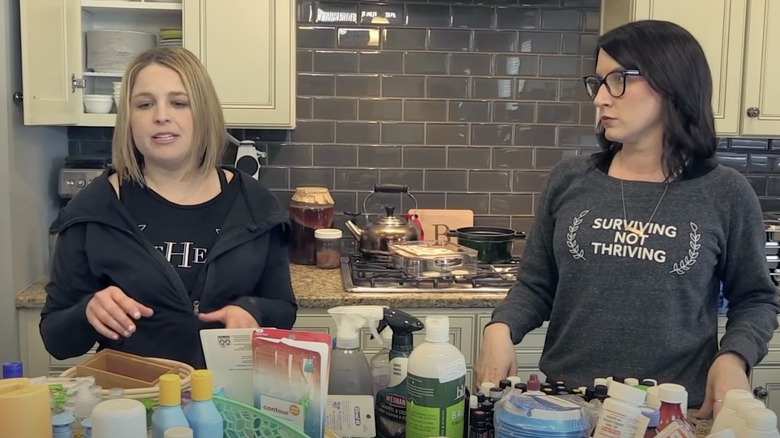 As fans watch Clea Shearer and Joanna Teplin work with celebrity clients on their Netflix show, many of us are wondering just how much this costs. We'd love to have our cabinets color-coordinated, too, you know.
According to their website, their prices range from $100 to $250 per hour, depending on where in the world your house is located. Their hometown of Nashville, Tennessee, for example, doesn't have any travel time added into it, so clients will be paying around $185 each hour. For that price, you get two organizers, who may or may not be Shearer and Teplin themselves.
While it may seem like a hefty hourly rate to some homeowners, these two are dedicated to finishing a client's home in record time. "I literally want to sit down every single person who's watched the show [that we star in] and explain to them that the time crunch is real," Shearer explained to Entertainment Weekly, adding, "We are given a very specific amount of time that we're allowed to even be in the person's home."
Even after acquiring their own TV show and becoming household names, the two haven't changed their prices. According to the Nashville Business Journal, their costs have stayed the same since they first opened their business.
Clea and Joanna of The Home Edit have their own line of cleaning products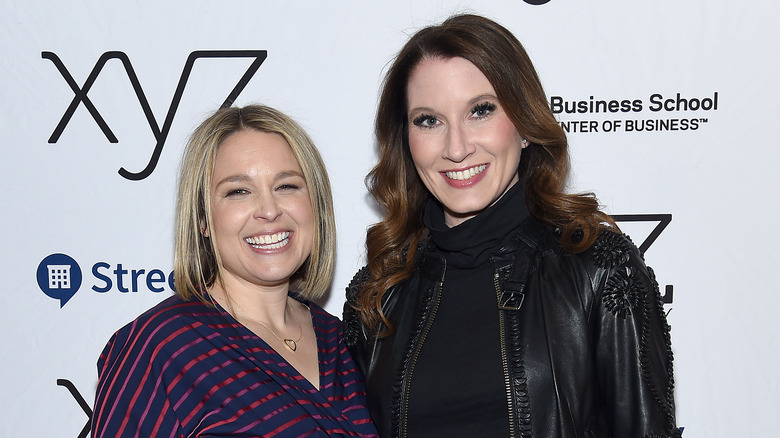 Not only is this organized duo all about finding a place for everything, but they're also conscious about keeping your house clean, too. In October 2020, Joanna Teplin and Clea Shearer — two self-proclaimed "germaphobes" — released a line of personal care products called Rume — consisting of hand soaps, wipes, lotions, and sanitizers. The line was first introduced in the midst of a worldwide pandemic, but the idea behind it goes way back. "We started to think about the things that we're passionate about a couple of years ago," Clea Shearer explained to HOLA! USA. "And cleaning of course rises to the top. It's the cousin of organizing."
As these two organize their clients' homes, they are not only all about making them functional, but also aesthetically pleasing. After all, any fan of their Netflix show "Get Organized with The Home Edit" knows that these two love organizing by the rainbow. Creating their own line of products had to be pleasing to the eye, too. "Our intention from the start was to create a line of simple, everyday products that people actually need — and won't sit in the back of their bathroom cabinet," they told Allure. After all, everything has a place while organizing, and it seems their personal care products' place is out on the bathroom counter.
The Home Edit's Clea and Joanna are huge fans of another popular TV series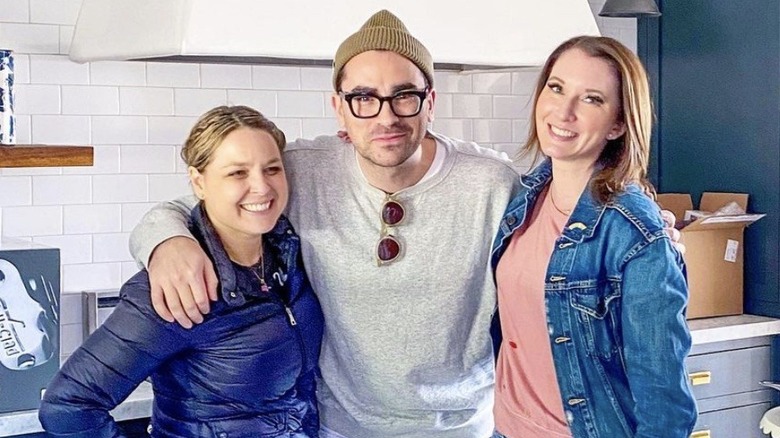 It turns out, there's another TV show that these two Netflix stars are huge fans of. According to their own website — and an endless number of Instagram posts — Clea Shearer and Joanna Teplin love to watch "Schitt's Creek."
Back before these organizers' iconic show ever hit Netflix, it was a no-brainer whose house they would love to get their hands on. "Basically the entire cast of 'Schitt's Creek,'" they told House of Harper, and it seemed the stars took notice. Three months later, they got the opportunity to tour the entire set of the show. Less than a year after that, they found themselves inside actor Dan Levy's house. The actor tasked them with helping him completely rearrange his new home. Shearer later admitted that it was "the highlight of my week." As soon as they get ahold of the other castmates' unorganized homes, though, we're sure they will also make it onto her list of life "highlights."
The Home Edit's Clea and Joanna's families spend a lot of time together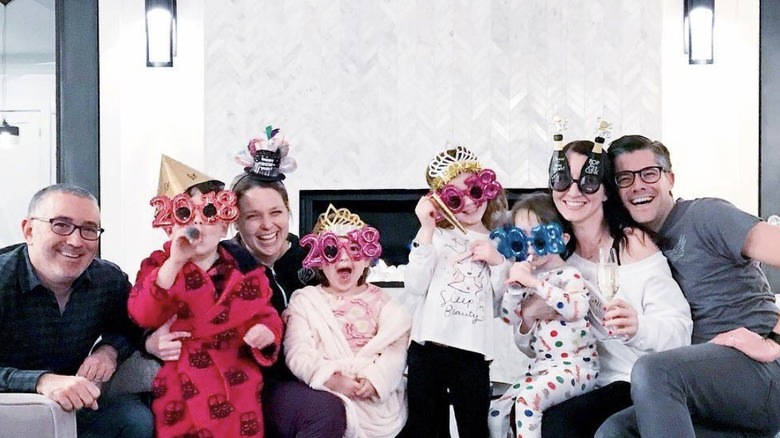 Since starting their booming business, Clea Shearer and Joanna Teplin have quickly become closer than ever. "We have more bank accounts together than we do with our husbands," Clea Shearer even laughed to 92nd Street Y. From long workdays to traveling all over the country to meet with clients, they spend a ton of time together. Yet, the two always turn to hanging out with each other during their personal time, too.
Even when they're traveling for work, they opt to share a hotel room so they can stay up all night talking. And when they fly home, their friendship definitely doesn't end. In fact, their families spend every single New Year's Eve together, they told Garden & Gun. "We don't get sick of each other, which is the bizarre piece of it all," Teplin told 92nd Street Y. "We land after, like, six weeks together, and we're like, 'So want to go to dinner?'"
Clea and Joanna of The Home Edit helped design the 2021 Barbie Dreamhouse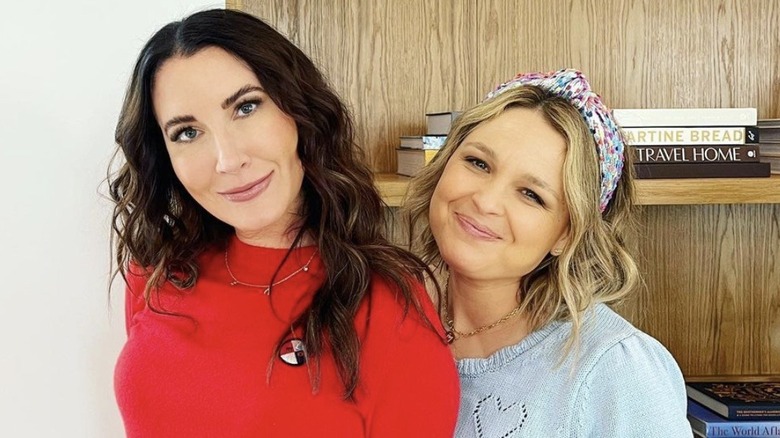 This extremely organized duo has had their fair share of celebrity clients, and they've fangirled over many of them, too. When Clea Shearer and Joanna Teplin were worked at Gwyneth Paltrow's house, "we screamed in her face and jumped up and down," Clea Shearer admitted to 92nd Street Y. Yet, they had an even more famous client come to them in 2021 — Barbie, herself.
The toy company Mattel wanted their iconic doll's Dreamhouse to be even more amazing than before, so they partnered with the most organized perfectionists ever to help them design it. Mattel made Barbie dolls of the two of them, too, and they even included Teplin's recognizable headband. Talk about #goals. "Our kids officially think we are the coolest moms," they later wrote on their website.
While they aren't available to the public, Barbie's 2021 Dreamhouse is available — and it seems that's where you'll find these limited edition dolls, too. "Please forward all mail to our new Barbie Dreamhouse," they wrote. "Please and thank you."
This is Clea and Joanna's favorite room of the house to organize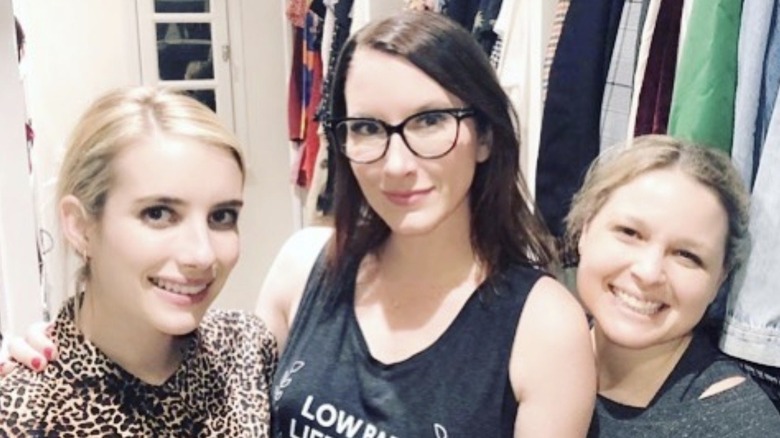 Out of all the rooms in your home that The Home Edit team can help organize, these co-creators absolutely have a favorite — and it may not be the space you'd assume. "Pantries," Joanna Teplin and Clea Shearer admitted without any hesitation to 92nd Street Y.
To many of us sitting at home, organizing our pantry seems like an unsettling undertaking — and for good reason. Even these professional organizers say it's the hardest space to tackle and recommend that no one ever start there if they decide to rearrange their home. However, this specific space — which the team even terms the "black diamond of organizing" — gets them super excited. "It's so fun," Shearer said. "I mean, we're weird."
Of course, perfecting a pantry comes with a lot of added perks. Who wouldn't want to spend their workday surrounded by snacks?
Organizing saves Clea and Joanna's "sanity"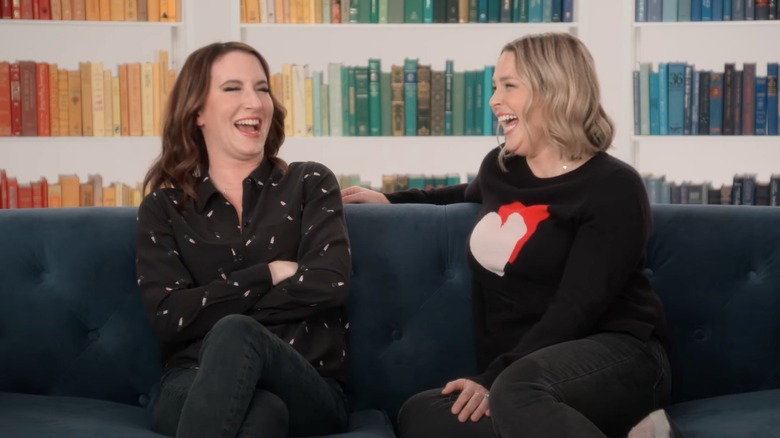 The sheer thought of having to organize our homes can make many of us immediately stress out. However, organizing is Clea Shearer and Joanna Teplin's way of staying sane and even "lighter on your feet from the moment you wake up, honestly," Shearer told Wardrobe Icons. "An [organized] space is an [organized] head, they're really related." And it all makes sense. Multiple scientific studies have even proved this to be true.
Organizing not only helps improve this pair's mood, but it also has a huge effect on the homeowners they work with. "One of the things we often hear from our clients, is how calm they feel when everything's put away," Teplin told Create & Cultivate. "Organization can help save time, money, and ultimately, your sanity."
Between their TV show, bestselling books, product lines, and entirely relatable Instagram account, it has us all wanting to rearrange our closets — until we were warned by these pros. "Don't start with the closet," Shearer told Elite Daily, explaining that it can be overwhelming to anyone entering the world of organization. Instead, it's better to start small — so, for now, we'll be celebrating the victory of an extremely tidy kitchen drawer. It's the little things in life.
Source: Read Full Article