From Bol's run to Cathy's message: the moments that inspired our team
The Australian Olympic team are their own biggest fans. Like the rest of us, they have spent every spare moment in Tokyo sitting in front the Seven coverage, being amazed and inspired by what their teammates have done.
At the start of Saturday's penultimate day competition, 86 athletes from 14 sports were leaving these Games with an Olympic medal, a truly extraordinary haul. They also go home having experienced a team environment unlike any other they have encountered throughout their sporting careers.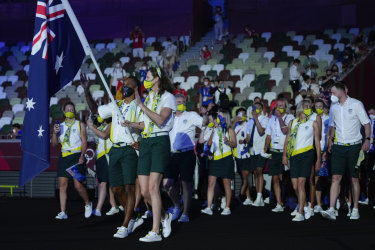 Patty Mills and Cate Campbell carry the Australian flag into the opening ceremony.Credit:AP
So what are their favourite moments of these Games?
For Mathew Belcher, the most successful Australian sailor in Olympic history and the athlete chosen to carry the Australian flag in Sunday night's closing ceremony, it was watching Cate Campbell and Patty Mills do the honours at the start of these Games.
Will Ryan and Mathew Belcher celebebrate after winning gold in sailing.Credit:Bernat Armangue
He explained that until that moment, the very idea of these Olympics seemed unreal. The COVID-19 crisis had beached his preparations and it never seemed certain they would go ahead. That changed when he walked into Tokyo's Olympic Stadium behind our champion swimmer and the soul of our men's basketball team.
"There had been so much speculation before we arrived," he said. "To see Cate and Pat and the rest of the Australian team walking into the opening it was like, it is game on, this is happening, time to get ready."
The choice of Belcher as flag bearer completes a sporting circle. When Belcher was still a teenager and already a promising yachtsman, he carried a flag in the closing ceremony of the Sydney Games.
For Will Ryan, Belcher's gold-medal crewmate in the two-man dinghy event they won earlier this week, his favourite moment is more personal.
It came three days before the opening ceremony when he got to watch his kid sister Jaime start her Tokyo campaign in the women's skiff. "I was just immensely proud," he said.
Ryan said that when he wasn't racing in Tokyo, he was cheering on someone else. "I'm just the biggest fan-boy, watching everyone else compete throughout the week," he said. "It is an amazing, special feeling to be here."
Harry Garside, a painted-nail pugilist who became Australia's first Olympic boxing medallist since Seoul, nominated two favourite moments.
The first was Peter Bol's inspired two laps of the Olympic stadium. The second was Cedric Dubler's exhortations which helped push teammate Ash Moloney over the line and onto the podium in the final event of the decathlon.
Garside, a popular member of the team and plumber by trade, says he polishes his nails to challenge stereotypes about masculinity. He said the COVID interruptions to his Olympic preparations allowed him to spend more time with his family and hoped that people stuck could find something good to salvage.
"Last year sucked and this year still sucks for some people back home but there is always a lesson if you want to look for it," he said. "I hope there are people in Australia now who are looking for the lesson."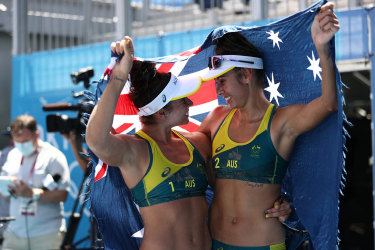 Mariafe Artacho del Solar and Taliqua Clancy.Credit:Maja Hitij
Taliqua Clancy, a Wulli Wulli woman who won silver in beach volleyball team with Mariafe Artacho del Solar, said her best moment of the Games was clicking open a video message from Cathy Freeman on the morning of their quarter final match.
She said the message from Freeman, who she has never met, was too personal to share, but inspired the rest of her Olympic campaign.
"That was honestly the highlight of my whole Olympics," she said. "It was a really tough preparation and the moment of that video reaffirmed the self-belief in myself.
"She is just the baddest. She is so cool. I had that on repeat from before my quarter final all the way up to my final. I just kept watching it."
When asked to nominate her favourite moment, Artacho del Solar talked about the energy she felt inside the Australian team headquarters at the Olympic village.
"I think just seeing how amazing the Australian team has supported each other; right from the beginning you just felt it in the building, that the energy was flowing. I think we all saw each other's success and pushed each other and that was really special."
Kelsey-Lee Barber, a world champion in javelin who produced her best throw of the year to win a bronze medal, said she felt the same way when she first walked into the Australian team camp. "There is such good vibes in the village," she said.
The moment of these Games that made her cry was watching Bol's run.
"I was just so emotional watching Pete run his race the other night. It was so nice to see him just take charge and believe in himself and the composure he showed in his post-race interview, it genuinely brought tears to my eyes."
Belcher has been to three Olympics and has two gold medals and a silver to his name. He said he could tell something was stirring in the Australian team at these Games when our swimmers, from early in the meet, produced their best at the Tokyo pool.
"Just watching everyone in their competitions, you just get a really good vibe," he said. "You start to build on that, you start to get confident, you get into a really good rhythm and I think that has showed the spirit of the Australian team."
The athletes each spoke about what the Australian Olympic Committee had done to provide a supportive environment in the village and the way in which the COVID crisis and accompanying restrictions had pulled together the disparate parts of this Olympic national team.
It is also something these Australian athletes built for themselves.
"We have made something so special, all of us, as the Aussie team," Clancy said. "I'm so proud of what we have been able to achieve."
Most Viewed in Sport
From our partners
Source: Read Full Article