'It's terrifying': Judith Lucy quit comedy. Here's what she did next
By Louise Rugendyke
Save articles for later
Add articles to your saved list and come back to them any time.
Judith Lucy is up to her neck in it. Literally, that is. She's not only rehearsing her first lead role with Melbourne Theatre Company, she's doing it while being buried, first, up to her waist and then, second, up to her neck.
It's all in the name of Samuel Beckett's 1961 play Happy Days, in which she plays Winnie, a woman embedded in dirt under a blazing sun with only a hat for protection. Every morning a bell rings and she wakes up. There is no clue as to how she came to be buried with her husband Willie, who is largely silent and hidden behind a newspaper. Apart from the hat, Winnie only has a broken umbrella, a black bag packed with, among other things, a toothbrush and a gun. She talks endlessly to Willie and hopes for "another happy day".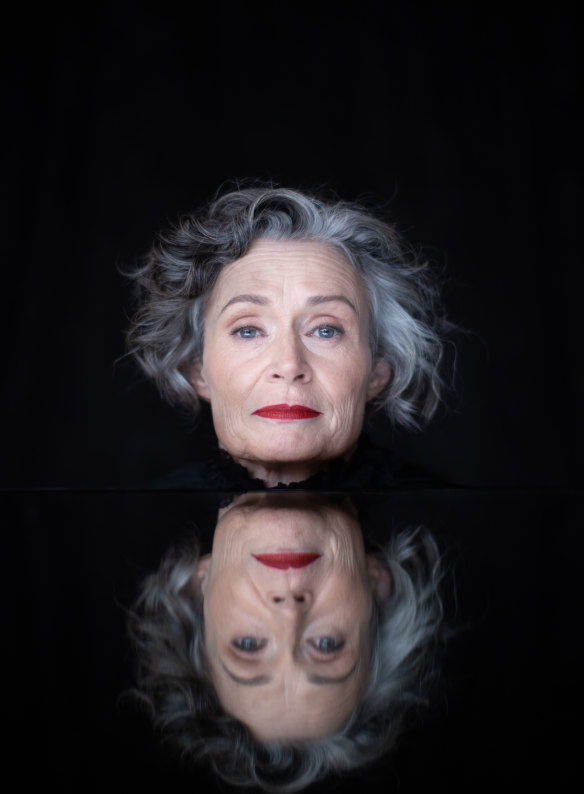 Judith Lucy has swapped stand-up for the stage at Melbourne Theatre Company, starring in Samuel Beckett's Happy Days.Credit:Simon Schluter
It's bleak, it's funny. It can be read these days as a parable about climate change or lockdown or plain ol' blind optimism in the face of disaster. It is, Beckett apparently said, about the life of a modern woman. Someone who could handle the worst life has to throw at her. "I thought who would cope with that and go down singing, only a woman," he said.
"It is sort of terrifying," says Lucy. "How much I can relate to Winnie. That is something that I've noticed, in terms of just that whole idea of 'Keep calm and carry on'. That in the face of absolute horror, she is deluded enough, or, I don't know, she's just doing the only thing she can to open her eyes every morning when the bell goes, which is just finding some kind of positivity in what is an absolutely horrific existence."
What it also is, is Lucy's bold next act. After 35 years of stand-up comedy, she announced at the end of last year that she was giving it away. The endless writing and touring was causing too much anxiety, so she quit. It was a decision spurred on by the Melbourne lockdowns, when she realised the "angst I was experiencing due to the pandemic was not that different to how I felt most of the time".
"If there's one thing I know about, it's about putting on a happy front, when that's not necessarily how you are feeling," says Lucy. "Because I guess that's what I've spent 35 years of my life doing as a stand-up comedian. You're not always feeling that great, but you've got to walk out on stage and it's showtime."
But isn't being buried up to her neck, in a role called "Hamlet for women" or "like climbing Everest", more than a little anxiety-inducing, too?
"I can honestly say to you, that as anxious as I am about starting the play, apparently, Samuel Beckett is quite good," she deadpans. "The script's not bad. And that is actually less anxiety-inducing than me writing everything. And me having to work on the jokes every single night for god knows how long until I get it as perfect as I can and then give up."
When we spoke, Lucy was on the verge of beginning rehearsals just as the Melbourne International Comedy Festival kicked off. She was busy getting "her ducks in a row" – appointments, doctors blah blah – before rehearsals began. But far from feeling any nostalgic pull towards the festival, all she felt was happiness. For once, she was not there.
Judith Lucy in rehearsal with Hayden Spencer (left) as Willie and director Petra Kalive.Credit: Charlie Kinross
"I have felt nothing but unbridled joy," she says. "I mean, there may come a time. As my manager Kev, who I love, said, without a second's hesitation, when I told him about my decision [to quit], he went, 'Yeah, but let's not forget, you still haven't done that farewell tour.'
"And look, if push comes to shove, I might Johnny Farnham it up and do the farewell tour if I need the money. But maybe I do just need a big, big break from stand-up. Stand up was how I've made most of my money and it's the thing I've always gone back to, and I don't want that safety net any more. I don't think I want to be perceived mainly as [a comedian] any more.
"I hear ads for the comedy festival – and I was just in Adelaide doing a book event [when their fringe festival was on] – and all I thought was, 'Phew! I'm so glad that ain't me this year.'"
That Lucy is stepping into a mainstage production should be no great surprise. She is an incredibly versatile performer and Happy Days feels like a perfect fit. It's a role that comes with great comedy forebears – Ruth Cracknell performed it with the Sydney Theatre Company in 1991 (one critic described it as "era-defining"), while in the UK, Juliet Stevenson and Father Ted's housekeeper Pauline McLynn have put their stamp on it. And you can already hear Lucy's dry delivery in the dialogue: "No better. No worse. No change. No pain".
Even though she has quite stand-up, Judith Lucy says she "might Johnny Farnham it up and do the farewell tour".
For the show's director, Petra Kalive, the casting of Lucy was a no-brainer.
"I knew the show needed to be funny," she says. "But we also needed somebody who could tap into the emotional well of this character. And having seen a whole bunch of Judith's stand-up, you get that in her work. The shows are incredibly funny, and [the humour] sometimes comes from her own personal stories, traumas and tragedies, and I thought that would really feed the work."
Lucy has found that personal connection in the play, too – when she thinks of Winnie, she thinks of not only her mother, but every woman in middle age.
"Even though Willie doesn't have a whole lot to say, he's obviously just pivotal to everything," says Lucy. "And it made me think a lot of my parents, to be honest, just how dad was very quiet compared to my mother. My mother spent her whole life, really, trying to get his attention.
"So it resonated with me. And I guess it resonates, too, in terms of how a lot of women in their 50s feel pretty invisible, and how we're just trying to be seen and trying to get – tragic, though it is – a man to be interested in us.
"So I can certainly relate to it on that level. And just how her body is not what it was. She certainly remembers a lot of times when she was younger, when she went to her first ball and had a first kiss. I mean, there's nothing like middle age to make you go down that path."
Despite all of this, Winnie does remain remarkably positive. What keeps Lucy positive?
"I think the older you get, the more you realise that you don't know anything about anything," she says. "It's kind of uppermost in my mind, I guess, because I did just do a couple of very belated book events. I wrote a book called Turns Out I'm Fine, which all came about because I had the most horrendous break-up, which is all part of a pretty hideous midlife crisis that started when my brother died.
"And that was, of course, the very worst thing that happened. But then, as often seems to be the case with life, more shit just happened on top of that. And all of that resulted in me making the podcast series Overwhelmed and Dying. And that wound up with me snorkelling at Ningaloo Reef with a humpback whale while Tim Winton held my hand. So, you know, the phrase, 'Wouldn't be dead for quids' does pop into my mind because you just never know.
"If I had dropped dead straight after that, if I'd gotten back on the boat and just keeled over, that would have been fine."
No better. No worse. No change. No pain.
Happy Days is at Southbank Theatre from May 1 to June 10.
A cultural guide to going out and loving your city. Sign up to our Culture Fix newsletter here.
Most Viewed in Culture
Source: Read Full Article