Jaden Hamilton: What You Didnt Know About The Country Singer
If you thought that TikTok only launched viral challenge-spawning dancers, rapid-fire sketch comedians, and slightly annoying pranksters to online fame and beyond, then think again. Jaden Hamilton has proven that even the typically traditional world of country musicians can build careers on the app that appears to have taken over the lives of anyone born in the new millennium.
Yes, while Nashville greats such as Hank Williams, George Strait, and Waylon Jennings all had to tour the country performing in dive bars and honky-tonks before getting their big break, Hamilton could attract major record labels' attention with just a phone and guitar from the comfort of his own home. And he did it all before he'd even reached the age of 20, too!
So what do we know about the young man who is now making waves far beyond his bedroom? From fatherhood to foxes, here's a look at the life of the social media generation's biggest country music star, Jaden Hamilton.
Jaden Hamilton is a father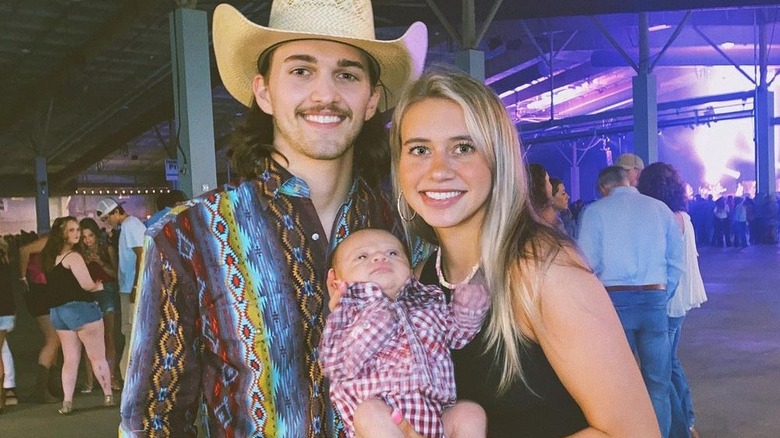 Get ready to feel old. Jaden Hamilton was only born in the year 2000 and yet he's already the father of a young boy. Yes, 20 years on, the country singer announced on his Instagram account that he and his girlfriend, Lilyan Cole, were expecting: "Been tough keepin this quiet, and it's so crazy to say, but we're gonna be parents! Can't wait to meet you little one, thanks for making 2020 worth it."
The fact that Cole captioned her own Instagram announcement post with, "God's not only blessed me with Jaden this year," suggests that the couple's relationship was still in its early stages. She then added, "The love we have for this little bean already is indescribable. The sickness, the aches, the cravings and the kicks are beyond worth it. I'm ecstatic to bring y'all along on this journey with us! We're so ready to meet this bean."
And the pair were just as enthusiastic when their "little bean" did eventually arrive in May 2021. Weighing 6 lbs., 9 oz., baby Ryder Rhett Hamilton was welcomed into the world at a hospital in the couple's hometown of Nashville, Tennessee. In a brief chat with People, they stated, "We're so excited for our baby boy to finally be here! We love you so much Ryder, you've changed our lives for the better!"
This country singer was expecting a baby girl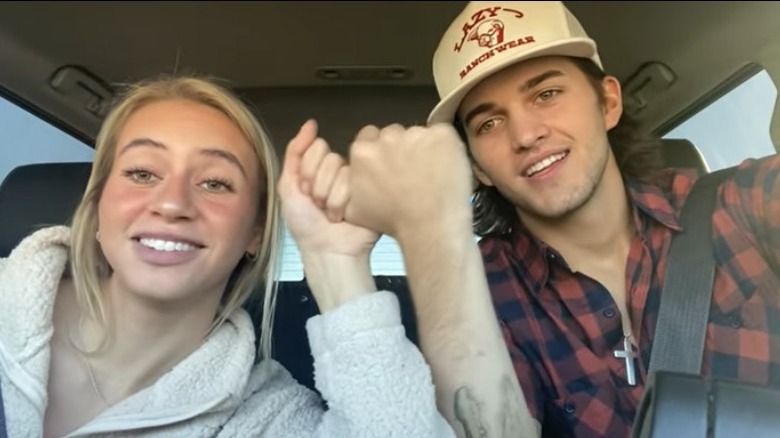 As is the trend for every social media user with a baby on the way, Jaden Hamilton and girlfriend Lilyan Cole announced whether they were having a boy or a girl with a gender reveal, a clip of which they uploaded to YouTube in January 2021. "Can't wait to meet our little princess," the country singer wrote alongside an Instagram snap of the couple standing alongside a smashed guitar filled with pink confetti.
But just a few weeks later, their gender reveal party was essentially rendered null and void — for the parents-to-be discovered via an ultrasound that the addition to their family unit would, in fact, be a little boy. Luckily, the pair weren't too disappointed about all that pink dust going to waste. "I reckon God's got a sense of humor too," Hamilton captioned a picture of said ultrasound on Instagram, adding, "We were told we were having a girl for months, come to find out IT'S A BOY‼️ Can't wait to meet my little buddy."
Jaden Hamilton quit college after three weeks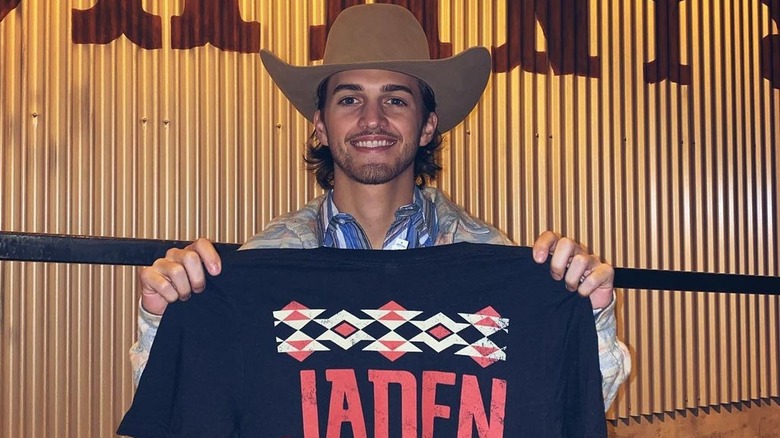 Jaden Hamilton certainly proved he was committing to his country music dreams when he dropped out of college after just three weeks. The teen had enrolled at his home state's Louisiana State University, but he decided to end his further education extremely prematurely in order to chase his fame and fortune in Music City, a.k.a. Nashville, Tennessee.
After relocating to the home of country music, Hamilton became roommates with a bunch of relative strangers. "We had talked on social media a little bit, and then I moved in with them," the musician told Country Now in 2021. "They're cool!" But despite the seemingly hurried change of plans, Hamilton insisted that he's always had ambitions to make it in the showbiz world.
Later that same year, he told Entertainment Focus, "Becoming a country music singer has been a dream of mine since I was a kid. It seemed far-fetched and maybe almost impossible, but I've always had a passion for music, I just didn't think I'd be able to make it my career." Hamilton added, "The best advice I've received so far is just to believe in what you're doing, even when no one else does and to know what you want and go for it, and don't take no for an answer."
His rise to TikTok fame and beyond was quick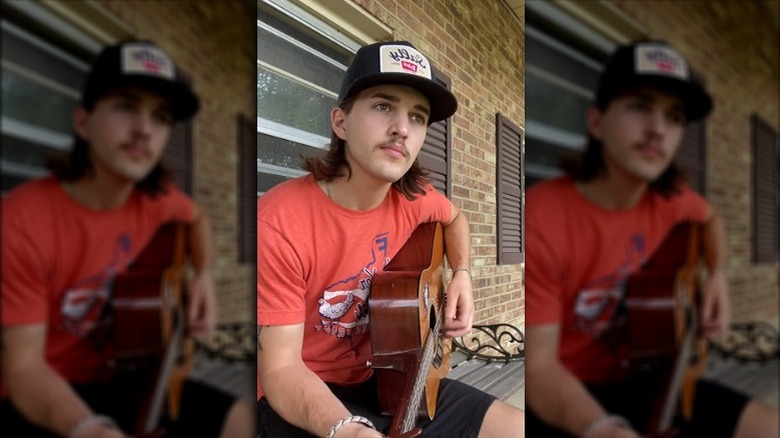 "I have been pretty blessed because doors have opened for me," Jaden Hamilton told Country Now in 2021. And he wasn't wrong. The youngster went from a guy playing guitar in his bedroom to a major label signing within the space of a year.
The country star explained that just "a few weeks" after dropping out of his studies at Louisiana State University and moving to Music City, he bagged a manager. And then shortly after, he was contacted by Sony Music Nashville via email with the invitation to showcase his talents — and the rest is history. Hamilton might be the envy of every aspiring singer-songwriter, but the TikTok star does acknowledge how fortunate he is to be in such a position.
"Well, I have a lot of respect for those people who move here," Hamilton explained. "Some people don't make it, and some people are here for ten years or more, and they're working, and I respect that. I'm grateful that I have been blessed. It seems like, for me, that this was meant to be and was something that was supposed to happen. So yeah, I met with Sony, and they made me feel at home since the first time I met them, and I'm grateful for how it has played out."
Jaden Hamilton is inspired by the country greats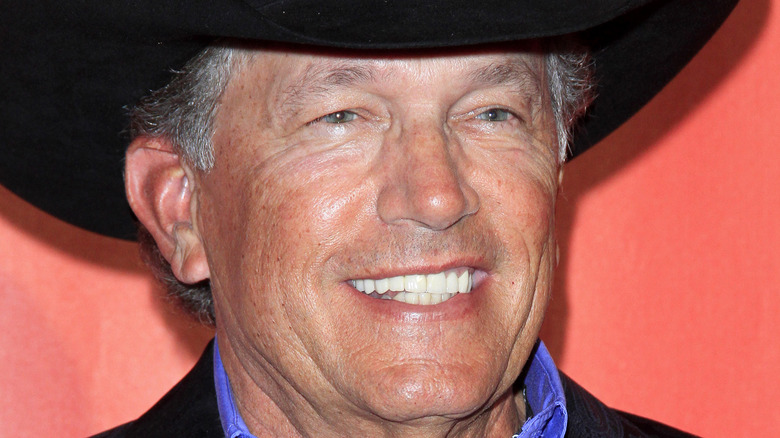 Jaden Hamilton may have grown up in the age when the likes of "bro-country" favorites Luke Bryan, Florida Georgia Line, and Blake Shelton ruled the country radio airwaves — but that doesn't mean the singer-songwriter isn't aware of the Nashville greats.
Speaking to Country Now in 2021, Hamilton revealed that "Found Myself in a Country Song" is the tune he's most proud of writing, as it pays homage to the artists that inspired him to first pick up a guitar. And alongside the likes of "Dirt Road Anthem" hitmaker Jason Aldean, this list also includes more traditional acts you're unlikely to hear singing about partying and pick-up trucks.
Hamilton explained, "One line in the chorus says, 'If you're broken, it'll make you whole,' and as I said, country music has just been my escape. Whenever you're down, you can listen to music, and it'll help you, and that's what this song is about." He added, "George Strait is great … Brooks & Dunn, Alan Jackson, Jon Pardi, Cody Johnson — I love their authenticity, and their storytelling, and the traditional country sound they bring to the table, is great!"
Move over, Zac Efron, Jaden Hamilton was a real-life Troy Bolton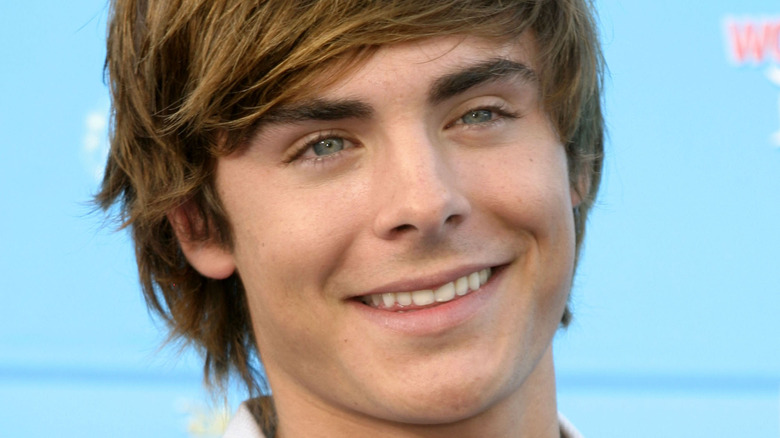 Just like Zac Efron's Troy Bolton in the all-singing, all-dancing Disney hit, "High School Musical," Jaden Hamilton initially kept his other passion a secret from the rest of his sporting teammates. Instead of smashing it on the basketball court, though, the youngster was acing it on the football field.
But Hamilton, who played as both receiver and quarterback during his high school career, eventually plucked up the courage to open up about being country singer. Luckily, his friends' reactions were more supportive than the Wildcats', as he explained to Country Now in 2021: "I sang a lot behind closed doors and I think it was the summer going into senior year that I started recording myself. I would send the recordings to my buddies and they would be like 'you got to post that.'"
After uploading a cover of Luke Combs' "She's Got the Best of Me" online, Hamilton started to become more renowned for his vocals than his offensive tactics. And as he prepared to graduate, the future star was successfully encouraged by his pals to enter the end-of-year talent show. Hamilton added, "That was really the moment I knew I wanted to be a country music singer."
Jaden Hamilton has an unusual pet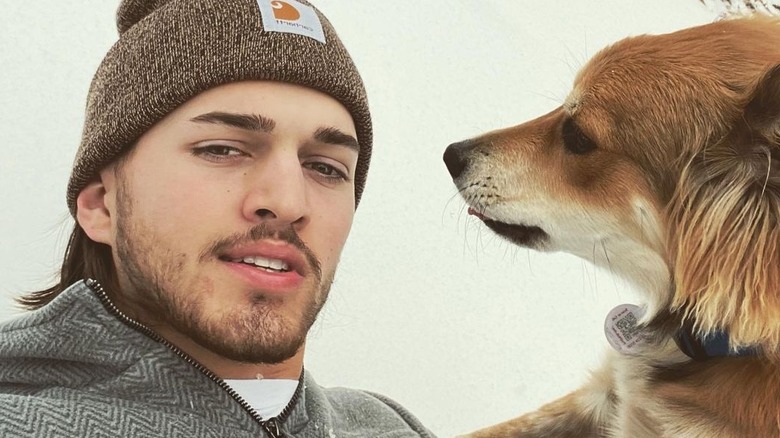 While most of us settle for a dog, cat, or goldfish when it comes to getting a pet, the showbiz world is very different — see everything from George Clooney's pot-bellied pig and Justin Bieber's monkey to Mike Tyson's tiger and Vanilla Ice's wallaroo. And you can now add Jaden Hamilton to the list of celebs whose animal needs are unlikely to be found at PetSmart.
Indeed, if you happen to stumble across the country singer's Instagram, you'll find several pics of Hamilton cuddling a fox. But this isn't just a stray one he's found rummaging around his garbage cans. During an interview with Celeb Secrets Country in 2020, the star revealed that it was his very own.
"Not a lot of people have pet foxes. I think it's cool," Hamilton told the site, before explaining that his furry friend was unlikely to get "much bigger" than the more conventional "small dog." Sadly, the vocalist was having to make do without any quality fox time, as he had to leave her behind at his family's Oklahoma farm while chasing his musical ambitions in Nashville. But Hamilton did reveal that he was planning to reunite with the fox at the start of the following year.
This musician's parents were skeptical about his career choice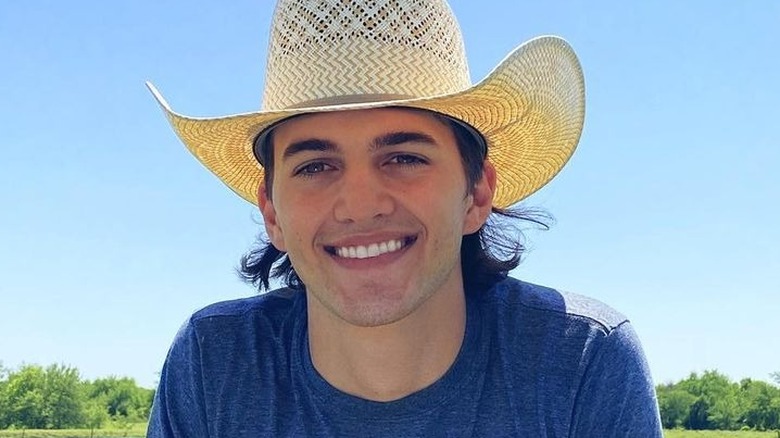 As you might expect, Jaden Hamilton's parents were initially a little concerned when the singer dropped out of his studies at Louisiana State University after just three weeks. Especially considering the fact that he was the first of their seven children to gain acceptance into the prestigious college.
In his 2021 interview with Country Now, Hamilton explained, "Well, LSU has always been the dream for my family. I have six brothers and sisters, and everybody's dream was to go to LSU, and nobody did it." But his mom and dad's excitement was soon tempered when their son announced that college life wasn't for him and he was heading to Nashville to pursue his country music dreams.
Hamilton admitted, "So, in the beginning, they thought I had made a mistake. They thought I should have taken the safe route in case things didn't work out. But I knew what I needed to do, and I did it." But with their boy bagging a record deal with Sony Music Nashville in almost record time, Hamilton's parents are now much more supportive.
Jaden Hamilton wants to be more than a TikTok artist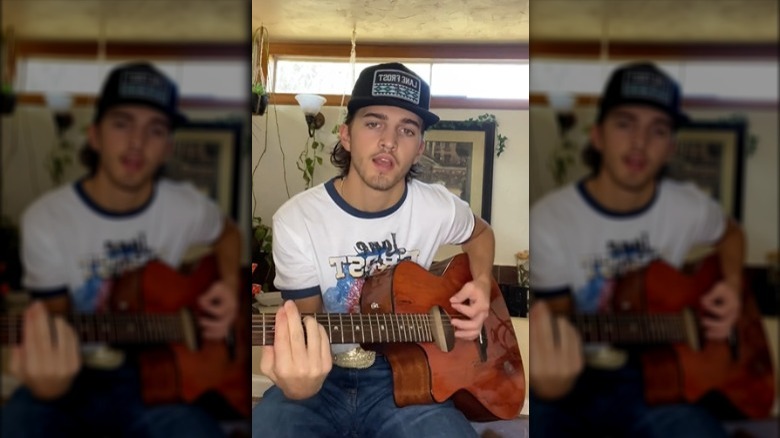 Although the superstars of TikTok don't necessarily need traditional media to build on their fame and fortune — Josh Richards, for example, has made more than $1.5 million without ever truly gracing the mainstream, per Forbes — most still strive to find success outside the attention span-affecting platform.
In a 2021 interview with UPstar. Music, Jaden Hamilton revealed that although he remains incredibly grateful for the springboard that TikTok gave him, he's now keen to prove that he can make it as a credible new voice: "I want to be an artist. That is what I set out to do and that's what I am. I just don't always want TikTok to be associated with me in that way. I work hard and I want music to be my career."
But those who helped Hamilton rise to online fame don't have to worry about the country singer disappearing from their feed anytime soon. He still regularly posts on the fast-growing social network, admitting, "TikTok definitely still helps and has been a good asset for me."
The country singer got creative during the pandemic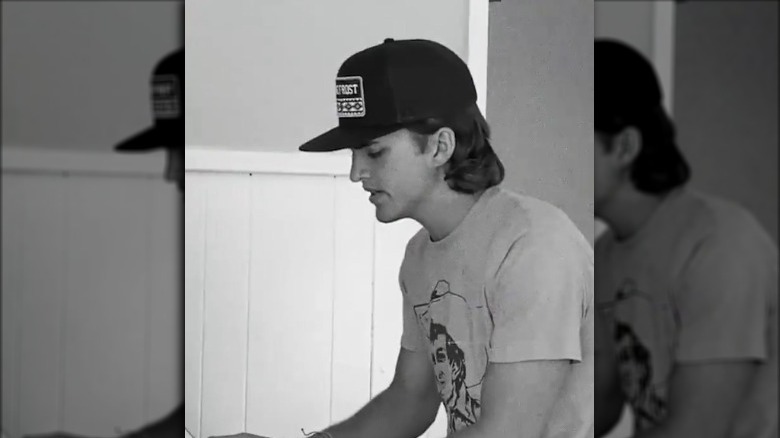 Jaden Hamilton may have gone from bedroom singer to a major-label-signing artist in lightning quick time, but his rapid rise up the country music ladder inevitably had to slow down in the wake of the COVID-19 pandemic. But instead of just bingeing on guilty pleasure reality shows like many of us, the youngster instead used his unexpected downtime more productively.
Hamilton told UPstar. Music: "I wrote a lot more songs in 2020 than I would have if everything didn't happen. I was writing for the most part. Zoom was a big part of being able to continue to write. I didn't start writing in person again until a few months ago. So, writing was definitely a big positive and just being able to get better at it each day."
But while the country musician was grateful for the chance to improve as a songwriter during lockdown, he still missed the opportunity to build on his stage presence. "The bad part, I didn't get to play shows or tour," Hamilton said, adding, "I was fortunate enough to play a few shows in October with Granger Smith, Casey Donahew and Riley Green. It was in Texas and Oklahoma and was a lot of fun."
Jaden Hamilton's girlfriend has also tasted fame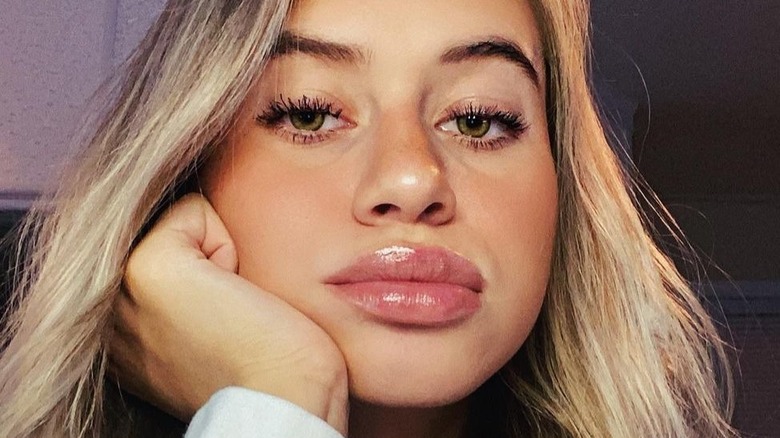 Jaden Hamilton's girlfriend — and mother of his son, Ryder — has also experienced fame. In fact, Lilyan Cole first came to national attention about a year before her country singer beau first started posting videos on TikTok.
As a 15-year-old, Cole entered "Making a Model" in 2018, a Lifetime reality show designed to find the next big catwalk star, per The Washington Post. The series, which was hosted by Bella, Anwar, and Gigi Hadid's mother, Yolanda Hadid, offered a deal with one of the world's most famous agencies, IMG Models, as the main prize. Sadly, Cole didn't emerge victorious, but she still enjoyed the experience. "Working with someone like Yolanda Hadid, who has three extraordinary children that have very successful lives, was such an honor," she told Carrie's Chronicles. "I learned so much from her and I am forever grateful!" 
But Cole has ambitions beyond the pages of Vogue, too. She added, "My first love has always been acting and that is the door that actually lead me to model. I believe God has a plan for me and I trust that process."
He struggled to believe his initial success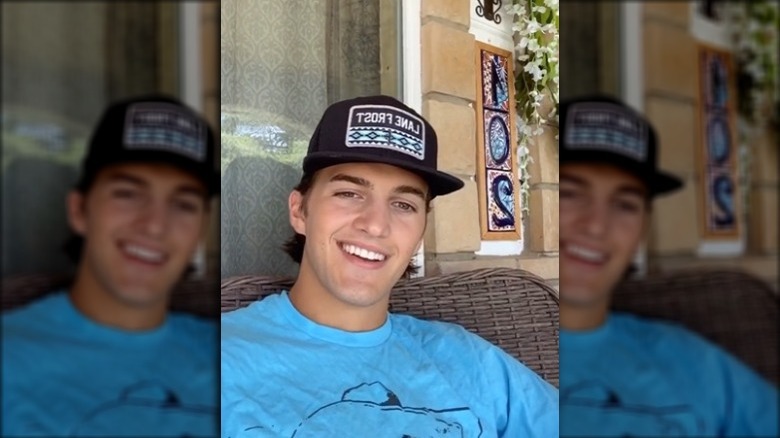 Considering Jaden Hamilton had largely kept his musical talents a secret until his senior year, he was no doubt expecting his friends and family to be the only viewers of his first uploads to TikTok in the summer of 2019. But the complete unknown ended up racking the kind of numbers that even established social media stars would be proud of.
Yes, Hamilton attracted no fewer than 70,000 viewers in the space of just 24 hours with his cover version of Ron Pope's "A Drop in the Ocean." Understandably, the youngster found his overnight success difficult to comprehend, telling Country Now two years later, "I was just blown away by that. That moment almost seemed too good to be true. I didn't believe it. It was amazing that so many people cared about me and my music and my cover. It felt good and reassured me."
So what advice would he give any budding country singers who are thinking of taking a similar route? "You've got to keep going and keep on writing and keep on singing," Hamilton said. "What also helps me is to keep posting on social media. I mean, that's how things started for me. So you have to keep posting cover songs and everything. Eventually, maybe one day, something might pop off for you."
Jaden Hamilton is a man of simple pleasures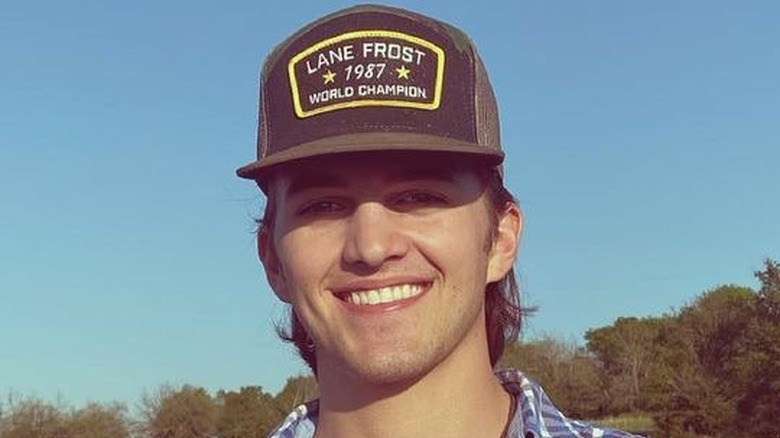 Jaden Hamilton may be TikTok's biggest country music sensation, a Sony Music Nashville signed singer, and a People magazine regular, but he hasn't let fame go to his head. You're unlikely to find the social media star splashing the cash on any fancy restaurants to celebrate his latest release, anyway.
Indeed, although Hamilton's food heaven is a Bourbon steak, he told UPstar. Music in 2021 that he rarely indulges because of its price. Instead, the youngster typically settles for something a little more casual when he doesn't feel like cooking: "Dude, honestly my go to is always pizza. It's just easy and if you and your friends don't know what to eat, pizza is always a good option. I really love Papa John's."
It turns out that Hamilton has always appeared to enjoy life's more straightforward pleasures. When asked about his favorite summer memories by The Country Daily in 2021, the star replied, "Fishing, wakeboarding, cooking hamburgers and hot dogs. All the simple stuff. It was really simple but really memorable to me."
Music helped Jaden Hamilton through his parents' divorce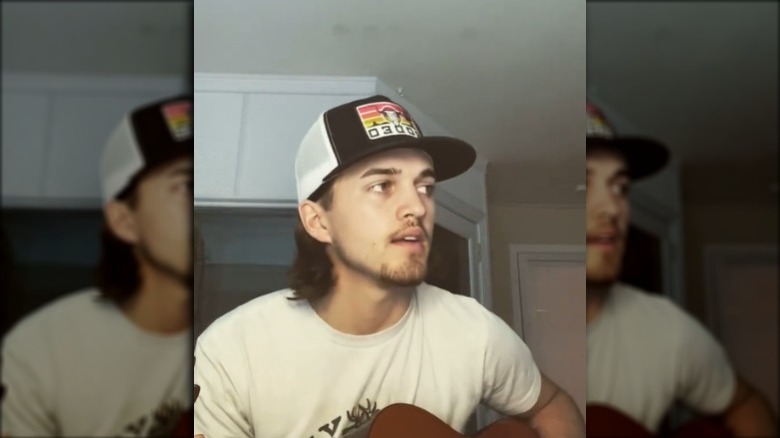 Jaden Hamilton was encouraged to pursue an interest outside of football by his mother while growing up in Louisiana and Oklahoma. But after taking piano lessons for several years, the youngster realized that the guitar was his true calling, and he began to teach himself how to master the six-string. It turns out that Hamilton's passion for music proved to have a beneficial impact on his home life, too.
As quoted by UPstar. Music in 2021, Hamilton revealed, "Throughout my parents' divorce, music became an escape for me. I shared a room with my little brother and we would always listen to the radio at night. There was a radio on our nightstand and we listened to a lot of Eric Church. We really loved "Springsteen." Hamilton further proved that he was a sensitive soul from a young age by explaining that he would often put pen to paper to express his emotions: "Growing up I would write these little boy love songs but would never finish them. I'd write one, it would go nowhere and I would forget about it. In the back of a notebook of mine, there was a collection of the songs I wrote along with a bunch of drawings." 
Although the country star shot to online fame performing cover versions, Jaden Hamilton has since showcased that early songwriting talent on his debut EP, 2020's "Ain't That Something."
Source: Read Full Article