Leah McSweeney Isn't Holding Back Anymore
In one of the final clips used to close out the trailer for the upcoming thirteenth season of The Real Housewives Of New York City, Leah McSweeney stands at the head of a table around which her castmates are seated and shouts, "You're a f*cking ho. You're a ho. You're a ho. You're a ho. Biggest hoes ever." All the while, Tchaikovsky swells in the background.
Her goal wasn't to insult the women seated around her, but to point out hypocrisy when it comes to sexual discourse—something the breakout star of RHONY season 12 has made a point of doing since high school. "If the men can [talk about sex] and not get judged, why should I not be able to talk about sex?" Leah tells Women's Health.
So, talk about sex she did. But, at the table, her frankness wasn't exactly well-received. "I was being criticized, of course, for the way that I speak," the Married to the Mob founder says. And she wasn't having it.
"Everyone is entitled to have their privacy," Leah says of her fellow castmates' decisions to keep quiet about their sexual relationships. "And I understand that not everybody wants to talk about sex, that's completely okay, but do not judge me for the way I am."
If you thought Leah was outspoken before, you haven't seen anything yet.
During her freshman season on the show, viewers saw Leah shut down cast members who attempted to scold and shame her for her tattoos and outfit choices, but she says she was treading lightly. "I was dealing with just learning the ropes, getting used to this new career, whatever it is, and just learning how to kind of cope with dealing with these women," she recalls. "…I realized, like, oh my god, I bit my tongue so much, I have to say what's on my mind."
https://www.instagram.com/p/CNF5mgXj4Qz/
A post shared by Leah McSweeney (@leahmob)
If the typical Real Housewife personality is expected to offer viewers an unfiltered glimpse into her glamorous and adventure-filled lifestyle, Leah's taking it to new heights during her second season. No longer the young rookie, she isn't holding back this time around. Nor is she willing to accept the double standard that rendered her behavior (talking about sex organs, grinding up against friends at a party) unacceptable, but perfectly fine when her castmates did the same things.
This newfound license to tell it like it is and do what she wants, Leah says, is a result of the strong bond that's developed between her and the other Housewives. "I really love them. I have legitimate friendships and relationships with them, so I feel like I can be totally open with them," she says. Even if it means calling them out every now and again.
And therein lies the fun in being a Leah McSweeney fan. What seemed to be an entire season of her being bold and living with abandon, two qualities that hooked viewers, was only the beginning.
She has some regrets from last season.
"Obviously, when you're getting to know someone, you're not going to just start, like, saying every single thing that's on your mind," Leah says about her first stint on the show.But when it comes to former RHONY cast members, Dorinda Medley and Tinsley Mortimer's falling out in season 12, she wishes she'd spoken up. "I wish I had done more with Dorinda and Tinsley's issues. That was a regret for sure," she says.
She'll open up about her sobriety—on her terms.
Though Leah says it won't be a storyline, she will address her sobriety this season as she did on the last one.
Soon after going into quarantine during the COVID-19 pandemic in 2020, Leah decided to be sober again on March 31. (She's previously discussed on RHONY her experience being sober for nine years and why she decided to start drinking again shortly before filming season 12.)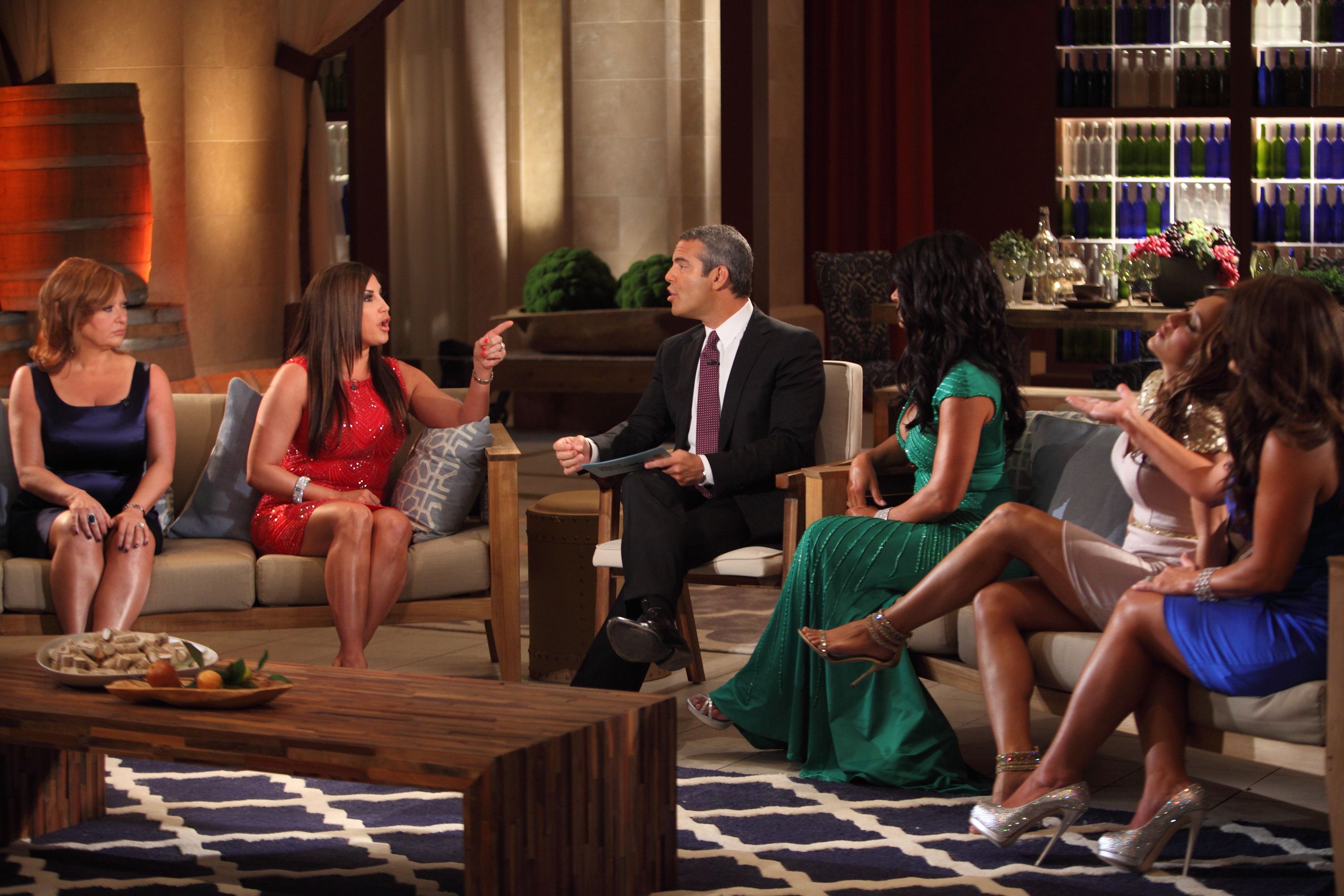 Her motivation to cut out alcohol this time was a combination of things. "It had been a few months that I was trying to stop. And, you know, I think it was a choice, and also maybe divine intervention a little, which I always think it kind of is in a way," she says.
Leah also anticipated drinking would take her to a bad place with so much devastation in the world. "I realized that it was gonna just go so dark so quick," she says. "…It's very hard to drink in a light and fun way during a once-in-a-lifetime pandemic when you're stuck at home, and people are dying everywhere. So yeah, I think that that kind of definitely put it in a full-speed stop."
Filming while sober, Leah says, was a whole new experience. And at first, she wasn't sure if she wanted to do it. But ultimately, she was thankful to have castmate Luann de Lesseps to lean on. The veteran reality TV personality first reevaluated her relationship with alcohol during RHONY season 10 following her arrest.
https://www.instagram.com/p/CN2kg_HDJ1V/
A post shared by Leah McSweeney (@leahmob)
"I don't want to act like, 'Oh, it's so hard,' you know, because I have this reference point of being sober for so long. But it wasn't totally insignificant. So, it was really nice to have Luann," says Leah.
Leah also gets candid about her faith this season.
"I always had a strong connection to God," she says. And time to reflect during the pandemic also caused her ruminations about faith to come to a head. After thinking about converting to Judaism for 20 years, Leah began the process during quarantine. She says the push came from deep within herself and she thought, "It's time now for me to make my life the way I want it to be."
https://www.instagram.com/p/CIo_4YhFmQi/
A post shared by Leah McSweeney (@leahmob)
She admits she's been in her head about this process playing out on the show since it's such a personal one. Leah worries about judgment from viewers and showing respect for the religion and its people. But, despite the challenges of converting during a pandemic—"It's really hard because so much about Judaism, and every faith, is really about community, and we've been isolated"—she understands the process will be a long one, and she's okay with it. "Good things don't happen overnight."
Coming from someone vowing to live her life unfiltered as the world watches on, it's bound to be worth the wait.
Source: Read Full Article