Lewis Hamilton Calls On Fellow Athletes to Speak Out About Injustice
Lewis Hamilton is speaking out.
The British race driver took to social media to urge his fellow Formula 1 drivers to use their platform to stand up against injustice in the wake of George Floyd's death.
"I see those of you who are staying silent, some of you the biggest stars yet you stay silent in the midst of injustice," he wrote on his Instagram Stories. "Not a sign from anybody in my industry which Ofcourse is a white dominated sport."
Hamilton continued, "I'm one of the only people of colour there yet I stand alone. I would have thought by now you would see why this happens and say something about it but you can't stand alongside us. Just know I know who you who you are and I see you…"
In another Story, the F1 World Championship winner showed his support for protestors around the world in their pursuit for change.
"I do not stand with those looting and burning buildings but those who are protesting peacefully," he said. "There can be no peace until our so called leaders make change. This is not just America, this is the UK, this is Spain, this is Italy and all over."
"The way minorities are treated has to change, how can you educate those in your country of equality, racism, classism and that we are all in the same!" Hamilton's message continued. "We are not born with racism and hate in our hearts, it is taught by those we look up to."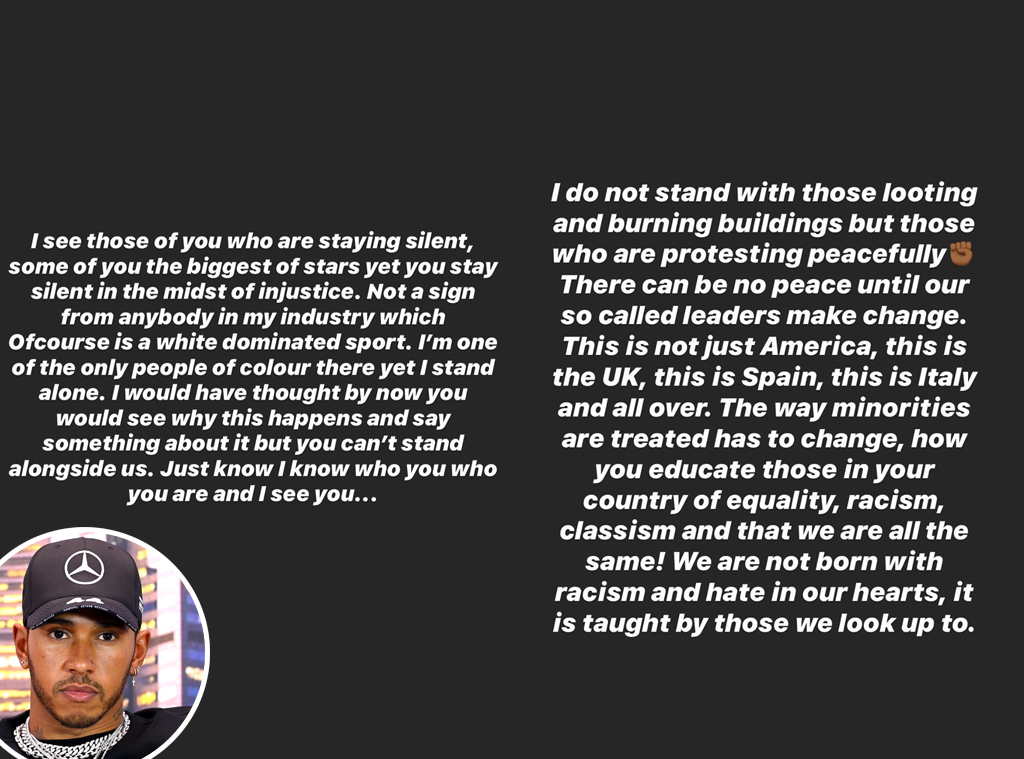 Instagram/Getty Images
Following his lead, several F1 drivers issued statements on Floyd's death and racial justice. Among them were Charles Leclerc, Daniel Ricciardo, Lando Norris, George Russell, Carlos Sainz, Nicholas Latifi and Sergio Pérez.
"To be completely honest, I felt out of place and uncomfortable sharing my thoughts on social media about the whole situation and this is why I haven't express myself earlier than today," Leclerc tweeted. "I still struggle to find the words to describe the atrocity of some videos I've seen on Internet. Racism needs to be met with actions, not silence. Please be actively participating, engaging and encouraging others to spread awareness."
He added, "It is our responsabilities to speak out against injustice. Don't be silent. I stand #BlackLivesMatter."
Source: Read Full Article