TikTok Is the New MTV, and It's Time We All Get on Board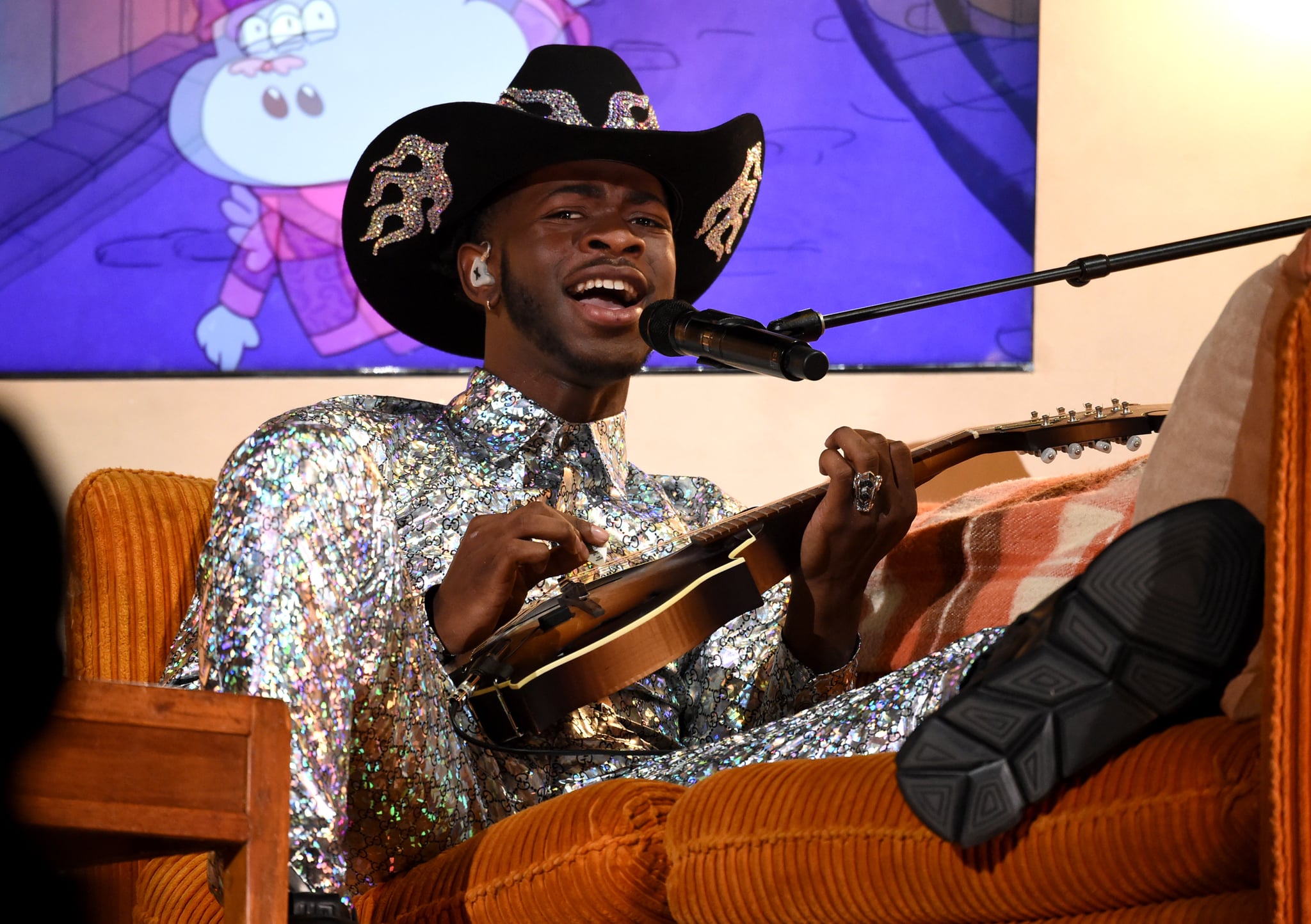 Though I was born on the tail-end of the '90s, I'll never forget how vital MTV was to developing my love for pop culture. Before school, I would sneak to the living room, turn the volume down as low as possible and worship performers like Rihanna or Gwen Stefani as they shook their hips, dripping in Juicy Couture and low-rise True Religion jeans. I remember seeing D4L's video for Laffy Taffy during one of my morning escapades and being entranced, not only by the gaudiness of their gold chains and clothing choices, but by the music itself.
Looking back, that video is an encapsulation of what pop culture in mid-2000s was; glitzy and campy. MTV was a middleman in the exchange from artist to audience. The channel played an active role in what culture viewed as the epitome of wealth and success, and it and made this feel reachable.
Fast forward 14 years and I'm watching a pair of neon-clad, fresh-faced adolescents sweep (no, not the Teen Choice Awards, but) the 2020 Grammys. Lil Nas X and Billie Eilish surpassed artists like Ariana Grande, Ed Sheeran and Taylor Swift in wins, both with only a single album under their belts. I couldn't help but ask myself, "What juice are these kids drinking?" For God's sake, Lil Nas X had the power to enlist a clusterf*ck of country, K-Pop, and rap performers to sing his own song beside him. That's power — close to Beyoncé-level power. How?
After doing some quick math and calculations, I've gotten to an answer: TikTok.
Somewhere in the space between the death of Vine and the present, TikTok was born. The Chinese-based social media app allows users to create lip-sync and comedy videos using sound bites of songs, tv shows and movies. Only three years after its release in 2016, TikTok was announced to be the seventh most downloaded mobile app of the decade. Of course, the entirety of Billie Eilish and Lil Nas's successes can't be solely attributed to TikTok, but they are most certainly the archetypes for a new wave of artists who can use the social media app to their advantage. The app represents a shift in the way we think of music; it's a new spin on the way music is experienced and shared.
I don't know how to describe it, but there is something about a song that just makes it a TikTok song. It may be the bass-boosted drumbeats or the perfected autotuned choruses, but some of the most streamed tracks online today are "TikTok songs."
One day, shopping with friends, I had the powerful role of having the aux. I shuffled my music and Rico Nasty's "Smack A B*tch" started. Nasty was a rapper I'd been following since her 2016 hit "Hey Arnold" came across my Spotify discover playlist. She instantly became one of my favorite female rappers. The aggression of her voice in a lot of her songs is palpable in a cocky, yet fun way. And her flow and style match that. She's a badass rapper whose originality has remained steadfast and made her stick out.
Somewhere in the second verse, I noticed my friend Sam started rapping along too. I didn't think much about it until a realization hit me. Sam doesn't like rap. Or at least, she doesn't like rap enough to know this rapper who is still trying to break into mainstream scene. "How the hell do you know Rico Nasty?" I ask.
"Who?"
"The girl who sings this song…"
"Oh," she said. "This song is from TikTok."
Similar situations began occurring more and more with countless different songs I knew. A quick search on Spotify will show you hundreds of playlists including these "TikTok songs." To label and categorize music isn't something to be taken lightly. It creates a bond between the music and the history of the genre. Hip-hop today wouldn't be anything without Tupac, Missy, or Biggie. Pop music wouldn't have gotten far without Janet or Prince and a similar relationship between rock and Bowie. To label music is to carry the weight of the history behind it.
At first, I was pretentiously annoyed. "Ya'll are so late to this song, Willow released it in 2015," I thought. But then I realized two things: 1.) no one cared and 2.) TikTok and its influence on music was way more impactful than I believed.
From a distance, I watched more and more friends, family, businesses and influencers join TikTok. These videos would of course enter my Twitter timeline and if I was feeling ballsy enough, I'd watch a few. And while a lot of these videos were focused on telling a comedic narrative or even if it was just white girls dancing, the thing that stuck out to me was the music.
I remember hearing Lil Tecca's "Ransom" in a TikTok and my jaw just dropping. This song was kind of a banger. Tecca's geeky voice in-between a playful ball bouncing beat and a clap. The song is repetitive and simple. The music video includes the lanky and nerdy teenager surrounded by women with exposed breasts and bums, shaking and rubbing up on him. The lyrics and video to many would be considered indecent, which would be a valid reaction. It doesn't matter if he's telling the truth or not. But that's just a part of music and its culture, isn't it? The thin line between what you want and what you have, between hoping and boasting.
Don't be mistaken though, TikTok is a social media app, and a creative one at that. Like Twitter and Instagram, users can gain followers, give likes and reshare posts. More than 1 million videos are viewed on the app every day. Artists should take advantage of this. Singers like Doja Cat know this and are jumping aboard. In her latest video, the artist pays homage to the TikTok dancer, Haley Sharpe, whose viral moves attributed to the song's success. A similar story for Jalaiah Harmon, whose New York Times' profile finally gave her the recognition she deserved after her original Renegade dance got the racial gentrification treatment that this digital landscape is still prone to.
Music carries its own history, like we all do. But it also paves its own future. Technology has its own journey but its intertwining with music has felt like an experiment for the music industry. Album drops have never been the same since 2013 with Beyoncé's self-titled musical art piece. (In a negative, yet similar fashion, let's remember Apple and U2 were in cahoots to fuck us all over). And according to RIAA's 2019 report, streaming subscriptions are up, while internet radio streaming is declining fast. Apps like Triller and TikTok are opening up ways for artists to profit without having to have a typical music-listening experience. It's multi-dimensional and it's working.
It will be interesting to see how the app updates and evolves. Will its fate run a course similar to that of MySpace, whose focus on the music-aspect led to its inevitable imprisonment in internet purgatory? Or will TikTok continue to successfully breed flashy artists engineered to divinely feed the masses with electro-earworms and bass drops?
To be honest, I didn't think this app was going to be around long. But for music purposes, I kind of hope it does. We're having a generational shift in music, one that I am experiencing for the first time as a 20-something year old music-lover. MTV has left the building, which is bittersweet for nostalgic purposes. But TikTok offers something different. People have more power now to gatekeep music and do what they want with it. It is everything we've known and loved about music culture, just regifted and wrapped in lime green Chanel and cowboy hats.
Source: Read Full Article