What You Didnt Know About Paul McCartney
As a member of the Beatles and a solo artist, Sir Paul McCartney has cemented his place in pop culture history. The musical legend is one of the most successful songwriters of all time, per Guinness World Records, and he has penned a record-breaking 32 number one singles.
His story began in working-class Liverpool, as biographer Mark Lewisohn reported in "Tune In," when James Paul McCartney was born during World War II. His mother was a nurse and his father was a cotton salesman, who bought the musician his first instrument. And as he later told Rolling Stone, it wasn't quite as rock and roll as fans might expect. "I wanted to do something in music and my dad gave me a trumpet, for my birthday," McCartney recalled, explaining that he later traded it for a guitar after realizing that he couldn't play trumpet and sing at the same time. "It was about the time that guitar was beginning to be the instrument," he added. But learning guitar wasn't smooth sailing either, since there were no instructions for left-handed musicians like McCartney. Eventually, he realized that he had to restring the instrument so that it was upside down.
And at a church fête on July 6, 1957, he showed off those new guitar skills to local band The Quarrymen, per Billboard, led by a teenager named John Lennon. Keep reading to discover more about how Macca and his music took the world by storm.
He bonded with John Lennon over the deaths of their mothers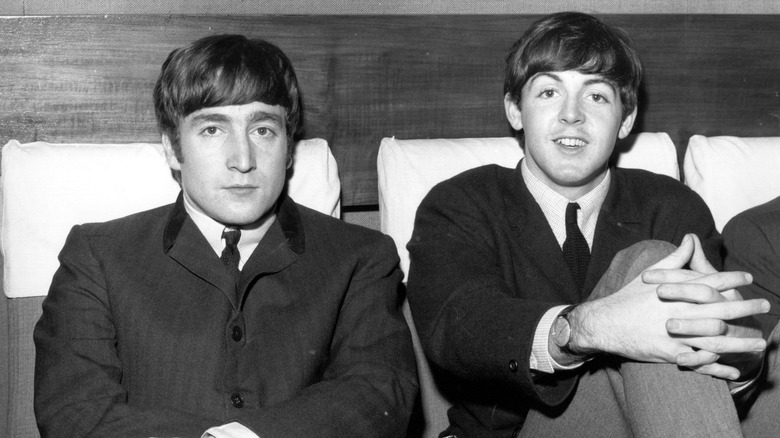 Paul McCartney encountered tragedy at a young age when his mother Mary died of breast cancer. The musician was only 14 at the time and didn't know that she was dangerously ill until it was too late, as he told the BBC in 2019. "We had no idea what my mum had died of because no one talked about it," McCartney revealed. "She just died." He also described the impact of seeing his dad's grief, adding: "The worse thing about that was everyone was very stoic, everyone kept a stiff upper lip and then one evening you'd hear my dad crying in the next room." He and his younger brother had never seen that kind of emotional reaction from their father before.
After McCartney started playing guitar and met John Lennon, a similar misfortune tore apart his new bandmate's life. As Mark Lewisohn wrote in "Tune In," Lennon had been raised by his aunt Mimi after his parents split, but began to reconnect with his mother Julia during his teen years. In 1958, however, Julia was hit and killed in a traffic accident.
"It was a bond between us, actually; quite a big one, as I recall," McCartney informed Playboy in 1984 (via The Beatles Ultimate Experience). "We came together professionally afterward. And as we became a writing team, I think it helped our intimacy and our trust in each other."
He's had trouble with the law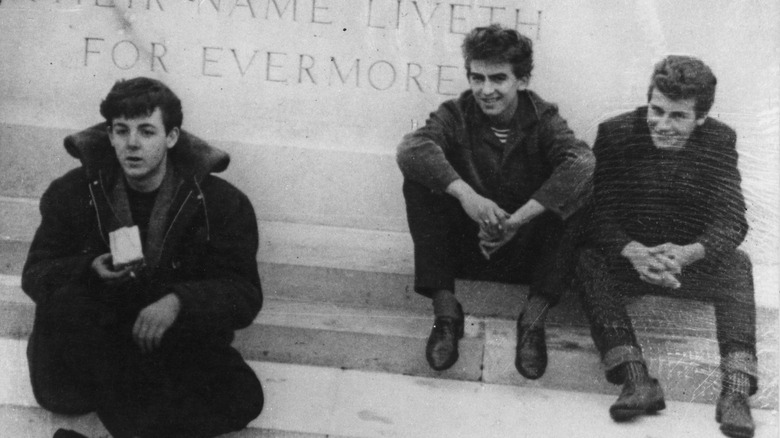 Although Paul McCartney was often known as the "cute" Beatle, which he later told Howard Stern he "hated," the musician had quite a few brushes with the law over the years.
In the band's early days, McCartney and their original drummer Pete Best were arrested and deported from Germany after being accused of arson, per The Guardian. After being kicked out of the Hamburg cinema where they were staying, as McCartney's official biography "Many Years From Now" described, the pair had nailed a condom to the wall and set fire to it. Although the fire didn't spread, the owner went straight to the German police. "He'd told them that we'd tried to burn his place down," McCartney revealed, per Ultimate Classic Rock. "And they said, 'Leave, please. Thank you very much but we don't want you to burn our German houses.'"
The former Beatle has also been busted for marijuana several times. The most famous incident took place in 1980 when he was detained in a Japanese jail for ten nights. McCartney had been found with half a pound of marijuana at a Tokyo airport while on tour with Wings. "We were about to fly to Japan and I knew I wouldn't be able to get anything to smoke over there," McCartney told Uncut in 2004, per the BBC. "This stuff was too good to flush down the toilet, so I thought I'd take it with me," he added.
The song 'Yesterday' was originally called 'Scrambled Eggs'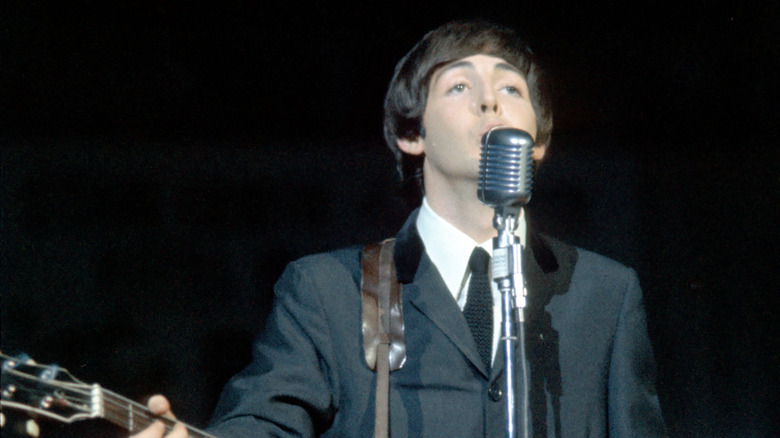 Although the Beatles already had massive popularity before they released "Yesterday," the song made the world take them seriously as musicians. It's now one of the most covered songs of all time, as Guinness World Records reported, with "thousands of different versions" recorded. It might not have become a worldwide classic, however, if Paul McCartney had stuck with his original title. As the musician revealed in his biography "McCartney," he wrote the song after hearing the tune in a dream at his girlfriend Jane Asher's house. At first, he assumed that it must have been one of the old standards that his father loved. "This one, I was convinced, was just something I'd heard before. I said to people: well, it can't be mine, I just woke up dreaming it!" McCartney recalled.
The musician described the experience as "mystical," adding, "It was the only song I ever dreamed." He began showing it off to friends, with the hastily-written lyrics, "Scrambled eggs, oh my baby how I love your legs…" as a placeholder. When the actual words finally came to him, however, they felt just as natural as the melody. Unusually, McCartney recorded the track without the other Beatles, performing with a guitar and backed up by a string quartet. 
He also admitted to Stephen Colbert in 2019 that the melancholy lyrics may have been inspired by his mother's death, even if he hadn't consciously been inspired by Mary McCartney at the time.
A conspiracy theory about his death has been around for decades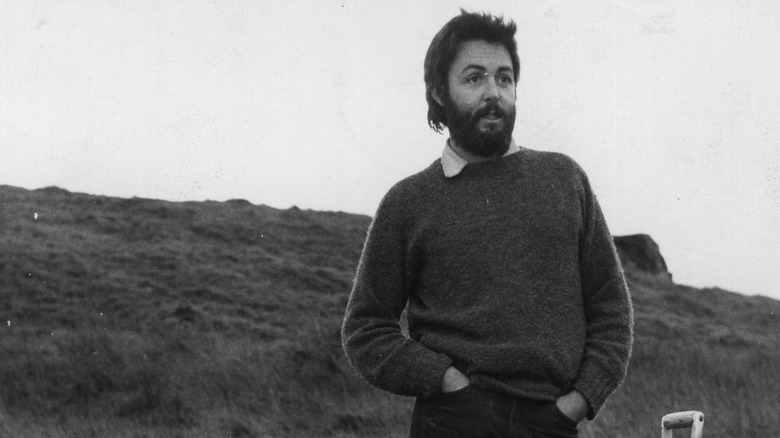 One of the music world's strangest conspiracy theories was born in the late '60s when Beatles fans started to believe that Paul McCartney had died in a car crash and been replaced by a lookalike. The "Paul Is Dead" movement took off after a Detroit DJ played the song "Revolution 9" backward, according to Rolling Stone, revealing that John Lennon seemed to sing, "Turn me on, dead man." Believers pointed to other clues like the "Abbey Road" album cover, on which McCartney is the only barefoot band member. A Volkswagen in the back of the picture also has a "28 IF" license plate, supposedly indicating that the bassist would have been "28 if" he hadn't died.
Meanwhile, McCartney was living in seclusion on his Scottish farm, with his new wife Linda Eastman and their two daughters. Reporters from Life Magazine tracked him down and, after a heated confrontation, he eventually agreed to pose for a cover story that declared "Paul McCartney Is Still With Us" in November 1969. "It was funny, really," McCartney told Mojo music magazine in 2009, per Reuters. "But ridiculous. It's an occupational hazard: people make up a story and then you find yourself having to deal with this fictitious stuff." 
The musician claimed that the "worst" consequence was the public scrutiny: "I could see people sort of looking at me more closely: 'Were his ears always like that?'" he joked.
His song inspired the Manson Family murders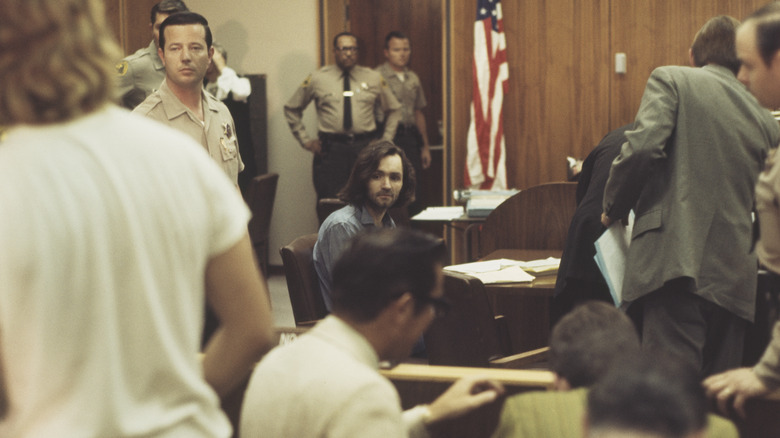 On the orders of their leader Charles Manson, the Manson Family shocked the world in 1969 with a bloody trail of murders. And one of Paul McCartney's songs played an unexpected role in this notorious chapter of criminal history. As Vox explained, Manson claimed that the song "Helter Skelter" from the "White Album" inspired him and his cult to try and start a race war, leaving messages in blood behind at their crime scenes to implicate the Black Panthers. They even painted the words "Helter Skelter" on the walls during the LaBianca murders. McCartney, on the other hand, stated that he wrote the rock song about a fairground ride.
"I was using the symbol of a helter skelter as a ride from the top to the bottom," he explained in the biography "Many Years From Now" (via Rolling Stone), comparing it to the "fall" of the Roman Empire. The Beatle had been trying his hand at "heavy" music to challenge their fellow rockers The Who, so "Helter Skelter" had a harsher sound than their usual music. "I'd heard [The Who's] Pete Townshend saying they'd done the dirtiest, filthiest record ever, so we were trying to out-filth The Who," he told NME.
McCartney also revealed that the Manson murders stopped him from performing the song for decades. "I thought, I'm not doing ['Helter Skelter'], you know, because it was too close to that event," he added.
After the Beatles broke up, he started from scratch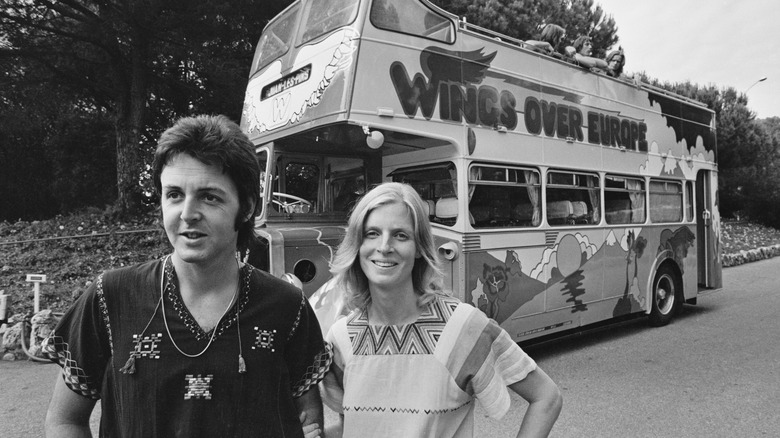 Beatles fans were left heartbroken in 1970 when it was announced that the band had broken up, after falling out over business dealings. And Paul McCartney was equally devastated. "I was depressed. You would be. You were breaking from your lifelong friends," the musician explained to BBC Radio 4, recalling how it was "difficult" to figure out what was next. "So I took to the bevvies." McCartney began drinking heavily at his new home in Scotland, uncertain whether he was going to keep making music at all. His new wife Linda, however, forced him to clean up his act.
Since he was still feuding with his old bandmates, the bassist started a new group. "I liked the idea of a band," he told the BBC. "I wanted to go back to square one." So McCartney recruited Denny Seiwell, Denny Laine, Henry McCullough, and, controversially, his wife Linda to form the group, Wings. The musicians began touring universities in an old van, turning up unannounced and trying out their material. "How do you 'do a band' was the question," he reflected in an interview with Uncut.
"You could do the supergroup thing like Jimmy Page and Eric Clapton. Or you could return to your roots – and that's what I was doing," McCartney declared.
He was banned from the BBC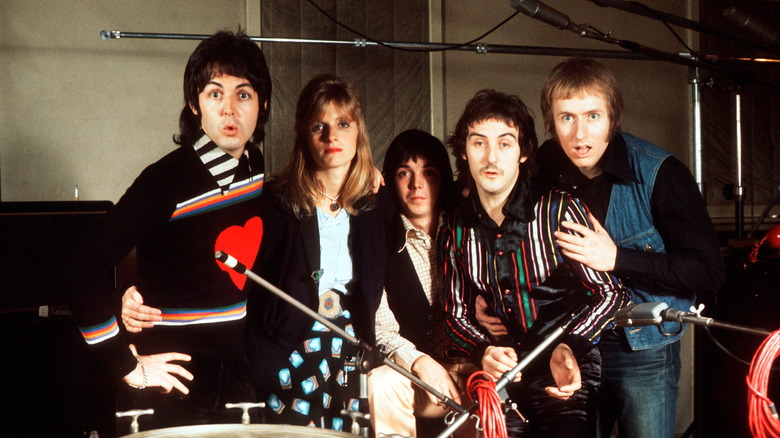 Paul McCartney isn't usually thought of as a controversial political songwriter. But in 1972, his protest song "Give Ireland Back To The Irish" was so shocking that the BBC banned it from their radio stations.
The singer had been inspired by the Bloody Sunday massacre in Northern Ireland, per the BBC. On January 30, the British Army had fired on a crowd of Derry protestors, resulting in 13 deaths. McCartney was outraged, especially because of his personal connections to the country. "My family comes from Ireland. Half of Liverpool comes from Ireland," he told Uncut. "That was the shocking thing. We were fighting us. And we'd killed them, very visibly, on the news."
In response, McCartney wrote "Give Ireland Back To The Irish," criticizing the British troops. Despite his label EMI warning that it would be controversial, they released it as the first single for his new band Wings. The backlash was immediate: BBC radio hosts couldn't even mention it by name on their chart show. According to Far Out, the band's Irish guitarist Henry McCullough particularly came under suspicion. His brother Samuel was even assaulted over the song's content in an Irish pub in London.
He was held at knifepoint in Lagos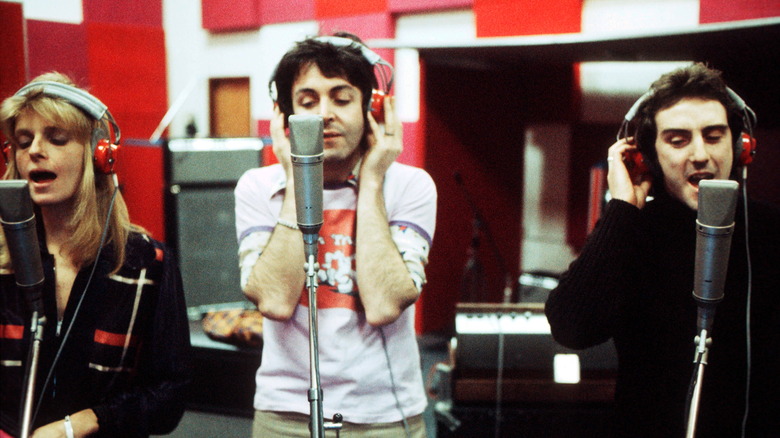 Wings didn't just run into physical danger after their first single. During the creation of the album "Band on the Run," Paul McCartney and his wife Linda were mugged in Lagos, Nigeria, and lost all the tapes they had already recorded. As he told The Times, the band had decided to work in Nigeria because McCartney "wanted to find something that turned [him] on, rather than just getting that 'Here we go again' feeling." He had pictured "sunny skies, uplifting African visions, and encasing [his] songs in that atmosphere." The frontman's dream was shattered, however, when he and Linda decided to walk through the city of Lagos one night.
At first, as he later admitted to NME, McCartney thought that his attackers were volunteering to drive him home. Then he sized up the situation. "There's, like, about four or five of them and then there's a little one and he's got a knife," the musician recalled. "So we go, 'Oh, you're not offering us a lift at all! You're robbing us.' So I had all my demo cassettes for the album and they took them all… I had to remember the songs. Luckily I did."
Soon after he was robbed, as biographer Garry McGee wrote in "Band on the Run," McCartney also passed out during a studio session due to an "acute bronchial spasm." Despite all the misadventures, however, "Band on the Run" still topped the UK album charts in 1974 (via The Times.)
He was criticized over his reaction to John Lennon's murder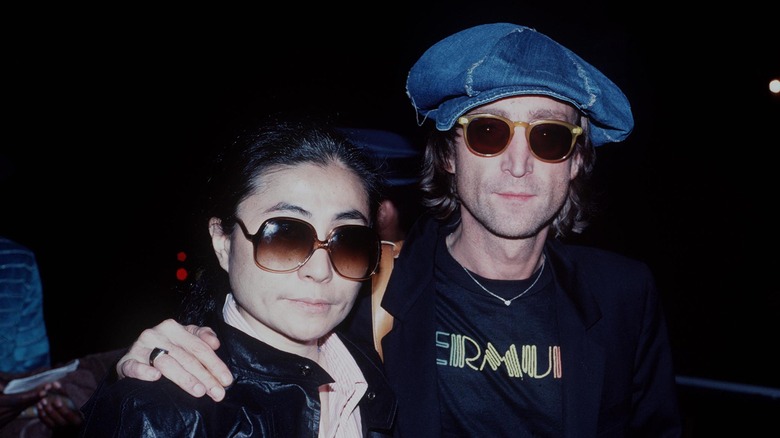 Paul McCartney lost his friend and former songwriting partner in 1980 when John Lennon was shot in front of his home by Mark David Chapman, per the BBC.
McCartney's initial reaction to the heartbreaking news was widely criticized by the media. When he was swarmed by reporters asking how he felt, the musician responded by calling the situation a "drag" and quickly leaving. He explained his seemingly cold response in a 1985 interview with Good Morning Britain by stating that he is "not very good at public grief." The former Beatle also insisted that his comment wasn't as flippant as it seemed. "All I could muster was, 'It's a drag.' I couldn't say anything else but that," he added.
In 2020, he told CBS Sunday Morning that it was still "very difficult" for him to deal with Lennon's death. "There will be times when I just have memories and just think, 'Oh my God, it was just so senseless," McCartney admitted, revealing that he still imagines his old friend's voice in his head when he writes songs.
He fell out with Michael Jackson over song rights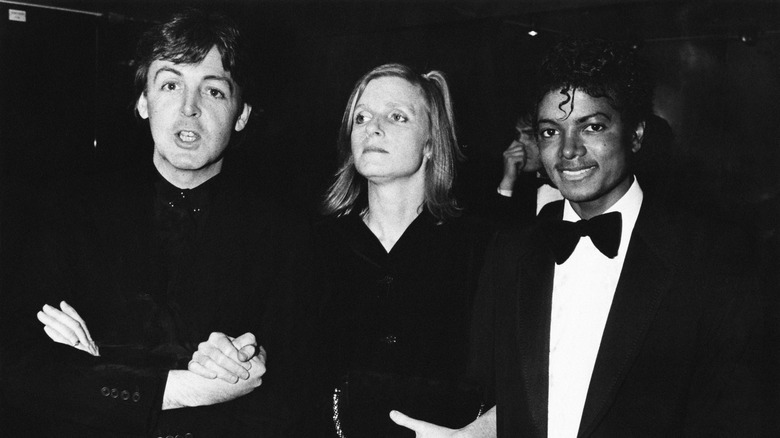 One of Paul McCartney's most famous friends and collaborators was Michael Jackson, but he fell out with the King of Pop after a dispute over publishing rights. The two musicians worked together on songs like "The Girl is Mine" and "Say Say Say" in the 1980s, before Jackson successfully bid for the rights to 251 Beatles songs in 1985, securing them for $47.5 million according to Biography. This meant that any money the songs made would go straight to Jackson, in what McCartney described as a "carve up" on "The Graham Norton Show" in 2014.
The former Beatle also revealed that he had been the one who inadvertently inspired the "Thriller" singer to seize his publishing rights. McCartney claimed that he had advised Jackson about his career, telling him to get an excellent manager. "You ought to think of getting into song publishing," he added. "I'm gonna buy yours," Jackson replied, although the Wings frontman assumed he was joking at the time.
Despite their feud, McCartney did pay tribute to Jackson after his death in June 2009, calling him a "massively talented boy-man with a gentle soul" on his website, per NME. "I feel privileged to have hung out and worked with Michael," he wrote.
He's a devoted vegetarian and animal lover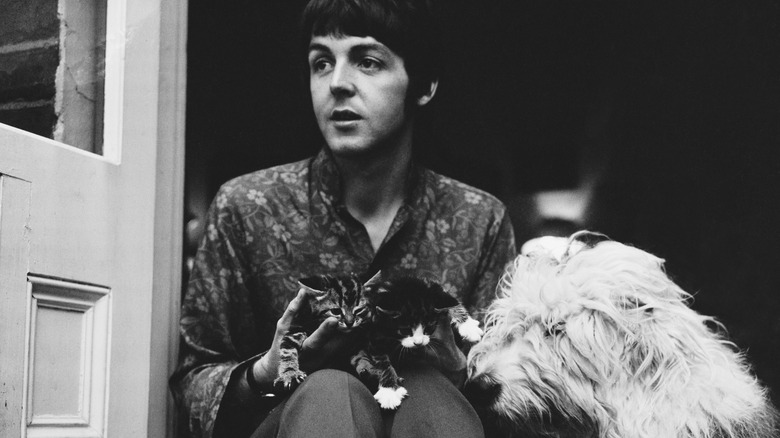 Paul McCartney is one of the most well-known animal lovers in the world. As any Beatles fan will tell you, he even wrote the song "Martha My Dear" about his beloved sheepdog. His animal rights activism started after the Beatles had split up, however. As he explained to National Geographic, McCartney first decided to become a vegetarian out of "compassion" after buying a farm with his wife Linda in the '70s, where they raised sheep. The couple was eating leg of lamb one spring day when they saw their newborn lambs playing outside. Since that revelation, he's never looked back.
The McCartneys became so famous for their beliefs that they appeared on an episode of "The Simpsons" in which Lisa stopped eating meat. The musician had one condition, however, as producer David Mirkin told Digital Spy: that the character would stay a vegetarian for good. "Every time I see him, he always checks — and he's always surrounded by nine or ten lawyers, so it's quite frightening!" Mirkin joked.
Linda also brought out her own range of vegetarian food, which McCartney described as "pioneering" to the Huffington Post. "Over the years, she converted many people we knew. Our friends, people we worked with and even some of our roadies on tour," he revealed, adding that she "played a massive part" in spreading awareness about vegetarianism. After her death, McCartney kept the company going in memory of his wife.
He met his wife Nancy Shevell through an unexpected celebrity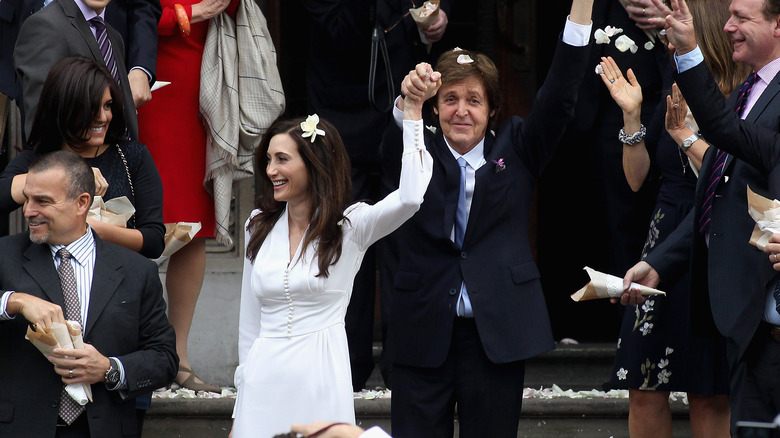 After losing his first wife Linda to cancer and going through a nasty public divorce from his second wife Heather, Paul McCartney found love again with Nancy Shevell. He married the American businesswoman in 2011, as the BBC reported, and wrote the song "My Valentine" for her during a holiday to Morocco, per the Independent.
According to Celebrity Net Worth, Shevell was already a millionaire before the pair married: she's worth $200 million as the heir and vice president to her family's trucking company. She also worked on the board of the New York Metropolitan Transportation Authority for a decade and was previously married to politician Bruce Blakeman between 1984 and 2008. And in a striking parallel to McCartney's first wife, Shevell is a breast cancer survivor.
She first met the musician in the Hamptons, according to ABC News, two decades before they actually got together. As the Observer revealed, Barbara Walters was the "matchmaker" who reintroduced the pair after their divorces. The celebrity journalist, who is actually Shevell's second cousin, told the Observer that they are "very close," emphasizing how much her family member values privacy. On "The View," Walters celebrated the couple's wedding, as People reported at the time. "See, that lovely, young, conservative, attractive-looking woman with Paul McCartney?" she asked the audience. "Well, I love her very much. She's my cousin."
He's still going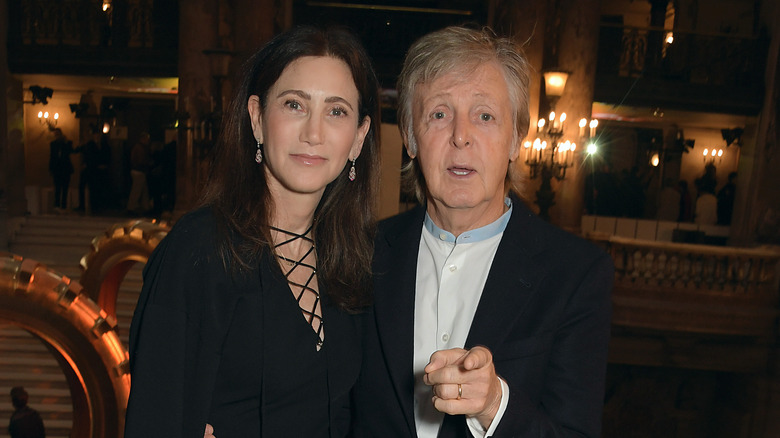 Not many icons from the '60s are still putting out hit albums, but this one is an exception. Despite having more than enough money to retire on, Paul McCartney has a net worth of $1.2 billion per Celebrity Net Worth – and he hasn't stopped. As well as working with younger musicians like Kanye West and Rihanna, the former Beatle has stayed busy over the past few years by putting out a variety of his own projects.
Now a proud grandfather, McCartney has written several children's books with his eight grandkids in mind, according to the BBC. In 2018, his new album "Egypt Station" hit the top of the US charts, per Sky News, making it his first American number one album since 1982's "Tug of War." And during the COVID-19 pandemic in 2020, McCartney released a lockdown-inspired project, which was called "McCartney III" in a reference to his previous experimental solo albums "McCartney" and "McCartney II."
"I was just messing around, never suspecting for one second that this was going to be an album," the musician told the BBC, explaining how the recording process naturally developed while he was staying with his daughter Mary. The album's lyrics were also inspired by the COVID-19 crisis, telling fans that "you've got to grab the good stuff and get on through the pandemic," in McCartney's words.
Source: Read Full Article