Woman Runs Over Cheating Husband and Mistress in Just Released CCTV Video
But she won't get jail time
Footage of a jilted wife in Queensland, Australia running over her husband and his mistress has just been released — over two years after the wild incident.
The CCTV video, obtained by 9 News, shows the dramatic attack which sees Christie-Lee Kennedy ram her white BMW SUV into her spouse David Larkin and his lover Zowie Noring. Kennedy can then be seen exiting her vehicle and pummeling Noring in the head.
While the footage has just been released to the public, it was taken as evidence in a court case that gripped Australia for months.
Waiting for your permission to load the Facebook Video.
Facebook Video Unavailable
The video shows Larkin and Noring locked in an embrace on a quiet street in March 2021 before the white SUV comes on the scene.
The court heard how Kennedy used a Find My Phone app to track down her cheating spouse before the attack after he reportedly told her was picking up their kids from daycare. However, during the trial Kennedy claimed she never intended to hit the victims with her car, and simply had pumped the brakes too late.
Last month the jury accepted Kennedy's explanation and found her not guilty on two counts of "malicious acts with intent to disable."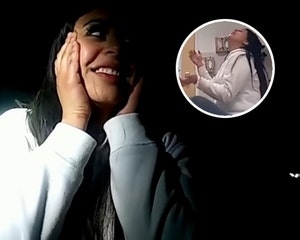 Woman Seen Dancing, Joking on Video After Fatal DUI Crash Gets 14 Years In Prison
Meanwhile, in the same video Kennedy can be seen exiting her vehicle after the collision and attacking Noring, pulling her by the hair and striking her in the head.
A man living on the street where the incident took place, who goes by the name "Scummy," told 9 News he could hear the collision from inside his home.
"I heard the thud from inside and we had the TV cranked up and you could hear 'bang'," Scummy said. "I picked up my phone, called the ambos [ambulance] and my boy chased that girl down the road."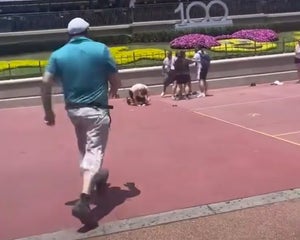 Brawl Breaks Out Between Two Families at Magic Kingdom, Caught on Video
In the same footage, Noring can be seen hobbling to her car and driving away once Kennedy leaves. Soon after, Kennedy is seen returning to the scene and waiting with her husband until emergency services arrive.
In April, Judge Paul Smith ultimately settled on sentencing Kennedy to nine months in jail for two offenses — dangerous operation of a vehicle and common assault charge. Both sentences were suspended. She will serve no prison time.
"I think it would be fair to conclude that you would be quite shocked about what you saw there despite what you suspicions you had prior," the judge said.
"You're obviously an excellent employee and a very good mother and it's a real shame you committed this offense but I do form a firm view that this offending is out of character and it's unlikely you'll reoffend with anything like this," Judge Smith continued.
Kennedy was then ordered to pay $5000 Australian dollars to each victim; she was given two weeks to pay each party or face a potential month in jail.
Kennedy was furthermore suspended from driving for nine months.
Kennedy's former spouse David Larkin and Zowie Noring continue to be together and are now an official couple.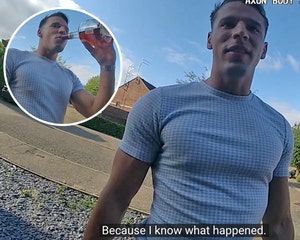 Frightening Moment 'Intoxicated' Killer Returns to Crime Scene Boasting 'I Know What Happened'
Source: Read Full Article