Your Scorpio Monthly Horoscope for March
Put these dates in your Google Cal rn:
You've definitely been having a "moment" for the past few weeks. While your friends may think you've been a tiny bit dramatic, you know what it's really about: You're getting in touch with your creativity! You've been letting ideas flow through you, which has been inspiring you to create outside of your comfort zone. Sure, you may be leaning into your hiccups a bit more than usual—but you're just leveraging your experiences. It's method acting!
You're basically the next Meryl Streep, but on March 9th, the Full Moon in Virgo will help you focus your attention. Under this sky, you'll receive invaluable perspectives on which ideas are great and which can… use a bit more workshopping. Don't get discouraged if you need to go back to the drawing board: At this moment, you're simply figuring out the best ways to cultivate unique talents.
Feedback (especially constructive criticism!) will help you get exactly where you need to go. And—most importantly—Mercury Retrograde also concludes on the very same day. So after three weeks of miscommunications, you'll finally be able to share your ideas with ease. It's time to shine!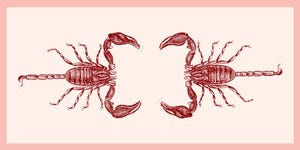 By mid-month, you'll be ready to incorporate that creative energy into your day-to-day routines. Aries season kicks off on March 19th as the vivid Sun moves into this fiery zodiac sign. Your groundbreaking ideas and vivid imagination will begin to inform your schedule, so make sure you're taking an active role in calendar management.
By the time the Moon meets the Sun in Aries on March 24th, you'll be ready to incorporate some sizable changes into your life. Whether you're redefining your sleep schedule, enrolling in an evening workshop, or jump-starting a new exercise plan, you'll begin to realize that your moment-to-moment choices impact each every of your life. This is your time—make it count!
One last thing, Scorpio babe! An important cosmic event occurs this month when strict Saturn enters a brand-new zodiac sign for the first time since 2017. On March 21, Saturn enters Aquarius. For millennial Scorpios born between 1991 and 1994, you may be entering your Saturn Return, which is basically your astrological bat mitzvah. In the eyes of the cosmos, you're officially becoming an adult!
But, no matter when you were born, Saturn's journey into Aquarius activates the area of your chart related to home, family, and domesticity. Don't be surprised if, within the next three years, you make a radical move that changes your location and ideology (for example, if you're a small-town bb, you may move to a big metropolitan area). Change is scary, but you're a freakin' Scorpio! You can handle anything. Remember, growth is always a good thing.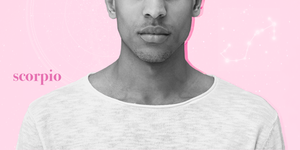 Source: Read Full Article