Your Weekly Tarot Card Reading, Based on Your Sign
You don't need to know the difference between a three-card and a Celtic cross spread to get the most out of a tarot card reading. All you need: your Sun sign! Here's what I do: Shuffle my tarot deck and pull out the cards in order from Aries to Pisces plus one general card for everyone so that you can get specific advice around your personality. Let's go!
A GENERAL CARD FOR EVERYONE: KNIGHT OF WANDS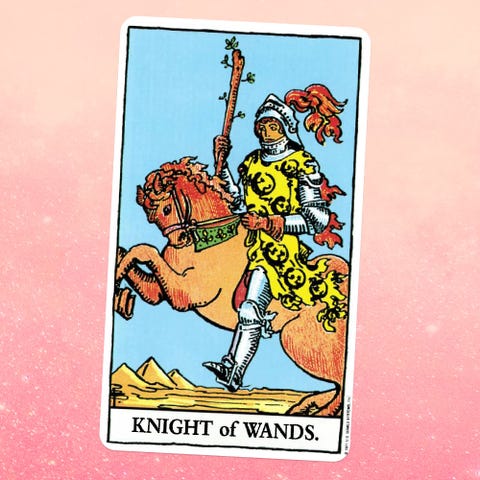 Adventure is your theme this week, and that means being spontaneous. The Knight of Wands is an explorer, so follow your instincts, rather than your schedule. Who knows where you'll land, bb.
ARIES: TWO OF WANDS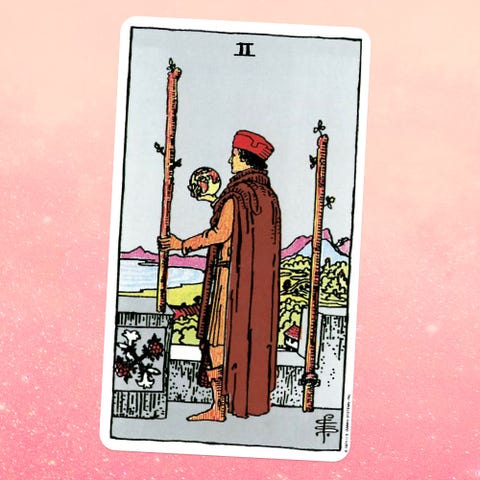 If I told you that there were NO wrong moves this week, what would you do? Well, the Two of Wands means that's exactly what I'm telling you. This card is about having the luxury of choice—because all your choices lead somewhere positive. The only *wrong* move is to procrastinate and stay where you are.
TAURUS: SEVEN OF WANDS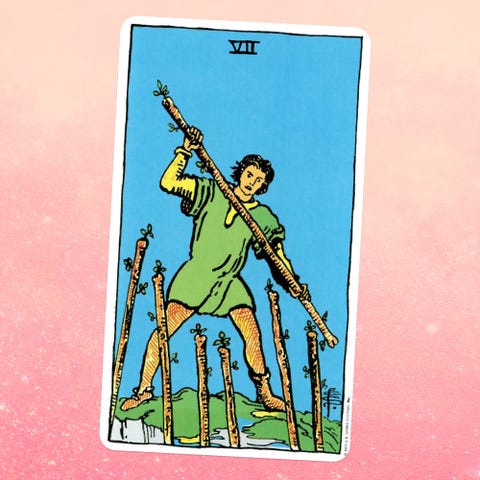 You're not one to go looking for a fight, Taurus (unless someone's stolen your lunch from the work fridge, that is), but if conflict comes your way, well, you're not one to stand down either. The Seven of Wands reveals you need to hold firm to your beliefs. Think of this week as a test—one you can pass with flying colors if you stick up for yourself.
GEMINI: FIVE OF CUPS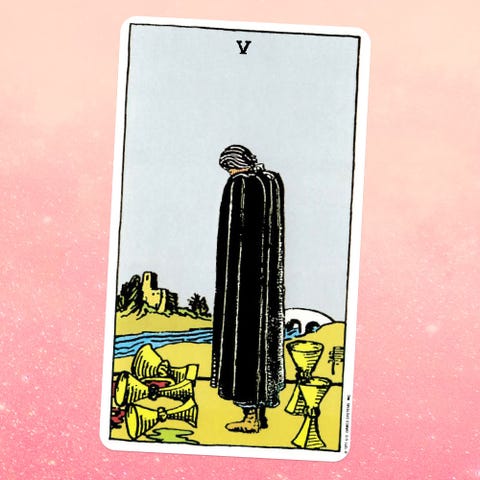 Don't let your previous setbacks influence your confidence right now. The Five of Cups shows you're starting over. Everything you've gone through has brought you to where you are now. Have faith in yourself and go after your goals. Keep the past where it belongs: in the rearview mirror.
CANCER: THREE OF SWORDS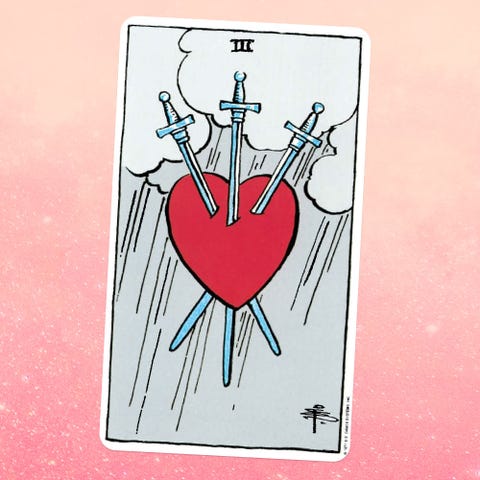 "Forgive and forget" is simply not in your playbook, Cancer. You might act like you're ready to let go of past drama, but you're just biding your time until you can get payback. The Three of Swords has you in a mood this week, so woe betide your frenemies. Try to let karma take care of them, while you focus on you.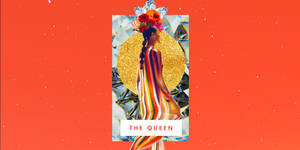 LEO: THE DEVIL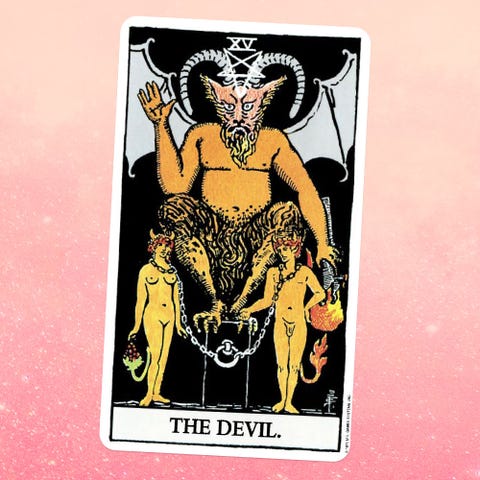 Dig deep, Leo. This week, the Devil reveals that you'll need to find the willpower to resist a situation that you know, deep down, won't lead anywhere good. If it looks or feels like temptation: AVOID.
VIRGO: THREE OF WANDS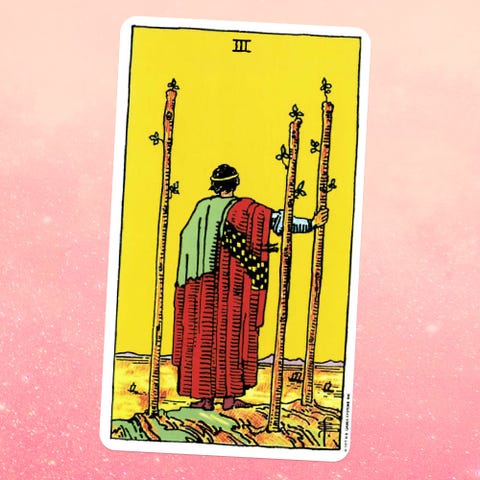 Ruled by Mercury, you're a social butterfly with tons of friends and acquaintances. This week, the Three of Wands shows you're on the lookout for a new opportunity, and it'll come from your social circle. It's not what you know but WHO you know, amirite?
LIBRA: SEVEN OF CUPS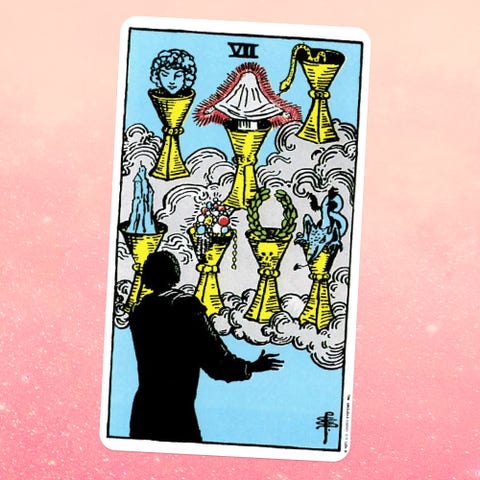 The Seven of Cups is all about imagination and creativity. You're an intellectual Air sign, so your brain is usually whirring and purring, but this week it's in overdrive. Can you smell burning? Keep a notepad handy to jot down your ideas—there's a risk that you'll lose some great stuff if you don't capture it straightaway.
SCORPIO: TWO OF CUPS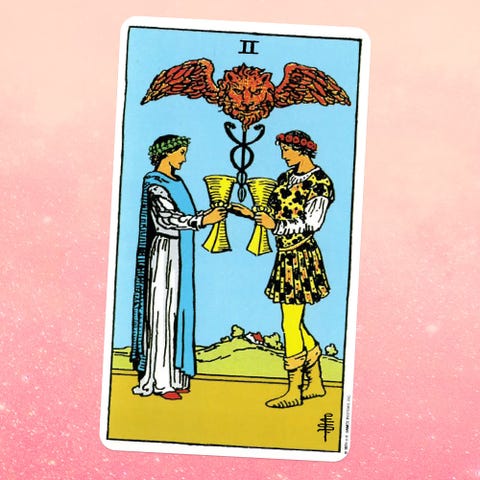 PSA: Cupid is looking for you! The Two of Cups is the tarot's ~love card.~ Whether it's a big date with boo, a new name in your DMs, or rekindling an old flame, it's going to be spicy. Keep an eye out for a sexy, charismatic Water sign (Scorpio, Pisces, or Cancer) with whom you feel instant chemistry.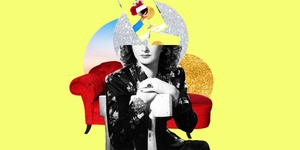 SAGITTARIUS: THE EMPEROR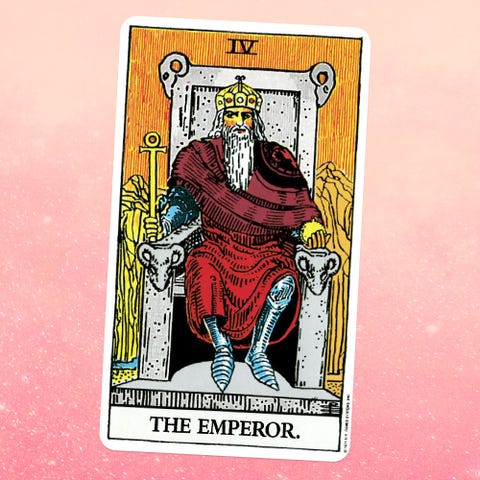 Although you come across as chill, you do have a ~thing~ about control. Basically, you can't stand being told what to do. Good news this week, Sag, because The Emperor puts you in the driver's seat. Whatever projects you feel passionately about rn, step up and take control. You have good ideas. Make them happen.
CAPRICORN: THE HERMIT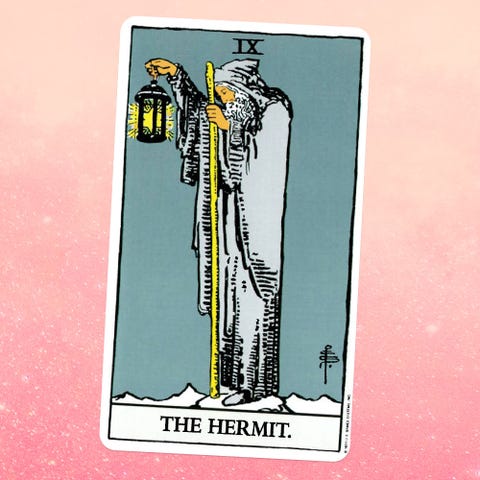 Working alone has always appealed to you, because you: a) like to be in charge, b) are self-disciplined AF, and c) secretly suspect others can't (or won't) live up to your high expectations. You might be right there, Cap. The Hermit advises you to put your solo project ideas into action this week. That might mean a side hustle, a solo trip, or a hobby you don't need anyone else for (think sewing, not soccer).
AQUARIUS: TEN OF COINS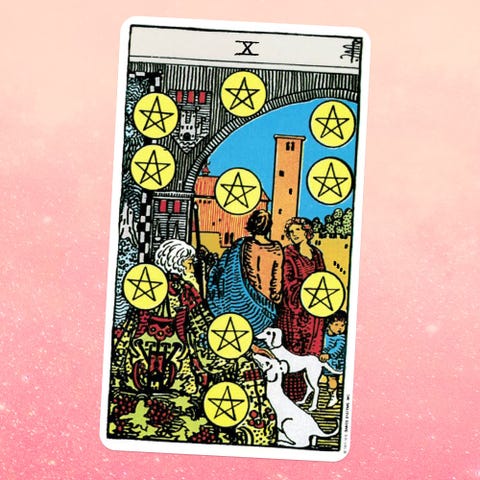 Usually, you like to roam the world, but not this week, Aquarius. The Ten of Coins sees you prioritizing what's going on at home— not because there's a crisis, but because you feel like being cozy. This is a great week to do a deep clean, redecorate your room, or organize your sh*t.
PISCES: SIX OF COINS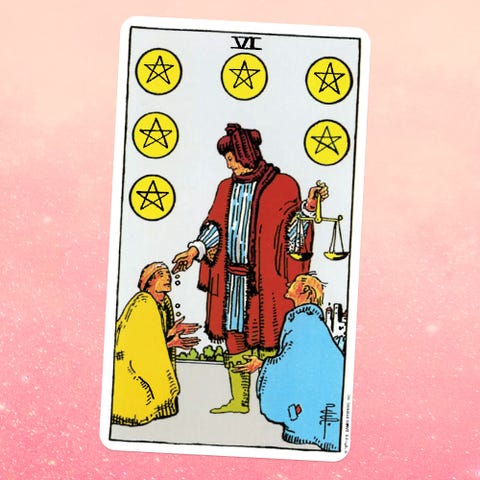 Random acts of kindness: that's what the Universe has in mind for you, thanks to the good karma card, the Six of Coins. This week, support your friends' projects and surprise acquaintances with a thoughtful treat. Check in on loved ones you haven't seen for a while. You're a bright light, Pisces.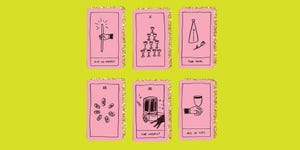 Source: Read Full Article