A Deep Dive Into Bachelorette Clare Crawley's Dating History Because You Wanna Know
Attention fellow lost souls who live, eat, and breathe Bachelor Nation: The time has come to grab the nearest available raccoon (if you know, you know) and talk about The Bachelorette. More specifically, the show's new star Clare Crawley, a four-time Bachelor franchise alum and person who puts up with approximately zero bullsh*t.
The 38-year-old is about to begin a beautiful dating competition love journey that'll hopefully result in her getting engaged on national TV while Chris Harrison lurks in the bushes somewhere. But this is hardly her first ~rodeo~. Chances are, Clare's past relationships will resurface this season (especially considering she was engaged to a fellow Bachelor Nation star), so it's time for a deep dive into her relationships. Honestly, it's gonna be the *extreme Chris Harrison voice* MOST DRAMATIC DEEP DIVE EVER, so get ready.
Juan Pablo Galavis: 2014
In the event that you weren't watching The Bachelor back in 2014, (a) wow, rude, and (b) Clare was Juan Pablo's runner-up. Their relationship was…how can I put this delicately…pretty much a trash fire, and she justifiably tore him apart during their breakup. Direct quote:
As you can see, Clare has no tolerance for anyone's BS, so this season of The Bachelorette should be spectacular.
Zack Kalter: 2014
Clare and Zack met during Bachelor in Paradise season 1, and honestly, I'm not sure hanging out for a few weeks on a beach full of drama-traumatized (draumatized?) crabs counts as a relationship, but I'm gonna include it anyway.
Tragically, YouTube doesn't seem to have any footage from this golden era of reality television, but I did find this photo of Zack posing with some string lights. It's called art, ever heard of it? Wow.
Mystery Bachelor Nation Alum: 2017
Back in 2017, Clare went on Reality Steve's podcast and opened up a bit about her romantic life, confirming that she's dated other people from the Bachelor franchise and doesn't plan on naming names anytime soon.
"I really don't put my dating life at all on my social media," she said when asked if she'd dated other Bach alums. "The answer is yes. Like I said, with people either in the franchise…or in some way related to the franchise. Yeah, I have."
Benoît Beauséjour-Savard: 2018
Clare and Benoît met on Bachelor Winter Games in 2018, and, lol, he ended up proposing on TV. It was cute! Minus the fact that it was clearly never gonna work out!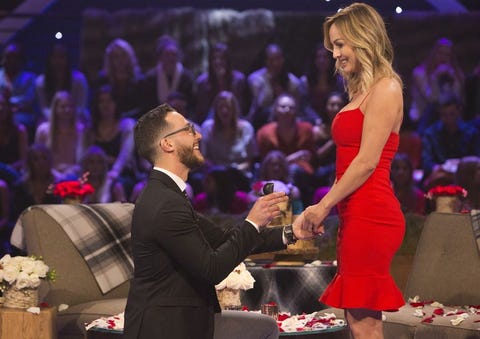 Sadly, for the .001 percent of the population invested in their relationship, these two broke up in April 2018, writing a joint statement on Instagram that said, "It's with a heavy heart that we have mutually decided to end our relationship. We think the world of each other, and we were both hoping we could make this work."
But! Benoît has since hit IG to let everyone know how happy he is for Clare, so no hard feels.
That's all for now, but I can only assume a fleet of interns are currently hard at work mining Clare's past for other exes they can potentially bring on the show, so stay tuned!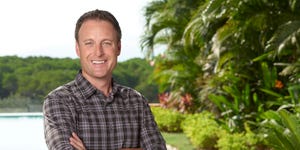 Source: Read Full Article