'BIP': Clay Harbor Is Trying to Get Women to Compete For His Love With His Own Version of 'The Bachelor'
Season 6 of Bachelor in Paradise was a wild ride. We saw love, heartbreak, and betrayal amongst romantic hopefuls on the beaches of Mexico. Some couples got engaged at the end of the season — and a few are still together today. But many may remember the explosive end to Clay Harbor and Nicole Lopez-Alvar's love story.
Harbor and Lopez-Alvar appeared to have one of the strongest relationships on the show. Unfortunately, it all came crashing down — and after the show, the exes continued to belittle each other on social media. Now, it looks like Harbor is ready to give love another shot. And he's involved in his own local Bachelor-like competition in Milwaukee. Here's what's happening.
Clay Harbor had a close relationship with 'Bachelor' contestant Angela Amezcua
Harbor first got his start on Becca Kufrin's season of The Bachelorette. But it was Amezcua who captured his heart. Amezcua was sent home on the first night of Nick Viall's Bachelor season, and she then pursued a romance with Eric Bigger during Season 5 of Bachelor in Paradise.
It seems Harbor and Amezcua's failed relationships of the past may have helped lead them to each other. Chris Randone of Bachelorette fame allegedly set them up, as he claimed to be their "matchmaker" after Harbor mentioned he and Amezcua were together on Twitter. And back in September 2018, Harbor posted a photo with Amezcua on Instagram and called her his "Woman crush Wednesday."
Unfortunately, we know their romance didn't pan out. Bachelor Nation notes Amezcua said, "He said he needed to be alone, to find myself. He said it had nothing to do with you, I needed to figure myself out before being in a relationship." Even so, she was "shocked" and totally blindsided by the breakup.
Harbor then pursued a romance with Nicole Lopez-Alvar on 'Bachelor in Paradise'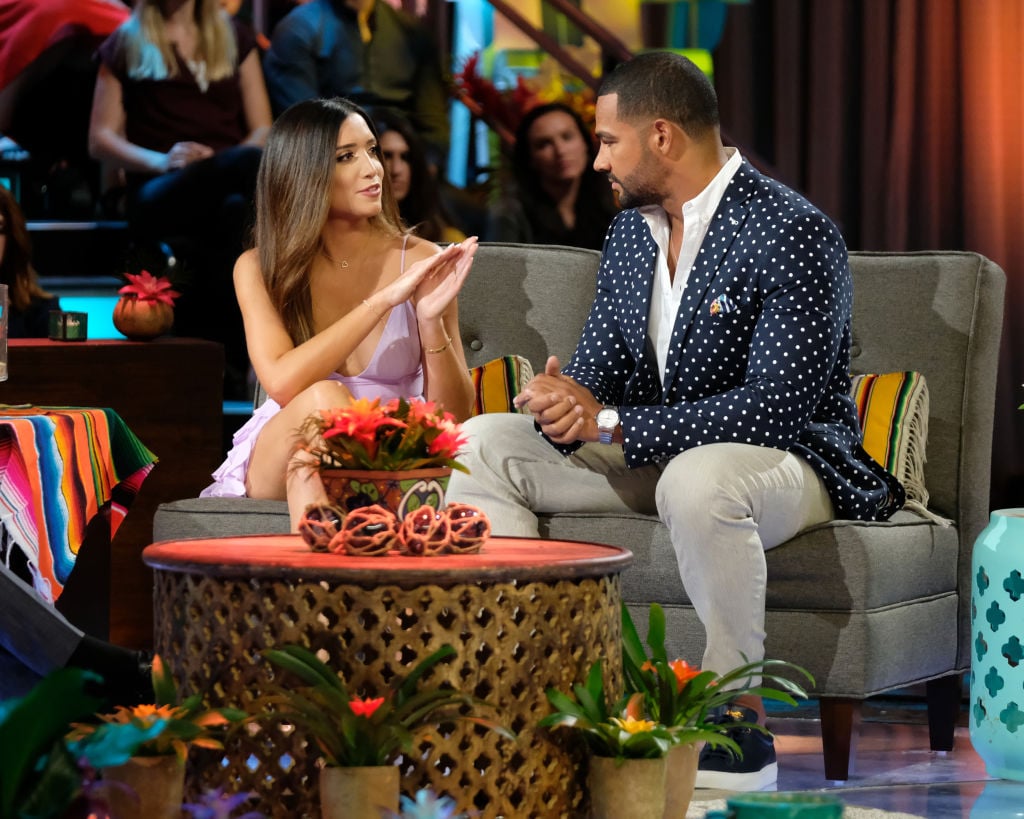 It seemed like Harbor was ready for romance during Season 6 of Paradise. He hit it off with Lopez-Alvar immediately, and though they went through a few rough patches, they stuck it out until the end. Unfortunately, Harbor had to face his lingering feelings for Amezcua head-on when she returned to the beach. But she returned wanting to pursue love with others even if Harbor was hung up on their breakup.
"I took Clay out of the equation," Bachelor Nation notes Amezcua said of Season 6. "I have two hot guys who are interested in me and I'm interested in them so with Clay out of the picture, would I want this? Hell yes! I don't want him to hinder any of these decisions."
At the end of the season, Harbor couldn't give Lopez-Alvar the love and affection she wanted, though. On "Decision Day," he couldn't tell her that he loved her. And this led to a bitter separation that led Lopez-Alvar to later accuse Harbor of fearing commitment and only going on the show to help his failed NFL career.
He now has his own mini 'Bachelor' competition for himself
Harbor couldn't work things out with either Lopez-Alvar or Amezcua. But he's not giving up on love just yet. According to Milwaukee Journal Sentinel, Harbor will be part of The Bachelor Live on Stage in Milwaukee on March 15, 2020. The show will be hosted by former Bachelorette, Kufrin, and former Bachelor, Ben Higgins.
The event involves a series of games and challenges that local women in the audience can compete in to win over Harbor's affection. In the end, he'll award a "final rose" to one of the women.
This Live on Stage event isn't just happening in Milwaukee, either. The publication notes it's playing in 66 cities — though for ladies hoping to win Harbor's heart, it looks he's just sticking to one location.
We're excited to see how it all pans out. And we're willing to bet Lopez-Alvar will have plenty of opinions about it, as she hasn't been shy with her views of Harbor in the past.
Check out Showbiz Cheat Sheet on Facebook!
Source: Read Full Article