Hannah Ann Just Publicly Announced She Wants to Date Tyler Cameron
So, Hannah Ann Sluss is single thanks to Peter Weber breaking off their engagement after five minutes and pivoting back to Madison Prewett, and she's ready to move on with her life. By which I mean she's ready to date Tyler Cameron, much like the rest of us!
Hannah Ann hit up Ellen for a post-Bachelor interview, and revealed several nuggets of information: 1) she's currently single "and ready to mingle," 2) she "doesn't know" if Peter's a good kisser, 3) "there might be a bikini" waiting for her on Bachelor in Paradise, and 4) out of all the men lurking in Bachelor Nation, she'd want to date Tyler Cameron the most. Direct quote: "I think this is the easiest question. Tyler Cameron. I mean!"
I. STAN. THIS. IMAGINARY. COUPLE.
Honestly, Hannah Ann's personality has been shining since The Bachelor ended and I, for one, am excited to see what Bachelor in Paradise brings. By which I mean she and Tyler Cameron better hookup.
Also, did every see Hannah Ann's goodbye post to Peter wherein she literally dressed up like a freakin' pilot in his signature brown leather jacket and goggles, and wrote this shady caption: "Flyin' solo… no turbulence accepted. PERIOD."
I love literally all of this for her.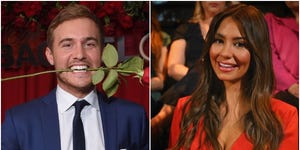 Source: Read Full Article