How Elle Fanning Learned to Produce, Play Comedy and Twist History in 'The Great'
"Most everyone that I talked to, what they know her for is this rumor that she had sex with a horse, which is so reductive and sad," Fanning says of the Russian ruler she plays in the Hulu series
With voters no doubt overwhelmed by the sheer number of shows contending for Emmys this year, TheWrap staff singles out a few of our favorites.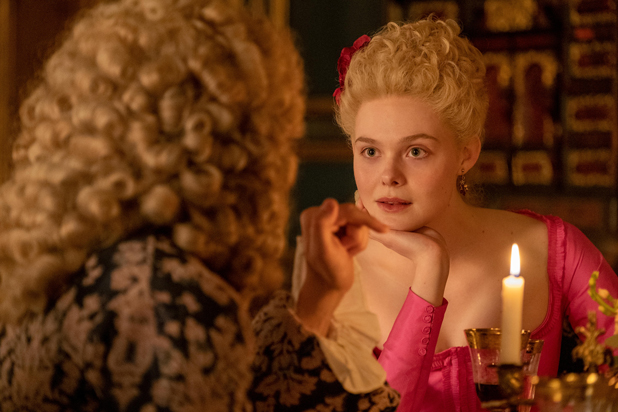 ELLE FANNING, "THE GREAT" (Hulu) – The real Catherine the Great was said to have been disgusted by her husband, Peter III, partly because of his pale complexion — which is why you could take it as an elaborate joke that Tony McNamara cast Elle Fanning as Catherine in the wry and twisted series "The Great." If so, Fanning — all steel and wile under that alabaster façade — provides a sharp and strong punchline. — Steve Pond

Hulu
RHEA SEEHORN, "BETTER CALL SAUL" (AMC) – Bob Odenkirk (rightfully) gets all the Emmy love for his portrayal of Jimmy McGill's descent into Saul Goodman. But Rhea Seehorn is too often overlooked as Kim Wexler — and given the way this past season ended, we'd argue she's the more interesting character. We know where Jimmy/Saul ends up, but after Kim's about-face this season, her future is more up in the air than ever. — Tim Baysinger
AMC
"AVENUE 5" (Hulu) – I wasn't planning on watching "Avenue 5," and then I found myself in the newborn unit of the hospital, unable to leave the room, take my mask off or, of course, sleep. Needing something short and lighthearted that I could access on my laptop, I gave the Armando Iannucci space comedy a shot, and boy am I glad that I did. Welcome to the world, Emily Grace Maglio, and a much-deserved welcome back to the Emmy race to Hugh Laurie. — Tony Maglio
HBO
JOSH O'CONNOR & ERIN DOHERTY, "THE CROWN" (Netflix) – Season 3 of "The Crown" was filled with new faces, including Olivia Colman, Helena Bonham Carter and Tobias Menzies. Those three legends are already getting plenty of well-deserved buzz, but voters shouldn't sleep on the other new kids on the block, Erin Doherty and Josh O'Connor, who play young-adult versions of Princess Anne and Prince Charles, respectively. The pair play off each other like real siblings and their character-centric episodes are some of the best the season has to offer. — Jennifer Maas

Netflix
JERRIKA HINTON, "HUNTERS" (Amazon Prime) – The gang of Nazi hunters in David Weil's '70s-set Amazon series is made up mostly of Jews trying to prevent the Fourth Reich and avenge millions of deaths in the Holocaust, but they have a presumed ally who becomes more of a foe in dogged FBI agent Millie Morris. Actress Jerrika Hinton gives the no-nonsense Millie real depth beneath what seems to be an inability to perceive the moral ambiguity of this particular world.   — SP
HBO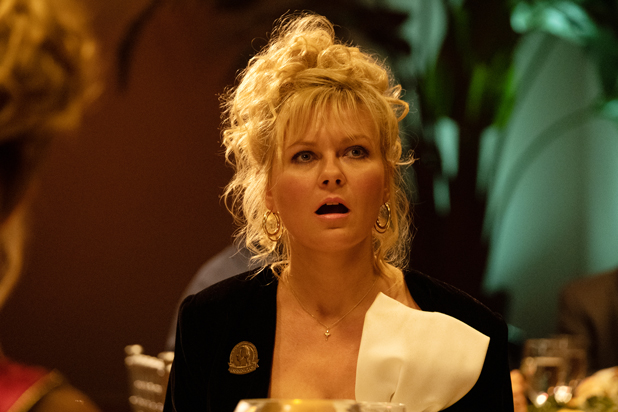 KIRSTEN DUNST, "ON BECOMING A GOD IN CENTRAL FLORIDA" (Showtime) – When the Television Academy reclassified this Showtime series as a drama rather than a comedy, they may have killed Dunst's chances of a nomination. If so, that's too bad—because whatever label you put on the show, its lead actress (and executive producer) is an unstoppable black-comic force of nature as a Floridian water-park employee with big dreams of becoming a pyramid-scheme mogul. — SP
Showtime
MISHEL PRADA, "VIDA" (Starz) – Mishel Prada deserves to be recognized for her complex and nuanced performance in Starz's "Vida," the first show to have an all-Latinx writers' room. It so beautifully tells intersectional stories about the LGBTQ and Latinx communities that we rarely see on screen. — Margeaux Sippell

Starz
"DAVE" (FXX) – I like comedy. I like rap. But outside of Eminem punchlines or the occasional Weird Al offering, comedy-rap doesn't really do it for me. Dave Burd is such an original human being, however, that his YouTube star-making version not only translates to television, I dare say it works even better there. Shout-out to Andrew Santino, who will get no Emmy love as a supporting actor but secretly hijacks scenes from big personalities. — TM
FXX
ZOE KRAVITZ, "HIGH FIDELITY" (Hulu) – After watching her mope through the entire second season of "Big Little Lies," it was a joy to watch Zoë Kravitz have fun again in Hulu's "High Fidelity." Her performance should easily make anyone's Top 10 list.  — Daniel Goldblatt

Hulu
VICTORIA PEDRETTI, "YOU" (Netflix) – Season 2 of Netflix's "You" takes all the elements that were so appealingly horrifying about the first season, cuts them open and wears them like a mask. But underneath, it's Victoria Pedretti's quietly devastating performance as Love Quinn that ultimately steals the show and leaves viewers with their jaws on the floor. — Reid Nakamura

Netflix
KUMAIL NANJIANI, "SILICON VALLEY" (HBO) – C'mon, the guy's a movie star now. If television wants to hang onto him, Emmy voters might want to remind him that they like him on TV, too, especially since his character kind of saved the world in the series finale. —SP
HBO
"BOJACK HORSEMAN" (Netflix) – "Bojack Horseman" had the impossible task in its final season of reckoning with its title character's sins and whether he could possibly be redeemed. Rather than take the easy way out by killing him off in the show's brilliant and bizarre penultimate episode, the show used its understated finale to hit on something more honest about life than many shows that don't have talking animals could ever achieve. —Brian Welk

Netflix
ZENDAYA, "EUPHORIA" (HBO) –
Sam Levinson's dark drama is one of the toughest, most wrenching high school stories you'll ever see, and it can be hard to watch—but you can't take your eyes off Zendaya's raw and ravaged central performance as a teenage addict, even if you might want to. — SP
HBO
"ZOEY'S EXTRAORDINARY PLAYLIST" (NBC) – Because even though I didn't know it, I've always wanted to hear Mary Steenburgen sing Elvis' "A Little Less Conversation." — SP
NBC
TheWrap Emmy magazine: As Emmy voting begins, TheWrap staff suggests TV Academy members check out these people and shows who deserve a spot on the nominating ballot
With voters no doubt overwhelmed by the sheer number of shows contending for Emmys this year, TheWrap staff singles out a few of our favorites.
Source: Read Full Article