'Manifest': Parveen Kaur Beats Josh Dallas in a Game of Wits
NBC's supernatural series, Manifest, isheavy on the intrigue,drama, and foreboding clues.In each episode, the actors tackle serious material with few opportunities forlevity. The high-stakes storylines keep viewers hooked, jonesing for more, and rootingfor the heroes.
That said, it is always a fun treat for fans when thecast members take an opportunity to showcase their lighter sides outside oftheir Manifest roles. Recently, Josh Dallas and Parveen Kaurseized a chance to do just that when they stopped by TVGuide.com to play thegame, "Is That Ben's Sweater?"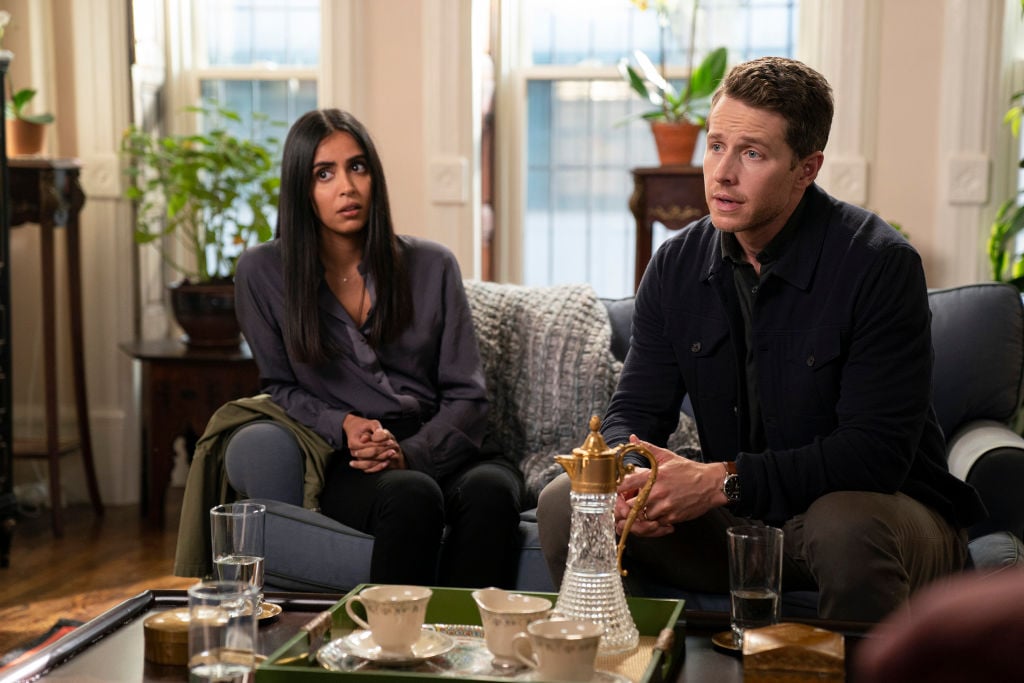 A friendly competition
To the delight of Manifest fanaticseverywhere, TVGuide.com enlisted Dallas and Kaur to engage in a little friendlycompetition called, "Is That Ben's Sweater?"
The game: Dallas and Kaurwere shown a series of sweaters, one after the other.
The challenge: To guess whichsweaters had been worn by Dallas' Manifest alter-ego, Ben Stone, and which ones did not belongto the character.
The catch: In the images, thepeople wearing the sweaters were cropped out so that only the sweatersremained. Dallas and Kaur relied on clues like color, design, and shape to maketheir guesses.
The segment was a recipe for hilarity, which began withgood-natured ribbing even before gameplay started. Kaur poked fun at Dallas'penchant for terrycloth, saying, "He is so '90's hip-hop, he doesn't even knowit."
Josh Dallas and Parveen Kaur go toe-to-toe
The guessing game highlighted several sweaters that makeup Dallas' Manifest wardrobe. Also featured were sweaters donned byChris Evans in Knives Out, Macaulay Culkin in Home Alone, Jack Messina in Manifest, Alfonso Ribeiro in The Fresh Prince of Bel Air, and the hip-hop artist, Drake.
As a bonus, the final sweater was won by Dallas' wife,Ginnifer Goodwin, in Once Upona Time. Funnily enough, withboth the background and actress erased from the photo, Dallas failed tocorrectly identify that the sweater was in the shape of his wife's silhouette.
In the end, Kaur won the contest with more correct guesses, earning 13 points — two more than Dallas, who actually wore many of the sweaters presented during gameplay. Kaur resisted any temptation she may have felt to gloat.
Dallas and Kaur on 'Manifest'
Dallas and Kaur deal with much weightier subjects on Manifest, as Ben and Saanvi, passengers of the ill-fated Montego Air Flight 828. Their airplane mysteriously disappeared midair, only to reappear five years later.
Even stranger, when the plan returned, none of the passengers had aged. To make matters worse, every 828er came back afflicted with psychic visions, or Callings, and they all now display the same genetic anomaly. More dire is the discovery of their Death Date — a day five years in the future when all 828 passengers will die.
There are lots of moving parts within the narrative, but fans who want to catch up are in luck. The first and second seasons are streaming now on Hulu.
Read more: 'Manifest': Questions We Have About Season 2 Episode 8'Carry On'
Source: Read Full Article