RHOA: Kandi Burruss Just Got Another Bravo Spin-Off
Kandi Burruss's current Real Housewives of Atlanta tagline – "Don't check for me unless you got a check for me" – has proven to be true. She's appeared on the series since 2009 and has already had four spin-off specials. A new spin-off that is currently said to be in production will focus on her booming family business.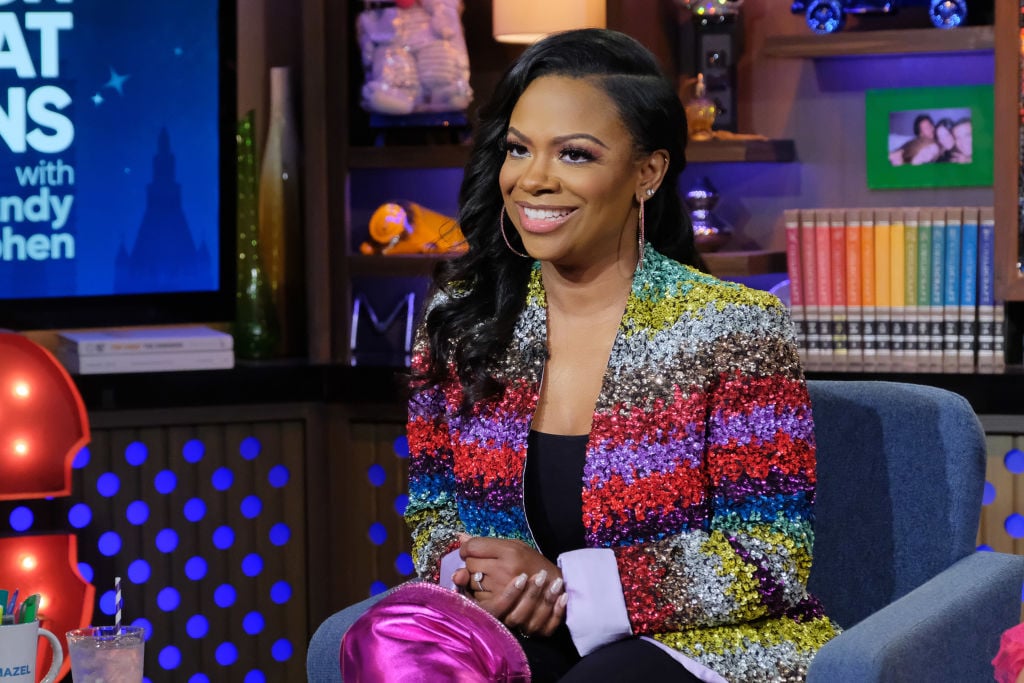 This won't be Kandi Burruss's first 'RHOA' spin-off
Burruss has been a full-time housewife since season 2 of RHOA. Throughout her time on the show, she's showed her musical chops as a singer, writer, producer, and music label owner. Aside from penning songs for some of the biggest names in music such as TLC, Ed Sheeran, and Destiny's Child, Burruss also worked on music for some famous housewives faces – including Kim Zolaiack and Lawrence Washington.
Bravo took note of Burruss's insane ability and gave her a spin-off that focused on her discovering and developing up and coming talent. The Kandi Factory premiered in 2012 and over eight episodes, Burruss assisted 16 hopefuls with dreams of becoming the next big thing in music. The show lasted one season.
Fans of RHOA also followed Burruss's complex relationship with her mother, Mama Joyce, over Joyce's dislike of Burruss's now-husband, Todd Tucker. A Bravo wedding special detailed the couple's rocky road to the alter that Joyce tried to prevent from happening.
Bravo then gave Burruss yet another spin-off that chronicled her attempts at trying to mend and blend her new family. Over three episodes, Kandi's Ski Trip followed Burruss and Tucker, along with their families, working hard to get their relationships on track.
After the success of Burruss's other spin-off's, she partnered with the network again after she reunited with her R&B group Xscape. Just Kickin' It aired in four hour-long episodes and chronicled Burruss and her group on the road to the Essence Music Festival and their ultimate decision to finally give fans a reunion tour.
Kandi Burruss filming new 'RHOA' spin-off about her family restaurant, Old Lady Gang
Out of all of Bravo's housewives spin-offs, Burruss has had the most success in ratings and viewership. Burruss has also had the most spin-off specials and the most variety, documenting various aspects of her personal life and business ventures. 
RHOA fans watched as Burruss and Tucker work from conception to actualization to open their first restaurant, Old Lady Gang. The restaurant opened in 2016 and is an ode to Burruss's mother and aunt's and their generations of soul food family recipes. They currently have three locations in Atlanta.
In 2019, The Jasmine Brand broke the story that Burruss was prepping another spin-off focused on the restaurant. At the time, the outlet noted that the show would feature Burruss, Tucker, and their staff.
According to a new report from The Atlanta Journal Consitution, the show has officially moved into production mode. A source from a Georgia film office didn't provide additional details to the outlet and Bravo has not made an official announcement. 
The show is said to follow the model of former Real Housewives of Beverly Hills cast member, Lisa Vanderpump, and her restaurant spin-off series, Vanderpump Rules.
Source: Read Full Article