'RHOC': Dr. Jen Shares Why Noella Is Still Blocked on Instagram – 'It Will Take Some Respect and Trust'
Dr. Jennifer Armstrong from The Real Housewives of Orange County still hasn't unblocked Noella Bergener on Instagram and said it's going to take more than a flower photo tag to make it happen.
Armstrong sent flowers toBergener when her father died, shown on the latest episode of RHOC. Despite their icy relationship, Bergener hugged her and said she posted the bouquet on Instagram but couldn't tag Armstrong because she was blocked. Armstrong rolled her eyes about the comment in a confessional.
Dr. Jen hasn't unblocked Noella and said it will take
A RHOC fan asked Armstrong about the Instagram block on the Watch What Happens Live with Andy Cohen After Show. "I have not unblocked Noella from Instagram," she revealed. "But what would it take? A little bit of respect and trust."
"I need a little trust-building and some respect," she added. "I need to see her grow as a person for us to be Internet friends."
'RHOC' Instagram blocking came after Dr. Jen's tag
The Instagram block came shortly after Armstrong tagged Bergener in a promotional post for her medication practice without Bergener's consent.
"No, I did not get furiously upset with her because she tagged me in a post," Bergener told ET. "It's weird — it's definitely weird — but it's not end of the world scorched earth kind of stuff."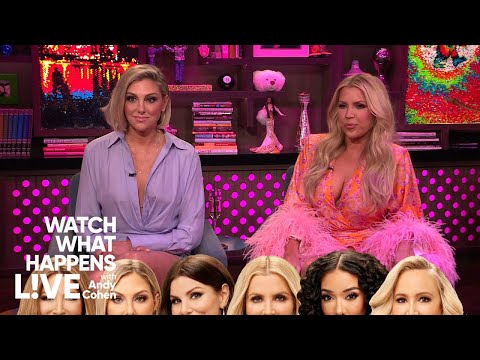 "There was something more to the story," she teased. "I'm hoping at some point we see it because it's very valid, and it was very damaging, and it was very real. It's something that happened when I met her at Braunwyn's house, and there are many witnesses to it. So yes, unfortunately, because it's that fourth wall [breaking] stuff — man, it's that fourth wall stuff that just gets you!"
But Armstrong and Bergener's budding friendship fell flat on RHOC almost instantly. "People are like, 'Why can't you form a relationship with Noella?' Because it's here, it's over here. It doesn't exist," she told ET. "I didn't even hardly know this woman before the show."
Dr. Jen said Noella told lies about her on and off 'RHOC'
The tension never seemed to fully ease between the two, especially after Bergener's remarks to Armstrong at Shannon Beador's party about her marriage. But Armstrong said the animosity extends beyond the party and the Instagram tag, but instead Armstrong said it comes from lies told about her on and off RHOC.
"The issue that I had with Noella is that she was making up blatant, false statements about me without even knowing me," Armstrong said. "You can have your opinion of me, you can think that I'm ugly, or thirsty or whatever she's called me — she's called me all these names — but there's things that you can't do: You can't make up blatant, false lies about myself, my practice, my family. You're not allowed to do that."
She added, "Three times on film, she said, 'Yes, I made up blatant lies about you, and I apologize.' Don't know if they're going to be playing that! So, that was like our opening, right? Our opening was, you're making up blatant lies about my livelihood and me as a person. So I'm not going to walk in with trusting, open arms. I'm going to walk up with a massive defense and be like, 'Knock it off!'" 
Source: Read Full Article