'Sister Wives': Kody Brown Says Meri Brown Mistreats Her Sister Wives and 'Won't Be Happy' Until She Has Them 'Bowing At Her Feet'
Kody Brown of TLC's Sister Wives and his first wife Meri Brown have had tension simmering in their marriage for years.
From Meri's2015 catfishing scandal to the couple's legal divorce so Kody could adoptfourth wife Robyn Brown's three children from a previous marriage, Kody andMeri seem to have essentially separated while remaining in the same family. Thepolygamist dad of 18 even said he and his first wife no longer have a physicalor romantic relationship.
Meri also seems to struggle with feelings of alienation within the entire Brown family, especially since her only child, Mariah Brown, moved out to attend college several years ago. It's no secret that Meri doesn't always get along with Kody's second wife, Janelle Brown, and third wife, Christine Brown, either.
But in Us Weekly's exclusive sneak peek of the upcoming Mar. 1 episode of Sister Wives, "This Land Is Your Land…or Hers," the tension between Meri and the rest of the Browns boils over. In the clip, Kody fights explosively with Robyn in particular about her defense of Meri during a major family argument.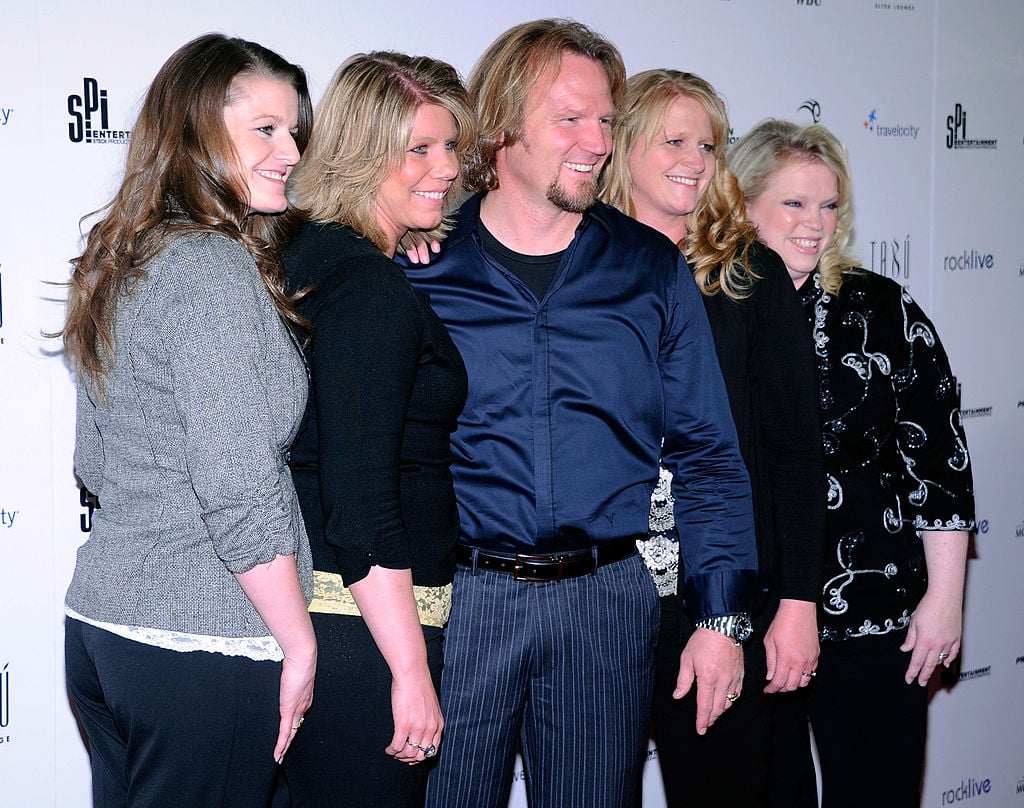 Kody says Robyn gets everyone's 'table scraps'
After theBrowns moved to Flagstaff, Arizona, from Las Vegas, Nevada, they purchased apiece of land called Coyote Pass.
Kody wanted to build one home for all four of his wives, but the family ultimately decided to build four separate houses on the land. And while Meri initially said she wanted to live back in the trees, the sneak peek for the upcoming episode suggests she changes her mind about which part of the property she wants for herself, meaning the plans will have to shift among all the adults.
That's whenall hell breaks loose among Kody and his other three wives.
"Look, I'm not gonna sit here and fight with her," Robyn tells an agitated Kody as Janelle and Christine look on awkwardly. "I'll take whatever there is," she continues, insisting any part of the property is fine with her.
"I wasalready giving you everybody else's table scraps, Robyn," Kody yells. "Do youthink that's fair? I don't."
Looking frustrated, Robyn tells Sister Wives producers she's tired of the argument and doesn't want all the attention on her. "I think it's so dumb that we're fighting over this," she laments. "I can't sit here and complain and act like a big fat baby about this. I'm not a victim here."
The sister wives argue with Kody about defending Meri  
Kody takesRobyn's responses as a defense of Meri, and he explodes in frustration.
"Robyn,stop. Stop defending Meri," the Sister Wives star says as he paces nearhis car on Coyote Pass. "Stop acting like you're not getting the s*** end of thestick here."
"I'm not!"she insists, but Kody is over it.
"This is pissing me off," he declares as Janelle, Christine, and Robyn look on in shock. "She can take what everybody else doesn't want instead of you pretending you're not getting the s*** end of the stick." Robyn continues to protest, shouting, "Will you stop?! No!"
The polygamistpatriarch tells TLC producers he's exhausted from the conflict and doesn't wantto have the family's plans for the property change yet again, especially afterso many recent moves.
"I'm just done with this conversation," he says. "I am so sick of trying to accommodate Meri…I'm so angry right now I almost can't talk."
Kody tells his wives Meri plays mind games
That'swhen things get even more heated and personal among the Sister Wivesstars. Kody tells Robyn his first wife has always played mind games in order tocontrol the family's power dynamic and keep her sister wives beneath her.
"This isthe game she plays," he says angrily. "She's always played it. She's played itfrom day one."
Gesturingtowards Janelle and Christine, Kody begins to claim that Meri has always treatedthem poorly. "She's treated her and her—"
ButJanelle steps in, not wanting to get into the family's history today. "Kody,that actually doesn't really solve anything," she says.
But to TLC producers, Kody's second wife admits she understands her husband's perspective. "I see where Kody's at," Janelle confesses. "He thought this was all done, all squared away, and it wasn't squared away."
Kody continuesto express his frustration about Meri and what he sees as her need for controlwithin the family. "She won't be happy unless she has all of you bowing at herfeet," he says to his three wives, "waiting for her to decide what she wants."
"Stopsaying s*** like that," Robyn pushes back, while Christine backs Robyn up andsuggests the argument isn't going to help anything.
But Kodyisn't about to back down. "You guys just saw it unfold," the Sister Wivesstar tells his wives.
Accordingto Kody, his wives are taking Meri's side against him in order not to ruffle anyfeathers. "I think they would prefer to fight with me than to fight with Meri,"the 51-year-old tells TLC producers. "In some ways, they're taking Meri's sideon this. That's their prerogative. They're loyal, at least."
Source: Read Full Article