'The Challenge' Season 35: Fans Are Rooting for Ashley Mitchell After She Betrayed Hunter Barfield During 'Final Reckoning'
The trailer for The Challenge, Season 35, is officially out, and fans can't wait for the premiere in April 2020. So far, it looks like this season might be the most difficult yet. Host T.J. Lavin states in the trailer that each competitor will have to go through an elimination round to get to the end. And we're curious to see if the veteran players can stand their ground against the eager rookies.
There have been plenty of shocking twists in Challenge history. And Ashley Mitchell, as well as Johnny "Bananas" Devenanzio, were on two seasons that involved a twist that allowed them to take all of the money from their partner in the end. Now, Mitchell is back for Total Madness. And her fans are cheering her on after what she did to her partner, Hunter Barfield, during Final Reckoning.
Ashley Mitchell took the money from partner Hunter Barfield at the end of 'Final Reckoning'
Fans of The Challenge will never forget when Devenanzio took all the money from his partner, Sarah Rice, at the end of Rivals III. And Mitchell faced a similar scenario with Barfield during Final Reckoning.
Mitchell and Barfield had a rough season, and they frequently didn't get along, though they were forced to work together as partners. Ultimately, they won the season together — but there was a twist given during the finale. The twist stated that each individual within the pairs would be accruing points of their own. The individual with the most points would decide if they would take all the prize money for themselves or split it with their partner.
Ultimately, Mitchell decided to take the $1 million prize money and run, just like Devenanzio did back in Rivals III.
"This guy has belittled me, put me down, slut-shamed me, and also threatened my life and my family's life," Mitchell stated. "I'm keeping the money. I would say I feel bad, but I don't …."
Mitchell has zero regrets regarding what went down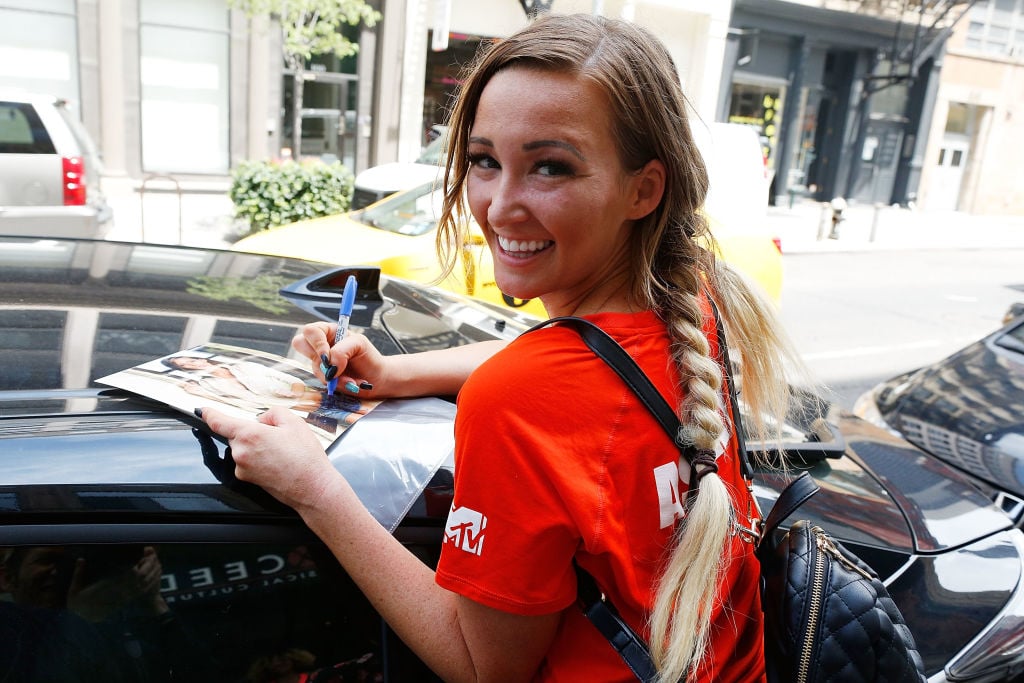 Barfield was shocked that Mitchell would do such a thing. And a screaming match ensued on the show, though the producers showed flashbacks to moments during the season when Barfield did, in fact, belittle Mitchell. At the end of the day, Mitchell is at peace with her decision.
"I just hoped I would have the opportunity to tell him, all the boys on The Challenge, and all the boys in the world that you just can't say whatever you want and have everything be fine the next day," Mitchell told Bustle. "That's not how the world works." She also stated that she's excited to continue proving herself on future seasons.
As for Barfield, he made statements of his own. "Ashley and I BOTH said things I'm sure we wish we could take back some of it you got to see but MOST of it you didn't," he tweeted. "Regardless I would have never taken the money she was my partner and she deserved it just as much as I did. I've forgiven but Karma NEVER forgives…."
Her fans are rooting for her to conquer 'Total Madness'
It doesn't look like Hunter's coming back for Total Madness, but Mitchell is. And she posted a throwback photo from the fateful night she won $1 million to her Instagram.
"I love you @mtv; I love you more @challengemtv. My cast who became forever friends, there are no words," she captioned the post. "Also, I LOVVVEEE the fandom more than anything, even those who hate me."
Mitchell received tons of support from her fans in the comments.
"The season that made me a fan," a follower wrote.
"QUEEN ILY YOU SLAYED," another added.
Yet another added, "rooting for you."
We're excited to see how it all pans out during Season 35 in April!
Check out Showbiz Cheat Sheet on Facebook!
Source: Read Full Article