The Tragic Story Of Sean Milliken From My 600-Lb Life
When Sean Milliken first appeared on "My 600-Lb Life" in 2016, he struggled greatly with his obesity, weighing in at 900 pounds. And in the episode, Sean revealed the origin story of his troubles, claiming he suffered an abusive childhood where his father would regularly back him into a corner and yell in his face. "It was scary. So I would eat. And suddenly I felt a lot better," Sean said on his episode, per USA Today. "In that moment, nothing else mattered."
When he showed up in Houston to see Dr. Now for help, Sean — who was accompanied by his mom — was bedridden. Despite the obstacles, Sean followed Dr. Now's plan and got approved for the surgery. Then, he lost a total of 400 pounds, and it looked like he'd be one of Dr. Now's many success stories. However, his story had a tragic ending and is one of the sadder cases in "My 600-Lb Life" history. 
So what happened to Sean Miliken? We share the tragic details here. 
Sean Milliken struggled with his mother's death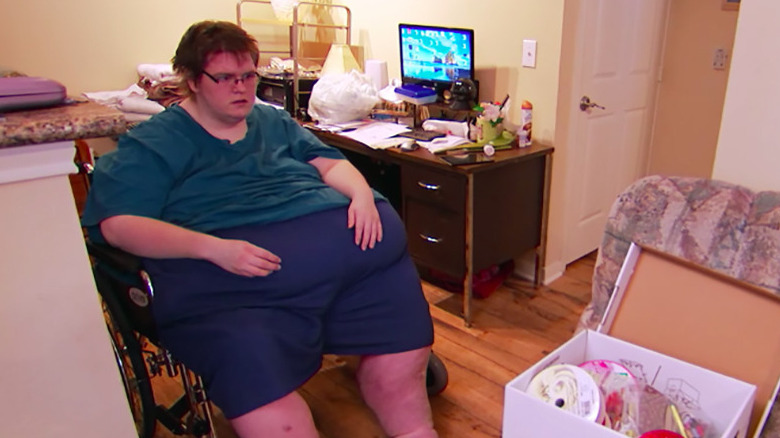 Even though Sean Milliken was able to lose 400 pounds when he was on "My 600-Lb Life," his condition spiraled out of control after the death of his mother in 2017. "A couple of months ago my mom went to the hospital because she wasn't feeling well, and she just kept getting worse," Sean explained in an episode of "My 600-Lb. Life: Where Are They Now?" according to People. "They said she had renal failure, and she didn't make it. She passed away a couple weeks ago and I'm devastated, and I don't know what to do now because my mom was everything to me."
According to TMZ, Sean Milliken died in February 2019 at 29. His father, Matt, reported that he died from complications due to an infection he'd contracted. "Sunday he was having problems with his breathing, they were able to resuscitate him and a short time later his heart stopped," he shared, according to the outlet.
TLC, which airs My 600-Lb Life noted that "despite the loss of his mother, he [Sean] was still continuing in his quest to live a healthier and happier life," which makes his death that much sadder. 
Source: Read Full Article