What You Didn't Know About TLC's The Blended Bunch
Famed for its unflinching slate of reality television shows, TLC is a hub of unique programming. From the addictive phenomenon of the ultimate guilty pleasure, "90-Day Fiancé," to the earnest, demystifying rawness of "I Am Jazz," TLC has earned itself a captivated audience eager for its wide range of shocking and heartwarming stories of real people from all walks of life.
Loyal TLC viewers quickly fell in love with the network's series "The Blended Bunch," which premiered in March 2021. It follows the Shemwell family: Erica, Spencer, and their 11 children. While similar shows on the network — for example, Welcome to Plathville, Outdaughtered, and 19 Kids and Counting — also follow big families, the Shemwell family has a unique backstory. Both Erica and Spencer Shemwell were widowed before meeting, and later combined their families into one big, happy, blended cohort.
According to People, before becoming a Shemwell, Erica already had seven kids: Landon, 12, Emma, 10, Lily, 9, Sophie, 8, Tanner, 6, Amelia, 5, and Caleb, 3. Spencer had four children from his own previous marriage: Brayden, 12, Harper, 8, Avery, 6, and Bexley, 4. The show has already delivered a captivating viewing experience for its fans, offering a blend of not just the two families but also the fun chaos and heartwarming vulnerability that makes the Shemwells unique.
Erica and Spencer Shemwell met on an online grief support group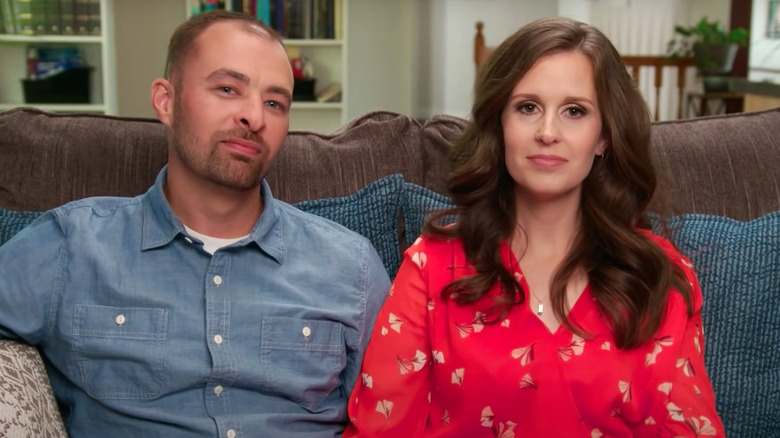 "The Blended Bunch" has won over hearts by being both heartwarmingly intimate and entertainingly lighthearted. The show follows the ups and downs of family life with 11 children, which begs the obvious questions about the parents balance the sheer logistics of a household that large while maintaining their own intimacy. But there's a deeper story behind their relationship. Both Erica and Spencer Shemwell were both previously married and both tragically lost their spouses. Erica Shemwell lost her first husband, Tony, to brain cancer in 2016 and Spencer Shemwell lost his first wife, Aimee, in a car accident in 2017.
"I remember sitting the kids all on my lap. I said, 'Mommy passed away,'" Spencer recalled in a teaser video prior to the show's debut. "I thought there was no way that I could ever love anyone like Aimee." Erica also had a similar immediate response to her loss, saying, "I feel like my heart was ripped out of my chest."
Speaking with The National, Erica and Spencer revealed that they connected through an online support group, and were married just 13 months after they first met. "I loved how Erica was always looking for opportunities to help others out," Spencer told the outlet. Erica added, "I immediately was drawn to Spencer after talking with him a few times because he is very compassionate … He has such a pure heart and intends to be there for everyone."
Four of Erica Shemwell's children have a rare genetic disorder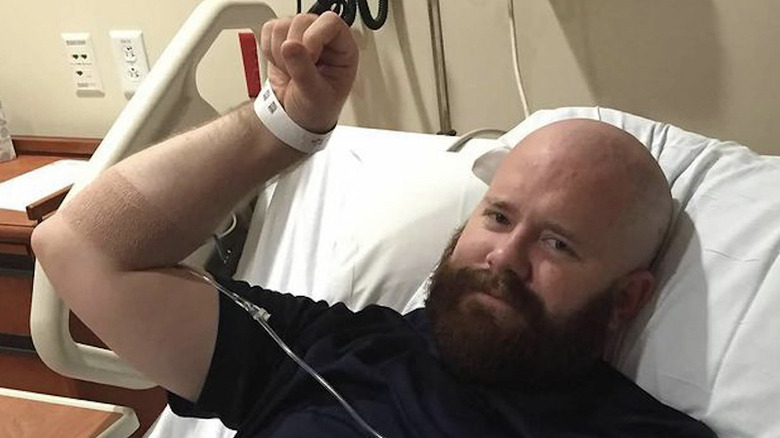 Erica and Spencer Shemwell are open and honest (with each other and with TLC) about their previous relationships. "We talk about Tony and Aimee in our everyday talk," Erica told The National, adding, "We often tell stories and reminisce and point out to the kids how much they are part of their parent and that they always have a bit of their parent with them."
Both Erica and Spencer deal with their grief daily, but Erica revealed that she thinks about Tony (above) often because four of her children inherited the rare genetic mutation, Li-Fraumeni syndrome (LFS), which caused her late husband's brain's cancer. "It's an unexpected burden that people have no idea that I'm carrying, that I worry about these four kids and their health," Erica revealed on the show (via People). "That's hard. There's not a lot of people you can talk with that can empathize with you."
However, Erica shoulders the burden with grace, and seeks to empower others dealing with the condition. On the Shemwell Instagram account, she shared Tony's experience with discovering his LFS, writing, "Knowledge is power. Education is key. Awareness helps save lives." Continuing the sentiment on the family's blog, Erica shared: "What I hope to convey is that FAITH, and that is faith for what YOU believe in, carries us not only through our hardships but in every day [sic] life."
The Shemwell family is not trying to be perfect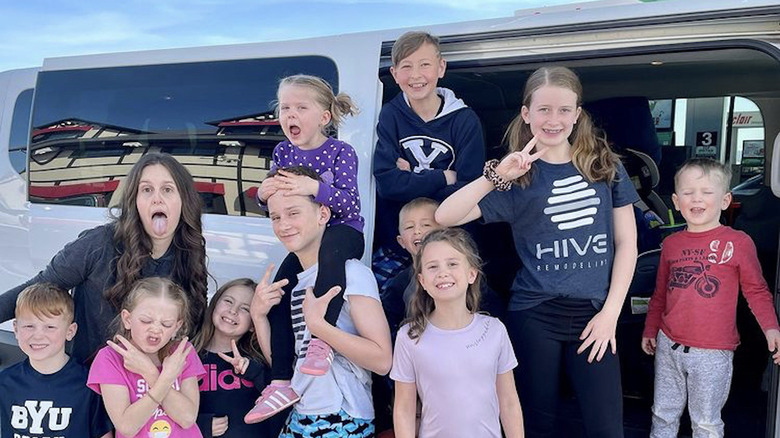 "The Blended Bunch" is an obvious nod to "The Brady Bunch," the feel-good, iconic family sitcom that ran from 1969-1974. And while the classic series appealed to both younger viewers and adults, and has earned its place in the cultural canon, family lives have changed since the early 70s. However, despite the comparisons, "The Blended Bunch" aims to show a new, realistic version of what a family looks like. It's important to the Shemwell family that they present an authentic version of their lives, instead of trying to imitate the perfect sitcom family.
In a February 2021 blog post the couple wrote ahead of the show's release, the Shemwells introduced themselves to the internet, emphasizing how real and relatable they are. They expressed excitement about letting TLC into their real lives, writing, "We feel blessed to have this opportunity to share our story of heartache, healing, love, resiliency, failures, and successes with the world. Our show will feature real problems we experience as a family and as individuals and will discuss how we learn to overcome and work through hard things."
Beyond the blog, the family shares videos and pictures on Instagram to connect with their audience in an even more authentic way. These behind-the-scenes looks into their lives let their fans know the even without a camera crew and editing skills, the Shemwells are pretty normal.
The Blended Bunch normalizes blended families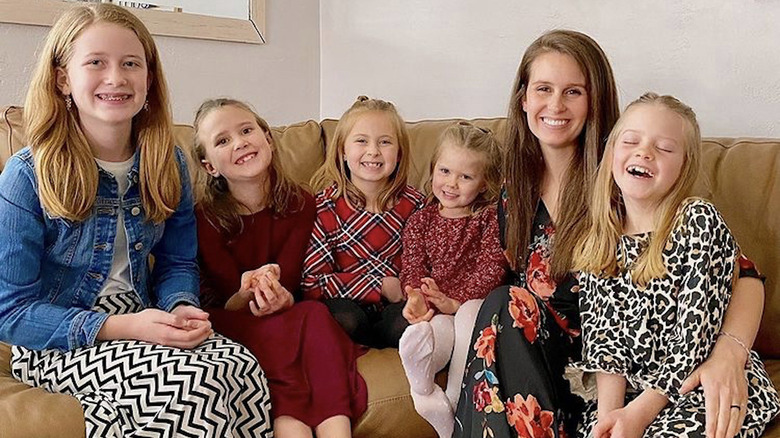 Blended families are becoming more and more common and normalized — but that doesn't mean they don't still face challenges. In the family's introductory blog post, Erica Shemwell revealed the blended unit's goal in pursuing reality TV stardom. "We are not a perfect family, and are still figuring things out, and will continue to face challenges in our future," Erica writes, adding, "But we hope that by sharing our story you will feel connection, validation, healing, gratitude, love, belonging, and above all, continual hope in your life."
Spencer Shemwell has even more experience navigating a blended family, as he grew up in one himself. In an Instagram post on the Shemwell family's page, fans got to know more about Spencer's own upbringing. "Spencer was born in early 1988 and lived in Indiana during his childhood," according to the post's caption. "He grew up in a blended family with his mom Nanette and his sisters Sara and Shelby. His parents were divorced and he spent weekends with his dad Mike." 
Yet, navigating his relationship with Erica is still a learning curve. Both Spencer and Erica have been vocal about the things they do to nurture their relationship with each other and as parents. "With a lot of trial and error and, above all, open communication between us and the kids, we found a way that worked for everyone," Erica told The National.
Fans are excited to know more about the Shemwell family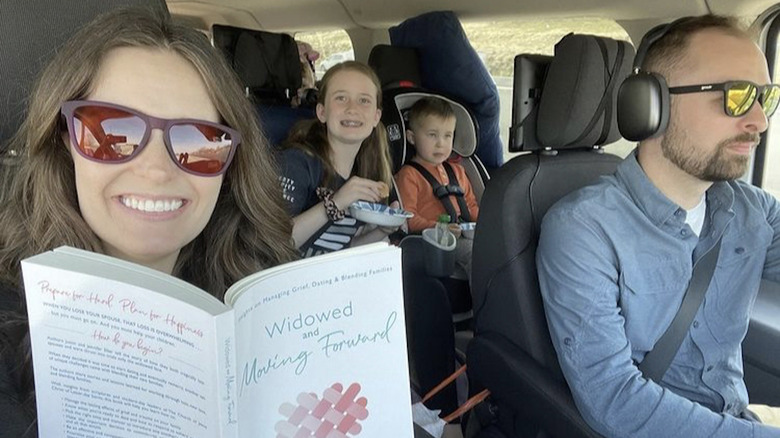 In a March 2021 blog post published just after the debut episode of "The Blended Bunch," Erica Shemwell expressed her gratitude towards early supporters of the family and the show, and asked for patience and kindness from those who were already reacting with "negative comments." She also promised fans that if they continued tuning in, they would learn more about the family with each show. "In an episode, we have 40+ hours of footage that is cut into only a 40 minute show," Erica writes, adding, "Imagine all that goes on in that footage and behind the scenes of our daily lives. What is showcased is but a snapshot into our family that we hope others will relate with and inspire them to carry on with renewed hope during the unique challenges we face as individuals and families. There is so much joy in this life and we have so much love in this world."
Many have flocked to the network to follow the Shemwell bunch and keep watching their story. Fans are already invested in the lives of the Shemwell family and their misadventures. According to People, Howard Lee, President of TLC has said: "Our family series are a cornerstone of programming at TLC and these days, the word family has expanded to mean many things. We are constantly evolving and the Shemwells are a wonderful reflection of the varied families in today's world."
Source: Read Full Article