'Teflon Don' sexual abuse case is a wake-up call for Republicans
Save articles for later
Add articles to your saved list and come back to them any time.
New York: Three different women. Decades apart. One pattern of behaviour.
That's how lawyers for E. Jean Carroll framed the conduct of Donald Trump, resulting in a jury finding him liable for sexually abusing the New York author and later defaming her when she went public with her story.
The significance of such a verdict against one of America's most powerful men – at a time when the rights of women across the country have often gone backwards – cannot be overstated.
Trump has been accused of sexual misconduct by more than two dozen women since the 1970s, and has denied every allegation.
Now, for the first time, the former US president has been held accountable in a federal civil court for assaulting one of those women and declaring she made up the allegations for money, politics and fame.
It's true that Carroll's victory did not amount to a complete vindication, as the verdict stopped short of agreeing she was raped. But for the 79-year-old former Elle columnist and many others who have watched "Teflon Don" live in relative impunity, the finding of sexual abuse and defamation by a jury of six men and three women, came close enough.
E. Jean Carroll arrives at Manhattan Federal Court on Tuesday.Credit: AP
While Trump has made clear he will appeal the decision as well as the whopping $U5 million in damages awarded by the jury, Carroll's claim that she was violated in the dressing room of a Manhattan department store in the mid-1990s was nonetheless credible, convincing, and bolstered by three factors.
The first was her own searing account of what took place that evening at the Bergdorf Goodman store, which was corroborated by two well-respected friends, bestselling author Lisa Birnbach and former television anchor Carol Martin, who testified that Carroll had told them about the assault soon after it happened.
The second was the testimony of two other women with similar stories: Jessica Leeds, a former stockbroker who claims Trump grabbed her breasts and tried to put his hand up her skirt during a flight in 1979; and Natasha Stoynoff, a former writer for People magazine, who alleged that he pinned her against a wall and forcibly kissed her during an interview in Florida in 2005.
Trump during his videotaped deposition, where he mistook E. Jean Carroll for his wife in a photo
And the third was the jaw-dropping video deposition of Trump himself, in which he mistook Carroll for his second wife – undercutting his claim that his accuser was "not my type" – and then doubled-down on his infamous Access Hollywood hot mic confession: that being a star gave him the right to grope women – to "grab them by the pussy" – without their consent.
"Historically, that's true with stars," he defiantly told Carroll's lawyer, Roberta Kaplan, as those of us sitting in the Manhattan courtroom watched the video in near disbelief.
"If you look over the last million years, I guess that's been largely true. Not always, but largely true. Unfortunately – or fortunately."
Three different women. Decades apart. One pattern of behaviour.
Whether this will affect Trump's political prospects or change the dynamics of the 2024 presidential race is another question altogether.
Tuesday's verdict will no doubt do little to alter Trump's unshakeable base, which subscribes to his view that this was merely another witch-hunt and hoax, carried out in a heavily Democratic city where he was never going to get a fair trial.
The response of senior Republicans was also telling. Republican National Committee chairwoman Ronna McDaniel, who Trump backed to win her fourth term despite the party's poor showing at midterm elections, branded the allegations as old news.
House Speaker Kevin McCarthy, who relied on Trump's "Make America Great Again" wing in Congress to fulfil his ambition to become speaker, ignored reporters' questions on the matter.
And potential rivals Ron DeSantis and Nikki Haley initially said nothing at all, while vice president Mike Pence, who is also considering running for president, suggested voters wouldn't care.
On one hand, this is no surprise given Trump's ongoing influence. Not only is the 76-year-old the overwhelming frontrunner for the Republican nomination, a Washington Post/ABC News poll released this month also had Joe Biden trailing his predecessor by six percentage points in a hypothetical rematch.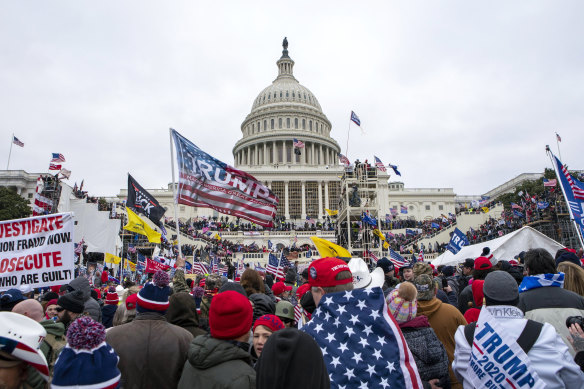 Rioters loyal to President Donald Trump rally at the US Capitol in Washington on January 6, 2021. Credit: AP
But contrary to Pence's view, a sizeable chunk of the electorate may indeed care, exhausted by the baggage of a twice-impeached president who was also indicted last month for hush money paid to a porn star and is still under investigation on multiple fronts: election interference in Georgia; the mishandling of classified documents; his role in the US Capitol attack.
Some of those voters are likely to be the independents or suburban women who tend to decide whether elections are won or lost. After some peeled away from Trump at the 2018 midterms the 2020 presidential election and at last year's midterms, how many more can Republicans afford to lose in critical swing states such as Pennsylvania, Georgia, or Arizona?
Many of those voters are also likely to be Democrats and progressives for whom there is no greatest galvanising force than the desire to stop Trump returning to the White House, regardless of whether they want 80-year-old Biden running for a second term.
And some might be an entirely new generation of voters who weren't old enough to head to the ballot box when the Access Hollywood tape was leaked in 2016 and may have only now learnt about the predatory "pattern of behaviour" that convinced a jury to hold him to account.
As former Republican Congresswoman Barbara Comstock lamented after the verdict, such voters would have every right to be put off – not just by Trump, but the party more broadly.
"We have repulsed an entire generation with this guy," said the former Virginia representative, who served under Trump until 2019.
"They're seeing Republican men and women defending him by saying this type of thing is OK, or that the insurrection is OK, or that Donald Trump's authoritarianism is OK.
"If Republicans don't wake up and say 'let's find someone else,' they are going to lose the general election."
Get a note directly from our foreign correspondents on what's making headlines around the world. Sign up for the weekly What in the World newsletter here.
Most Viewed in World
From our partners
Source: Read Full Article